Our History
An inside look at how Long Island Plastic Surgical Group has become the largest and longest-running plastic surgery practice in North America.
How it Began
After the end of World War II, two Army surgeons returned home to New York City. Having encountered the ways the war disfigured the human body, Leonard R. Rubin, M.D. (1912-2001) and Richard H. Walden, M.D., D.D.S. (1913-2001) picked up invaluable first-hand experience in the newly emerging field of plastic surgery. As teachers at Kings County Hospital, Rubin and Walden sought a way to expand their influences beyond the scope of New York City. Against the advice of colleagues, Rubin and Walden opened the Long Island Plastic Surgical Group (LIPSG) in April of 1948 in Hempstead, N.Y. While many viewed Long Island in this time as an unorthodox location to start a plastic surgery practice, the two realized the island's steadily increasing population and untouched opportunities in the field.
1950s
LIPSG founded a residency training program – a first of it's kind in the New York area.
LIPSG quickly expanded during the 1950s to take on one, then two additional surgeons. One of these surgeons, Bertram Bromberg, M.D., D.D.S. had become acquainted with Walden during their residencies as dentists at what is now SUNY Downstate Medical Center. After participating in an oral surgery fellowship, Walden and Bromberg both decided to take advantage of the newly expanding plastic surgery division at Kings County Hospital, one of the first hospitals in the state of New York to establish a plastic surgery division. Bromberg joined forces with Walden and Rubin in early 1954, each of them practicing mainly at separate hospitals throughout Nassau County in addition to the Hempstead, N.Y. office and adjunct office in Great Neck, N.Y. Word spread rapidly about LIPSG though events such as the November 22nd Long Island Railroad crash in 1950, in which 363 injured riders were directed to LIPSG through hospitals in Nassau County and attorneys who knew of the practice and its talented founding members. LIPSG eagerly founded a residency training program in 1954. As one of the first programs in the New York metro area, two residents, soon increased to four, worked alongside Rubin at Meadowbrook Hospital, now Nassau University Medical Center (NUMC), and four residents, soon increased to six, worked alongside Bromberg at Kings County Hospital. Residents often traveled between both medical centers, as did the surgeons, to provide a fully diverse and unique training experience. As part of the group's commitment to excellence, the founders strived to distinguish themselves from other area practices while simultaneously elevating the level of plastic surgery on Long Island. They wanted to develop plastic surgery in addition to practicing it. Rubin became the first residency director and strongly believed that the longevity of the group was largely dependent of its ability to teach. LIPSG rapidly expanded its services and influences on Long Island. Also during 1954, LIPSG assisted in the centralization of the treatment of burn injuries at the Meadowbrook Hospital Burn Unit, the first of its kind in the region. State of the art burn treatment technique was used, including a topical glue to adhere skin grafts without sutures under hot and humid conditions, a creation of Rubin's during wartime, and a development which earned him a prestigious Legion of Merit badge during World War II. This later led directly to the development of fibrin glue used currently to secure skin grafts without sutures.
1960s
LIPSG founded the Nassau Cleft Palate Rehabilitation Center, which was the first of its kind in New York State. Through an official New York State agreement, all children born with cleft lip and palates on Long Island were treated at LIPSG earning the center regional prestige.
As LIPSG continued to gain a regional presence, the practice grew in size and the residency remained a leading program in the New York area. The teaching program relocated strictly to Meadowbrook Hospital and narrowed to two residents. In 1962, LIPSG founded the Nassau Cleft Palate Rehabilitation Center at their office, modeled after the highly successful Lancaster Cleft Palate Clinic, and the first of its kind in New York State. The group took a multidisciplinary approach and assembled a team consisting of plastic surgeons, oral surgeons, orthodontists, neuropsychologists, dentists, and ENT surgeons. Through an official New York State agreement, all children born with cleft lip and palates on Long Island were treated at LIPSG, earning the center regional prestige and providing the training residents with invaluable learning experiences. In 1967, Rubin acted as a co-founder of the American Society of Aesthetic Plastic Surgery and remained an active member throughout his career, putting LIPSG on the map nationally. The LIPSG surgeons performed innovative research and carried out the first studies on the use of pigs as human donors at SUNY Downstate Medical Center. As pioneers in the treatment on burns, LIPSG surgeons performed some of the nation's first xenografts with the use of pigskin to treat patients.
1970s
The practice relocated to Mineola. Their new office included a state of the art operating suite. LIPSG was the first independent center to achieve NY State accreditation for their operating room.
By the mid 1970s, LIPSG had grown to five partners and continued to expand through the period. The residency program grew as well, from two to four residents, and to five residents by the end of the decade. The LIPSG existed primarily as a reconstructive group and completed about 30% cosmetic work during the 1970s in a field that was so dramatically growing, while always maintaining a highly ethical practice. In 1974, Rubin published the first edition of his landmark work, "The Anatomy of a Smile." Often quoted today, his book defined the patterns of human smiles on which he based his reconstructive surgery. Rubin's passion for restoration of the smile altered by facial paralysis uniquely expanded LIPSG's comprehensive scope of treatments and permitted the group to lead the way in facial reanimation surgeries. Rather than transplanting nerves from the unharmed to a damaged region of a face, LIPSG pioneered the technique of reusing existing muscles to achieve facial reanimation. The practice relocated to Mineola, N.Y. in 1978 and maintained eight surgeons in a state of the art operating center. The operating rooms were JCAHO certified and the first independent center to receive New York State accreditation. The size of the practice and diversity of surgeon expertise distinguished LIPSG in the region and allowed it to flourish as an independently operated group.
1980s
LIPSG once again relocated to 999 Franklin Ave. in Garden City. The practice was now at 10 physicians and growing.
With HMOs becoming ever more prevalent and widely accepted, LIPSG surgeons evolved to this change like most other doctors and accepted an increased number of plans. With the group's expansive diversity of plastic surgery specialties among its growing number of surgeons, now at ten, a fine balance between reconstructive and cosmetic surgery was maintained, and the viability of the practice ensured. Relocation of the practice occurred in 1988 to its current address, at 999 Franklin Avenue in Garden City, N.Y. into a larger, more elegant space. In addition to owning this freestanding building, LIPSG maintained the operating facility in Mineola, N.Y., establishing the Day Op center and running it until 1999. The Day Op center was a unique freestanding ambulatory surgery center, complete with the accredited operating rooms, with the reputation of being one of the most successful and competent centers in New York State. The residency was passed from Rubin to Roger L. Simpson, M.D., F.A.C.S. in 1989 and the two-year program of five residents was streamlined and updated to remain a cutting edge residency in the region.
1990s
With 14 physicians, LIPSG became the nation's largest and longest continually running private plastic surgery practice. The group opened the area's first Med Spa in Garden City, focusing on non-surgical procedures.
The 1990s saw expansion of LIPSG to between 12 and 14 surgeons to become the world's largest and longest continuously running private academic plastic surgery practice. While many plastic surgery residencies around the country were being scrutinized and closed, the curriculum at LIPSG was expanded along with its range of services. Using NUMC as a close parent institution, the growing experience of LIPSG surgeons provided a truly unique program for the five residents. While maintaining the Day Op center until 1999, LIPSG led the way for both reconstructive and cosmetic procedures on Long Island and expanded its microsurgical services as well. The group opened the area's first medispa at the Garden City, N.Y. office, focusing on non-surgical procedures, and it continues to be one of the largest of such centers in the New York metropolitan area.
TODAY
LIPSG is now New York Plastic Surgical Group:
70+ Years, 20+ Doctors, 10+ Locations
The size of LIPSG and its connections to the community have always, and continue to set the group apart from other practices in the region. The continually expanding partnership of surgeons provides the full spectrum of plastic and reconstructive surgery that no one else in the community can offer. LIPSG has expanded to offices in Babylon, Manhattan, East Hills, Flushing, Huntington and Brooklyn to better accommodate patients while expanding regional visibility. The residency saw an expansion to six residents in 2002 and serves as one of the nation's only privately run, non-university based residency programs, fully accredited in 2009. In 2006, LIPSG opened two state of the art operating rooms at the Garden City, N.Y. location for cosmetic surgical use and continues to perform many procedures at area hospitals, at which several LIPSG partners hold leadership roles. During the same year, LIPSG partnered with Evercare, China's largest plastic surgery group, to open a charitable surgery clinic in Beijing. Nearly all of the LIPSG partners have traveled abroad to perform charitable surgery work in China, South America, Africa, and the Middle East to name a few.
In February of 2008, the LIPSG managed burn unit at NUMC underwent a $6.7 million renovation to become a 12,000 square foot 18 bed center. One of a kind in the region, the center utilizes physicians and a nursing staff trained in the latest burn treatments as well as the support of physical and occupational therapists, rehabilitation specialists, psychologists, psychiatrists, and a nutritionist. Complete with individually temperature controlled rooms, mattresses with circulating air, synthetic material that serves as a temporary skin substitute, and beds that automatically turn immobile patients to prevent further skin damage, the LIPSG's legacy of the region's first burn center has transformed into a state of the art treatment facility. The center also features a unique hyperbaric chamber to maintain super atmospheric levels of oxygen and ensure the viability of wound treatments.
In 2015, LIPSG joined forces with ReSurge International on the ReSurge / Long Island Plastic Surgical Outreach Program, Ecuador. ReSurge, a U.S.-based nonprofit organization, provides reconstructive surgical care for poor children and adults who lack access and builds surgical capacity in developing countries. They restore the dreams of those with deformities and injuries, and impact the world by renewing the health of hundreds of children and adults each year so they can go to school, provide for their families and contribute to society.
LIPSG currently comprises 24 plastic surgeons. The Deep Blue Med Spa at LIPSG is overseen by the physicians and utilizes physician assistants to perform innovative medical laser procedures and medical aestheticians to perform non-invasive treatments.
LIPSG continues to serve residents of the surrounding area with their Dr.STITCH service, a 24/7 on call service and hotline. LIPSG is also the host of Long Island's only annual Breast Cancer Summit.
View Our

Locations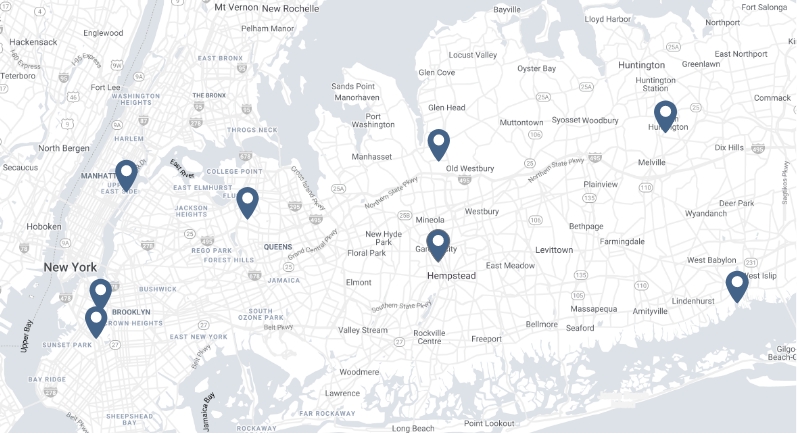 LIPSG LOCATIONS
Babylon

Brooklyn

Brooklyn – Park Slope

Connecticut

East Hills

Flushing

Garden City

Huntington

Manhattan Midtown

Manhattan Uptown

Westchester