Inverted Nipple Surgery
Our plastic surgeons at New York Plastic Surgical Group can correct inverted nipples with surgery designed to give the nipples a more natural appearance. Women who are affected by nipples that lie flat to the breast or pull in from the surface of the breast can often have trouble breastfeeding as well as suffer from self-consciousness about the condition. The plastic surgeons at New York Plastic Surgical Group have established the Aesthetic and Reconstructive Breast Surgery Center as a center of excellence within our practice, dedicated to offering breast surgery procedures that are safe, effective, and result in a natural-looking appearance that meets your ultimate goals. Many of our doctors have been specialty-trained in breast surgery procedures and have attended some of the most revered medical institutions in the world, including Memorial Sloan-Kettering Cancer Center in New York, England's Gloucester Royal Hospital, Canada's McGill University and University of Toronto, and Duke Medical Center.
About Inverted Nipple Surgery
Inverted nipple surgery can recontour the nipple so that it projects outward from the breast. There are generally two procedures which can achieve this result: one which preserves the milk ducts and one that does not. The former can address the patient's condition while preserving her ability to breastfeed. Inverted nipple surgery can achieve excellent results and make you feel better about the appearance of your breasts.
During your initial consultation, your plastic surgeon will all aspects of inverted nipple surgery with you and address any concerns and questions you may have about the procedure. Your consultation may also involve viewing a 3-D Vectra computer image that displays the likely results of your inverted nipple surgery. This state-of-the-art imaging system can give you a general idea of the possible outcome by incorporating patient data with photos of the breast area, manipulated to show how you may look after surgery.
Inverted Nipple Surgery Procedure
Patients who are having inverted nipple surgery in order to breastfeed can have a procedure designed to partially preserves the milk ducts. Inverted nipple repair with partial preservation of milk ducts usually involves a local anesthetic and a sedative before surgery. An incision is typically placed around the areola (the dark-skinned area surrounding the nipple), followed by the nipple and areola tissue being lifted from the breast and stitched into a new shape. The lifted nipple and tissue is not disconnected from the breast with this technique.
Inverted nipple surgery with milk duct detachment is typically reserved for patients who are not planning to breastfeed. The procedure can be performed using a local anesthetic in combination with a sedative. Your plastic surgeon will make an incision at the base of the nipple, detach the milk ducts, and reshape the nipple for the desired results.
Both inverted nipple surgery techniques generally take only about an hour to complete on an outpatient basis. Inverted nipple surgery can be performed at one of our state-of-the-art operating rooms at our Garden City or Manhattan locations. All of our fully-equipped surgical operatories are accredited by the American Association for Accreditation of Ambulatory Surgery Facilities, Inc. (AAAASF). This distinction signifies the highest standard of care for our operating environments.
Inverted Nipple Surgery Recovery
There is very little recovery time associated with inverted nipple surgery. Patients may experience some degree of discomfort, irritation, or swelling for a few days after the procedure; however, this can be alleviated with medication. Stitches are typically removed about four days following inverted nipple surgery, and patients can usually resume their normal daily routines about a day after the procedure. Strenuous activity should be avoided for several weeks.
Patients should be aware that inverted nipple surgery with detached milk ducts will eliminate their ability to breastfeed. Although the technique designed to partially preserve the milk ducts is a better option for those who plan on breastfeeding, there is no guarantee you will still have the ability to breastfeed after having this procedure.
Inverted Nipple Surgery Risks
The plastic surgeons at New York Plastic Surgical Group take every precaution and make every effort to insure inverted nipple surgery is performed safely and effectively, and that the recovery process runs smoothly. All risks and benefits of the procedure, as well as details of the entire surgical process, will be discussed with you at your initial consultation. You are encouraged to ask any questions you may have, and your plastic surgeon will be happy to address your concerns.
Consultations
We are committed to helping you achieve your aesthetic goals with results that look natural and beautiful. The first step to take when considering inverted nipple surgery is to schedule a consultation with one of the experienced doctors at New York Plastic Surgical Group, a Division of Long Island Plastic Surgical Group. At this initial meeting, you can talk about your options with a plastic surgeon and determine if inverted nipple surgery is the best procedure to meet your needs.
Please contact New York Plastic Surgical Group to schedule a consultation for inverted nipple surgery.
View Our

Locations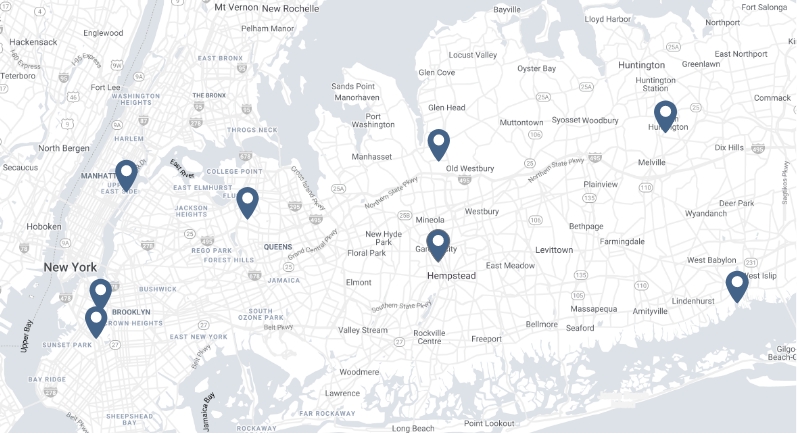 LIPSG LOCATIONS
Babylon

Brooklyn

Brooklyn – Park Slope

Connecticut

East Hills

Flushing

Garden City

Huntington

Manhattan Uptown

Westchester