Blepharoplasty (Eyelid Surgery)
If you are bothered by visible signs of aging in your eye area, such as drooping, wrinkled skin or dark bags, eye rejuvenation with eyelid surgery can solve these concerns1. Also known as blepharoplasty, eyelid surgery is a cosmetic procedure designed to address drooping eyelid skin by lifting the upper eyelids and removing puffy, under eye bags, giving the eyes a more youthful, refreshed aesthetic.
*model
Eyelid Lift In NYC & Long Island, New York
The plastic surgeons at New York Plastic Surgical Group, a Division of Long Island Plastic Surgical Group are experts in facial plastic surgery procedures and provide patients with a way to reverse the aging process with long-lasting, natural-looking results. Our skilled and experienced doctors can reduce the typical signs of aging, fatigue, and stress in the eye area for an overall more youthful and refreshed appearance.
Eyelid Surgery Consultation
Our plastic surgeons will meet with you in a personalized eyelid surgery consultation to determine if the procedure is the right one to meet your ultimate goals. Make sure to inform your surgeon if you have a history of eye conditions such as glaucoma or dry eye as well as other medical conditions including thyroid issues or diabetes.
Eyelid Surgery Procedure
Depending on your cosmetic goals, blepharoplasty procedures can be performed on your upper eyelids, your lower eyelids, or both. These cosmetic surgeries are generally done on an outpatient basis under general anesthesia or in-office under sedation and/or local anesthesia. At New York Plastic Surgical Group we are also proud to offer PRO-NOX, a 50/50 combination of oxygen and nitrous oxide that is inhaled to calm anxiety. PRO-NOX can be used in conjunction with local anesthetic to minimize pain or discomfort and lower stress.
We offer fully equipped operating suites that are certified by the American Association for Accreditation of Ambulatory Surgery Facilities, Inc. (AAAASF), signifying adherence to the highest standards of medical care. Eyelid surgery typically takes approximately one to three hours.
Upper Eyelid Blepharoplasty
Upper eyelid surgery removes excess skin and/or excess fat from the upper lid that contributes to the appearance of a prematurely aged look. In this procedure, an incision is made in the eyelid crease and a wedge of skin is removed. The remaining skin is then lifted and sutured into its new position for a smoother, more refreshed look. Incisions and sutures are placed in the natural creases of the upper eyelid to minimize the visibility of surgical scars.
Lower Blepharoplasty
Lower eyelid surgery eliminates the appearance of baggy dark circles under the eyes. Using the transconjunctival approach, your surgeon will make a small incision under the lower lash line and remove excess fat, skin, and muscle. The remaining skin is then remodeled into a smoother and more lifted position.
Ptosis Surgery
If one or both of your upper eyelids droop towards your pupil due to a condition called ptosis, we may recommend addressing it with a functional blepharoplasty. This is a surgical procedure that tightens the brow muscle to lift a drooping eyelid.2
Candidates for Eyelid Surgery
Good candidates for eyelid surgery are typically men and women in good general health who don't smoke and are looking to correct tired, drooping, and/or puffy upper or lower eyelids for a more youthful appearance.3
Eyelid Surgery Recovery
Your plastic surgeon will likely lubricate your eyes with eye drops after eyelid surgery. While the healing process is different for everyone, patients can typically expect some degree of swelling and bruising during the first two weeks of recovery.4 Any discomfort can be alleviated with medication and cold compresses and/or ice packs. Patients may also experience skin discoloration around the eyes, sensitivity to light, tearing, and temporary blurry or double vision. Normal routines can typically be resumed after a few days. Strenuous activities should be avoided for at least two to three weeks after eyelid surgery.
Eyelid Surgery Risks
The plastic surgeons at New York Plastic Surgical Group are experienced and skilled physicians who make every effort to minimize risks. Your surgeon will review potential benefits and risks with you prior to your procedure. We work diligently to ensure eyelid surgery and the recovery process are safe, smooth, and effective.
Eyelid Surgery Results
Our commitment is to give you natural-looking results that help you achieve your goals. Patients often combine eyelid surgery with other facial rejuvenation procedures such as facelift, brow lift, injectable fillers or laser resurfacing to optimize results.
View More Blepharoplasty Before and After Photos
Schedule Your Eyelid Surgery Consultation Now!
If you're seeking a solution for tell-tale signs of aging, exhaustion, and stress around the eyes, contact our eyelid surgery specialists for your blepharoplasty consultation. The surgeons at NYPS Group can provide you with a refreshed and youthful appearance with natural-looking results. Book your consultation now.
View Our

Locations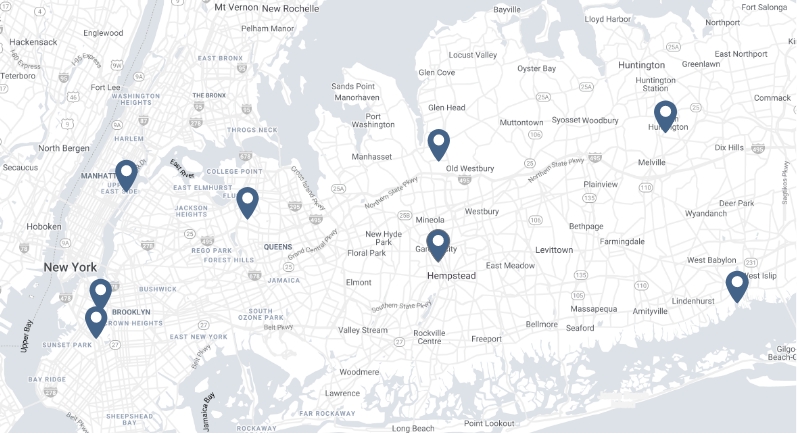 LIPSG LOCATIONS
Babylon

Brooklyn

Brooklyn – Park Slope

Connecticut

East Hills

Flushing

Garden City

Huntington

Manhattan Uptown

Westchester