Employee Benefits
Here at Long Island Plastic Surgical Group (LIPSG), we understand how important it is for you to achieve your goals in your personal life as well as in your career, and that's why we provide a generous and flexible benefits package as well as resources that nurture both your daily life and long-term needs.
Immediately upon hire, full and part time employees begin accruing paid time off (PTO). Full time employees accrue a minimum of 19 days PTO and part time employees accrue PTO based on their hours worked.
As of the date you satisfy the eligibility requirements, employees at LIPSG are offered:
Medical Coverage through Oxford: Employees have the option to choose from three plan levels and premiums are deducted from pay checks. The Practice contributes a portion of the cost of coverage.
Dental and Vision Coverage: Employees have the option to enroll in voluntary dental insurance through Guardian, and voluntary vision insurance through United Healthcare.
Short Term Disability – This plan is a guaranteed issue program and pays a portion of your income in the event of disability due to a covered injury, illness, or pregnancy.
401(k) & Profit Sharing – Salary deferral contributions are withheld from your payroll as per your election. Contributions are participant directed to a variety of Fidelity investments. We also offer a 4% match.
Life, Accidental Death, & Long-Term Disability – After one year of service at LIPSG, the Practice pays 100% of the cost for Life, Long Term Disability and Accidental Death insurance through Unum for full-time employees.
Deep Blue Med Spa Employee Benefits Program – Employees are entitled to discounted/complimentary products and services.
Tuition Reimbursement and LIPSG University – LIPSG supports the efforts of individual Management and Staff employees to improve their job-related skills and knowledge, and to acquire the education necessary to enhance their management skills or prepare for career-related promotional opportunities.
Wellness Program – Throughout our practice, we provide support and resources to promote and encourage a culture of health and wellness. These resources included, but are not limited to, discounted gym memberships, counseling and Unum's Employee Assistance Program.
Please note: The information presented here is general information only. For additional information and requirements specific to these benefits, please feel free to contact our Human Resources Department at (516) 504-3014.
View Our

Locations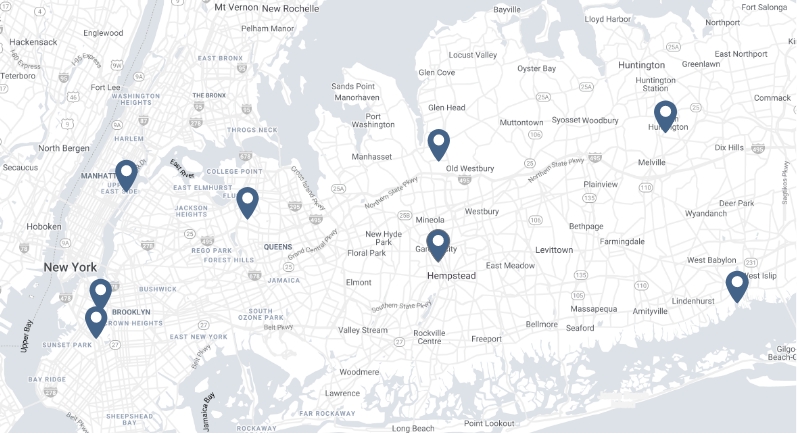 LIPSG LOCATIONS
Babylon

Brooklyn

Brooklyn – Park Slope

Connecticut

East Hills

Flushing

Garden City

Huntington

Manhattan Uptown

Westchester