Brian A. Pinsky, MD, FACS
Brian A. Pinsky, MD, FACS
Dr. Pinsky is a board-certified plastic surgeon and has been a part of New York Plastic Surgical Group, a Division of Long Island Plastic Surgical Group since 2012. He is also the Chief of Hand Surgery at Nassau University Medical Center (NUMC).
He performs a wide variety of surgical and non-surgical cosmetic procedures including breast augmentation, breast reduction, abdominoplasty, rhinoplasty, and  injectable treatments to enhance facial features. He is also very experienced in reconstructive surgical procedures including skin cancer reconstruction and breast cancer reconstruction, and specializes in complex hand and wrist injuries, nerve repair, rheumatoid arthritis, as well as the treatment of Dupuytren's disease. To learn more about hand injuries and conditions treated by Dr. Pinsky, visit our Institute for Hand Surgery  website. Additionally, Dr. Pinsky performs gender affirming surgical procedures for transgender patients, including facial surgery, transmasculine top surgery, and transfeminine breast augmentation.
Dr. Pinsky received his undergraduate degree in 1999 from the University of Pennsylvania and completed the pre-medical program at Boston University in 2000. During this time, he also participated in Boston Medical Center's Child Life Program, where he helped children and families cope with the stress caused by hospitalization and illness. He obtained his medical degree at Case Western Reserve University School of Medicine in Ohio in 2005 and went on to complete a residency program in Plastic and Reconstructive surgery at Mount Sinai Hospital in New York in 2011. Dr. Pinsky then received specialty training in Hand and Microsurgery during a fellowship at the UCLA Medical Center in Los Angeles, California.
Follow Dr. Pinsky
Board-Certified Plastic Surgeon
New York Times Super Doctors Rising Stars
Castle Connolly Top Doctor
RealSelf Top Contributor Award Recipient for Enduring Commitment to Consumer Education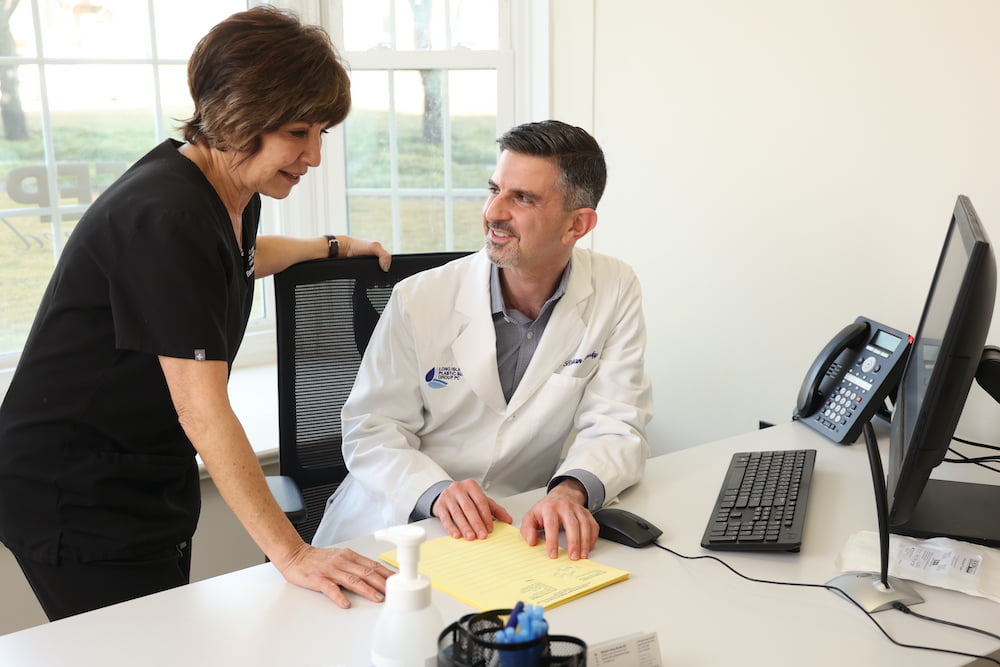 In 2011, Dr. Pinsky traveled to Lima, Peru with the non-profit organization, KomedyPlast, performing volunteer pediatric surgery on children with complex craniofacial deformities such as craniosynostosis, Apert Syndrome, and cleft lip and palate repair. He has also contributed to numerous articles and presentations educating peers on the latest advancements in plastic and reconstructive surgery.
During his spare time, Dr. Pinsky enjoys golfing, cooking, and spending time with his family.
5 Star Patient Rating

Dr. Pinsky is hands down the most amazing surgeon. I couldn't be happier with my outcome. Gentle, kind, and a perfectionist!! If you want perfection, compassion, and an amazing surgeon he's the surgeon to call.
Real Patient Testimonial
Education
2001-2005: MD, Case Western Reserve University School of Medicine; Cleveland, OH
1999-2000: Post-baccalaureate Certificate, Premedical Program at Boston University; Boston, MA
1995-1999: BA with Honors in Psychology, Cum Laude Graduate, The University of Pennsylvania; Philadelphia, PA
Training
2014: Subspecialty Certificate in Surgery of the Hand (formerly CAQ Hand)
2012: Certification in Hyperbaric Medicine
2011-2012: Fellowship in Hand and Microsurgery, UCLA Medical Center; Los Angeles, CA
2005-2011: Residency in Plastic and Reconstructive Surgery, The Mount Sinai Hospital; New York, NY
Honors & Awards
New York Times, Super Doctors Rising Stars, 2019, 2020, 2021
RealSelf Top Contributor Award for Enduring Commitment to Consumer Education, 2017
RealSelf Top Doctor Award for Enduring Commitment to Consumer Education, 2016
Fellow of the American College of Surgeons, 2016
Affiliations
American Board of Plastic Surgery
American Society of Plastic Surgeons
American Society for Surgery of The Hand
American Association of Hand Surgery
New York Regional Society
Nassau County Medical Society
Suffolk County Medical Society
Academic Appointments
2013-Present: Assistant Clinical Professor in Plastic Surgery, Stony Brook University
Volunteer Experience
2011: Medical Volunteer, KomedyPlast; Lima, Peru
2001: Child Life Volunteer, Boston Medical Center; Boston, MA
1999: Volunteer Child Advocate, Court Appointed Special Advocates; Philadelphia, PA
Peer-Reviewed Publications
Pinsky B. Hernandez-Rose J, Villanueva N, Factor S, Taub P., Maxillofacial Hardware Complications and Indications for Salvage. Plastic and Reconstructive Surgery. Vol 127 (55). May 2011 Supplement.
Guyuron B. and Pinsky B., Calibrated Lateral Crus Stabilizer. Plastic and Reconstructive Surgery. 2005 Nov; 116(6): 1776-9.
Non-Peer-Reviewed Publications
Pinsky, Brian A and Shores, Jaimie T. Congenital Hand Anomalies. Chapter in Current Reconstructive Plastic Surgery. McGraw-Hill. (In Press)
Taub, Peter J and Pinsky, Brian A. Periorbital Reconstruction. E-publication. The American Society of Maxillofacial Surgeons Hyperguide. January 2012.
Taub, Peter J and Pinsky, Brian A. Rebuilding the nose: functional and aesthetic objectives must be considered when choosing gafts and flaps for nasal reconstruction. Plastic Surgery Products. April 1, 2007.
Presentations
Pinsky, BA, Hernandez-Rosa J, Villanueva N, Factor SH, Taub PJ. "Maxillofacial Hardware Complications and Indications for Salvage"- Plastic Surgery Senior Resident Conference, January 2011, Plastic Surgery Research Council Annual Meeting, Louisville, KY, April 2011.
Hunt, Thomas R III MD, Seitz, William H Jr. MD, Pinsky, Brian, BA, Greenwald, Seth DPhil, Oxon. "Scaphoid Fracture Repair, A Biomechanical Comparison of Contemporary Cancellous Bone Screws." American Association of Orthopedic Surgeons Annual Meeting; San Francisco, CA. March 10-14, 2004. (Poster Presentation)
View Our

Locations
NYPS Group LOCATIONS
Garden City
Babylon
East Hills
Huntington
Manhattan
Brooklyn
Flushing
Astoria
Westchester
Connecticut