Breast Lift (Mastopexy)
Breast Lift Surgery In NYC and Long Island, New York
A breast lift is a surgical procedure that is used to restore drooping or sagging breasts or breasts that look deflated due to weight loss, genetics, pregnancy, or breastfeeding. The breast augmentation specialists at New York Plastic Surgical Group, a Division of Long Island Plastic Surgical Group are experienced in the most advanced breast lifting techniques. Our practice is dedicated to providing personalized care and beautiful, natural-looking results to each breast lift patient.
Is A Breast Lift Plastic Surgery Procedure Right For You?
Women who desire breast lift surgery typically have concerns with sagging or deflated-looking breasts, and/or nipples that are not ideally situated in the middle of the breast (vertically) and slightly lateral to the midpoint of the breast (horizontally)1. Breast lift surgery, also known as mastopexy, can improve nipple placement, reduce the size of the areola, position the breasts higher on the chest, and add contour. Women looking to improve breast placement and enlarge their breasts may want to consider combining breast lift surgery with breast implants. Women seeking to correct sagging and reduce the size of their breasts may want to consider breast reduction surgery. The procedure best suited to your needs will be determined during your consultation.
Your Breast Lift Consultation in NYC or Long Island
An initial consultation is the first step in determining if breast lift surgery is right for you. During a consultation, you'll have the opportunity to sit down with a  plastic surgeon and review all your questions and concerns, discuss your cosmetic goals, and learn about your surgical options. If you decide that breast lift surgery is the best option for you, your surgeon will provide you with a treatment plan.
*model
Benefits of Breast Lift
In addition to lifting drooping breasts, this type of surgery can also help to improve confidence and self-esteem. Patients who undergo breast lift surgery may also enjoy the following benefits:
Higher, perkier, more projected breasts
Improved cleavage
Lifted nipple position
Reduced areola size
Better fitting clothes
Best Candidates For Mastopexy
The ideal candidate for breast lift surgery is someone who is unhappy with the projection of their breasts, breast shape, and breast volume but is otherwise in good general health and does not smoke.2
Breast Lift Procedure
Breast lift surgeries are performed in one of our state-of-the-art AAAASF-certified surgery centers and are typically outpatient procedures performed under general anesthesia. There are several surgical techniques used in breast lift procedures. Generally, to begin your surgeon will make a periareolar incision and possibly a vertical incision to be able to lift and reposition the breast tissue. Depending on your needs, the periareolar incision will run along the underside of each areola in a half-moon shape, or around the entire circumference of each areola. The use of a periareolar incision is ideal for correcting mild deflation and sagging.
Moderately sagging breast tissue may require both a periareolar and vertical incision for correction. This technique is referred to as the 'lollipop' incision and involves the first incision along the edge of the areola and one that extends down vertically from the bottom of the periareolar incision to the edge of the breast crease.
If additional excess skin needs to be removed the lollipop incision in addition to what's called 'anchor' incision allows for a more comprehensive reshaping of severe deflation and sagging. The anchor incision is a horizontal incision that extends along the breast crease. Once your surgeon has created the ideal positioning of the breasts during surgery, your incisions will be closed with internal dissolvable sutures and you will be wrapped in a bandage and compression garment, also known as a surgical bra.
Breast Lift Surgery Risks
As with all surgical procedures, breast lifts involve some risk of side effects and/or complications. However, when breast lift surgery is done by an experienced plastic surgeon, it is considered to be very safe. Each patient's level of risk depends on their medical history, skin elasticity, and other personal factors. In general, breast lift surgery risks can include infection, bleeding, changes in sensation on or around the incisions, and healing complications.3
Breast Lift Surgery Recovery
After breast lift surgery, you should plan to have someone drive you home. Your surgeon will provide you with detailed post-operative instructions and following them is critical to an optimal recovery and results. During the healing process, it is normal to experience bruising, swelling, and some discomfort. We recommend that patients avoid any strenuous activities, such as exercise and heavy lifting for at least three weeks.
Frequently Asked Questions About Breast Lift Surgery
What kind of scars will I have after breast lift surgery?
Breast lift surgery scars depend on the type of incisions used. You'll leave your consultation with a treatment plan that outlines your procedure and the incisions required to achieve the look you desire. No matter the type of incision used, your surgeon will take pains to ensure that any resulting scars can be completely concealed by swimsuits and bras.
Will a breast lift change the size of my breasts?
Breast lift surgery will not significantly change the size of your breasts. In general, breast lift surgery only improves the appearance of the breasts by reducing droopiness and restoring perkier, more youthful looking breasts. If you are interested in increasing or decreasing your breast size by one or more cup sizes, your surgeon will discuss options for other breast surgery procedures with you.
How long do breast lift results last?
Breast lift results are permanent, but factors such as weight gain and weight loss can influence the look or longevity of results. Results last longer for patients that are able to maintain a healthy stable weight.4
Schedule Your Breast Lift Consultation Now!
If you are interested in learning more about breast lift surgery, the talented team of surgeons at New York Plastic Surgical Group have the skill and experience to achieve the beautiful and natural-looking results you want. Contact us today with any questions you have. Book your consultation now.
View Our

Locations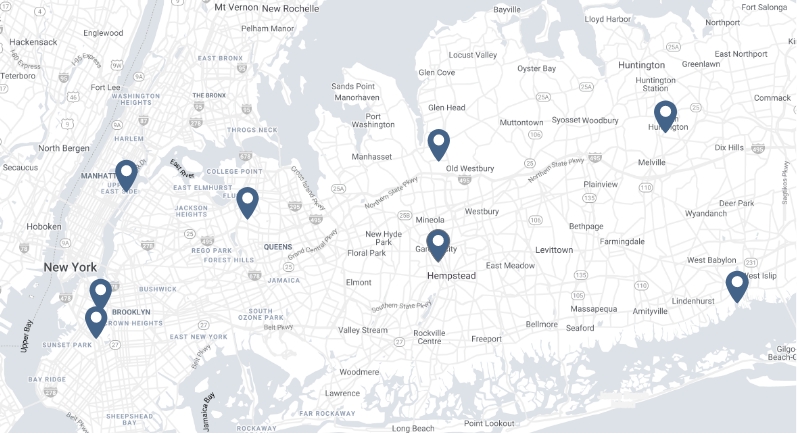 LIPSG LOCATIONS
Astoria 

Babylon

Brooklyn

Brooklyn – Park Slope

Connecticut

East Hills

Flushing

Garden City

Huntington

Manhattan Uptown

Westchester