Dr. Vincent
DiGregorio
Fellowship Fund
Dr. Vincent DiGregorio was a respected and award-winning surgeon with New York Plastic Surgical Group, a Division of Long Island Plastic Surgical Group. He used his skills as a surgeon and doctor far beyond the operating room. His humanitarian qualities complemented his professional skills and he often gave freely of his talents to support friends and others in need. His patients loved his care, honesty, and sense of humor. For many years, Dr. DiGregorio volunteered with ReSurge International to provide surgical care to people living in geographies where there were few surgeons and little or no access to treatment.
Through his volunteer work with ReSurge International, Dr. DiGregorio used his surgical expertise to treat patients in need, and to train local surgeons living in the developing world. He believed that by training the next generation of reconstructive surgeons, year-round access to affordable and safe surgical care was possible.
Proceeds from the Dr. Vincent DiGregorio Fellowship Fund at ReSurge International will ensure that experienced reconstructive surgeons continue training people in some of the world's poorest regions.
Dr. DiGregorio served his country as a surgeon on the front lines of combat in Vietnam between 1970 and 1971, where he worked to stabilize the lives of wounded soldiers while under fire at the U.S. Garrison at Khe Sanh.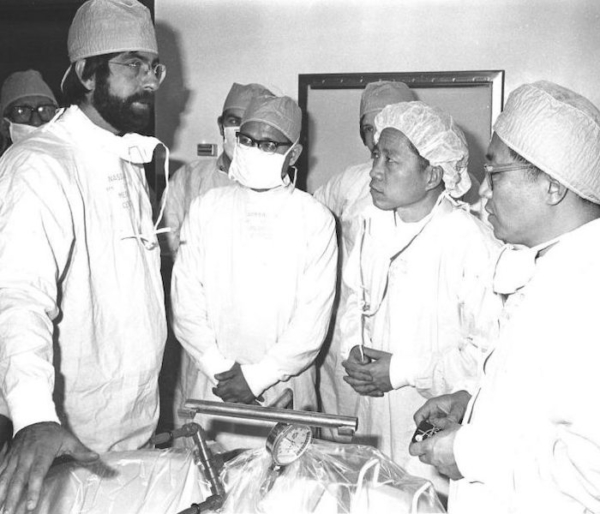 Dr. DiGregorio at Nassau County Medical Center in the 1970's. A longtime educator, Dr. DiGregorio was actively involved in teaching at the Residency Program at Nassau University Medical Center, where he himself was once a resident.

Dr. DiGregorio and Dr. Laurence T. Glickman on a surgical mission in India in 2011.
About ReSurge
Since 1969 ReSurge International has provided reconstructive surgical care and built surgical capacity in developing countries. Their approach to tackling the need for reconstructive care is multi-faceted. Learn More
View Our

Locations
NYPS Group LOCATIONS
Garden City
Babylon
East Hills
Huntington
Manhattan
Brooklyn
Flushing
Astoria
Westchester
Connecticut