Hair Restoration and Replacement
Hair loss affects millions of men and women often leading to dramatic changes in appearance that may have a negative impact on self-esteem. Fortunately, advances in hair restoration and hair replacement surgery have made it possible for those experiencing mild to severe hair loss to replace what they have lost with results that look natural.
The specialty-trained plastic surgeons at New York Plastic Surgical Group, a Division of Long Island Plastic Surgical Group offer a variety of safe and effective treatment options that can restore lost hair for men and women, often with very little downtime. New York Plastic Surgical Group doctors also specialize in 'revision' hair replacement to correct or supplement past procedures.
*model
Hair Replacement Surgery
Our doctors work with each patient to assess the right hair replacement procedure based on the patient's individual hair restoration goals. Some of the most popular hair transplantation and replacement techniques can be seen below.
Hair Grafting
Hair transplantation is accomplished by taking small hair-bearing skin grafts from the scalp and repositioning them onto areas that are balding or thinning. Hair grafting surgery is typically performed in stages over a period of months, allowing for a gradual replacement of hair.
After Hair Replacement
Hair can usually be washed two days after surgery, and stitches are often removed after 7 to 10 days. Many patients are able to return to normal daily routines after a week. Patients who have received hair grafts will find that the new hair "falls out" within six weeks. It is important to remember that this is normal and, in nearly all cases, only temporary. In another five to six weeks, hair growth will typically resume at a rate of about one-half of an inch per month.
Schedule Your Hair Restoration Consultation Now!
New York Plastic Surgical Group is experienced in all major hair restoration and replacement techniques and has helped many patients attain their goals with natural-looking results and less downtime. By scheduling an initial consultation, our doctors can help you decide which hair restoration method is right for you and address any questions or concerns you may have. Book your consultation now.
View Our

Locations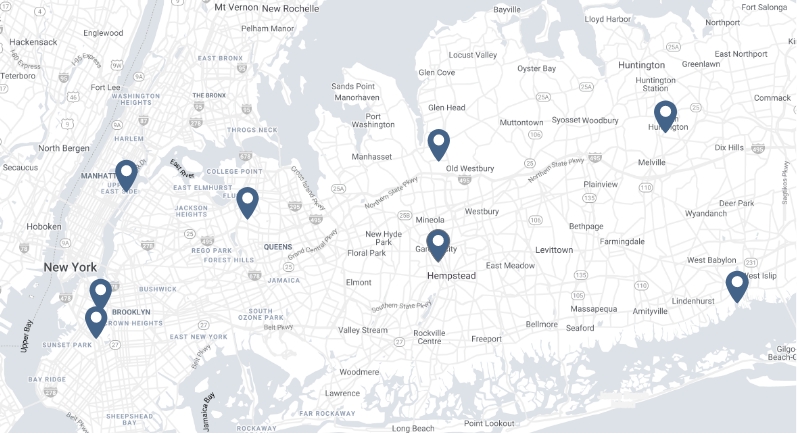 LIPSG LOCATIONS
Babylon

Brooklyn

Brooklyn – Park Slope

Connecticut

East Hills

Flushing

Garden City

Huntington

Manhattan Uptown

Westchester