Peripheral Nerve Surgery
The peripheral nervous system consists of the motor and sensory nerves outside of the brain and spinal cord. The peripheral nerves provide input to all the facial muscles, the muscles of the upper extremity as well as the lower extremity. It also provides sensory perception for the entire body. Many people experience pain or numbness due to sensory nerve injuries. Weakness or paralysis can be caused by motor nerve injuries. Patients who experience pain following other types of surgeries such as a hernia repair or a knee replacement, can often be helped by one of our surgeons at New York Plastic Surgical Group, a Division of Long Island Plastic Surgical Group.
Nerve Compression
Sometimes, this pain or numbness is simply a result of nerve compression and is not connected to an injury or surgery, as with persistent migraines or carpal tunnel syndrome. In some cases, patients may experience a near-immediate relief of symptoms following surgery. Releasing constricting bands or vessels around the nerves can potentially relieve the pain and numbness.
Neuromas
A neuroma is a disorganized growth of nerves at the site of a nerve injury. Neuromas can occur anywhere in the body, causing debilitating pain and sometimes weakness or paralysis as well. Sometimes a simple surgery can make an enormous difference in the quality of life of the patient.
Motor Nerve Injuries
Compression or lacerations to motor nerves can also cause motor weakness such as a foot drop or a carpal tunnel syndrome or a facial paralysis. Nerve decompression or sometimes nerve reconstruction with nerve grafting is required to regain sensation or motor power.
Consultations
If you are experiencing unexplained pain or motor weakness and think it may be a result of nerve damage, please contact New York Plastic Surgical Group. We will be happy to meet with you and discuss your options.
View Our

Locations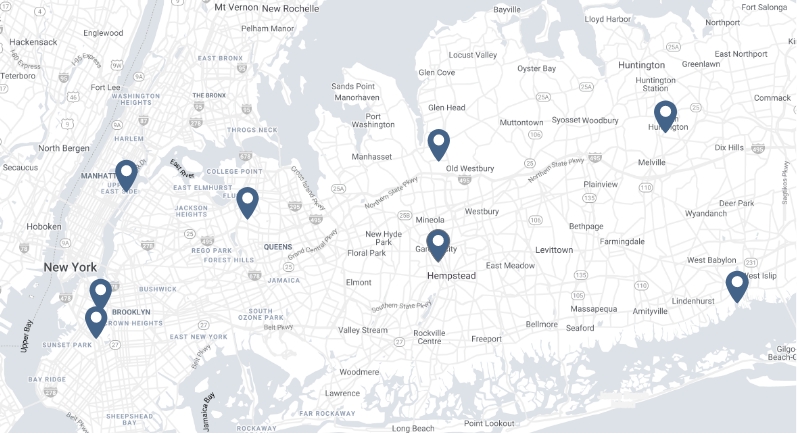 LIPSG LOCATIONS
Babylon

Brooklyn

Brooklyn – Park Slope

Connecticut

East Hills

Flushing

Garden City

Huntington

Manhattan Uptown

Westchester