The Hand Institute at New York Plastic Surgical Group
If you have a congenital deformity or have suffered an injury to the hand or upper extremity that inhibits proper function and has an effect on your appearance, there are ways to treat these conditions to improve your function and overall quality of life. The doctors at New York Plastic Surgical Group, a Division of Long Island Plastic Surgical Group include some of the most skilled and experienced reconstructive hand surgeons in the area. One of our Centers of Excellence is devoted to Microsurgery and Hand Reconstruction, serving patients with state-of-the-art procedures performed by surgeons with extensive, specialized training. Hand reconstruction surgery may involve reconstruction or repair or replacement of limbs, joints, skin, and other affected tissue. This includes the treatment of fractures from the forearm to the fingertips, as well as injures to tendons, nerves, and soft tissue. Many of our hand reconstruction surgeons have been trained and educated at some of the most respected medical institutions in the country that specialize in these types of complex procedures.
For more information on hand reconstruction surgery at our Long Island, New York practice, or to schedule a consultation with one of our plastic and reconstructive surgeons, please contact us.
Reasons For Hand Reconstruction
Hand reconstruction is often necessary to improve function and aesthetics in hands that have been effected by a number of different conditions or incidents. These include:
Traumatic crush injuries
Limb or finger detachment
Blood vessel damage
Nerve damage
Congenital deformity
Rheumatoid Arthritis
Carpal Tunnel Syndrome
Cubital tunnel syndrome
Fractures
Arthritis
Dupuytren's Disease
Procedures to repair and treat these conditions may include medication or injections for less severe or early stage disease. Frequently, surgical interventions such as nerve and tendon repair, microsurgical replantation (reattachment) of detached limbs, and fixation of fractured bones is required. Several procedures may be necessary for hand reconstruction to achieve the optimal result. Surgery to correct injury to the hand is usually coupled with skin, muscle, and other tissue replacement or reconstruction in order to restore sensation and movement to the hands.
Techniques involved in tissue, bone, skin, and muscle reconstruction include:
Grafting, transfer of bone, skin, tissue, or nerves from a healthy area of the body to treatment site
Flap Surgery, movement of fat, blood vessels, muscle, and skin from a healthy donor site on the patient's body to the injured hand
Transplantation / Replantation, reattachment of hands or fingers through a precise microsurgical procedure
Fixation of fractures with wires or plates and screws
Rheumatoid
Rheumatoid arthritis is an autoimmune condition which is characterized by an inflammation of the joints. This inflammation causes pain, disables movement, and disfigures the appearance of the hands or other afflicted areas of the body. The hand takes on a deformed appearance with joints and fingers often forced into abnormally bent positions. Severe cases of rheumatoid arthritis often necessitate hand surgery to restore alignment, treat pain, or improve function. Areas of the hand are reconstructed by removing tissue from inflamed joints and repositioning tendons. Sometimes, artificial joint implantation or joint fusion is performed. Several surgeries may be necessary to significantly improve form and function of affected joints.
Learn more about rheumatoid arthritis.
Carpal Tunnel
Carpal Tunnel Syndrome is a common condition which affects people who have suffered nerve dysfunction brought on by overuse of the hands, repetitive motion, or fluid retention. The carpal tunnel is the anatomic pathway through the wrist where the flexor tendons and median nerve can be found. The median nerve in this area can become damaged due to excess pressure, causing tingling, numbness, aching, and impaired function of the hand. Some cases of Carpal Tunnel Syndrome can be treated with splinting and anti-inflammatory medication; however, more severe cases may require surgery. Surgical procedures for Carpal Tunnel Syndrome typically involve the surgeon dividing tissue that is pressing on the nerve in order to relieve aggravating tension. Surgery for this condition is designed to recover and restore hand function and feeling. Recovery of normal use will depend on the duration and severity of the disease.
Learn more about carpal tunnel syndrome.
Recovery
Recovery from hand surgery will depend on how many procedures you undergo and the condition for which you are being treated. More severe cases often require comprehensive time and rehabilitation therapy. It is important to remember that the actual surgery is often only the first step to regaining maximum use of the hand. Mild to severe pain can often be expected after hand surgery; however, our doctors will do everything possible to minimize your discomfort during recovery and ensure you are treated by the best hand therapists in the area.
Hand Rejuvenation
We also offer non-surgical methods of hand rejuvenation. This includes laser treatments for dark spots and veins, as well as injectable fillers. The fillers plump the skin surrounding the bones and veins to create a more youthful look.
Learn more about hand rejuvenation.
Consultations
Please contact New York Plastic Surgical Group to schedule a consultation for hand reconstruction surgery. Our experienced and skilled surgeons can improve the quality of your life, as well as your aesthetic appearance, with safe and effective hand reconstruction procedures.
View Our

Locations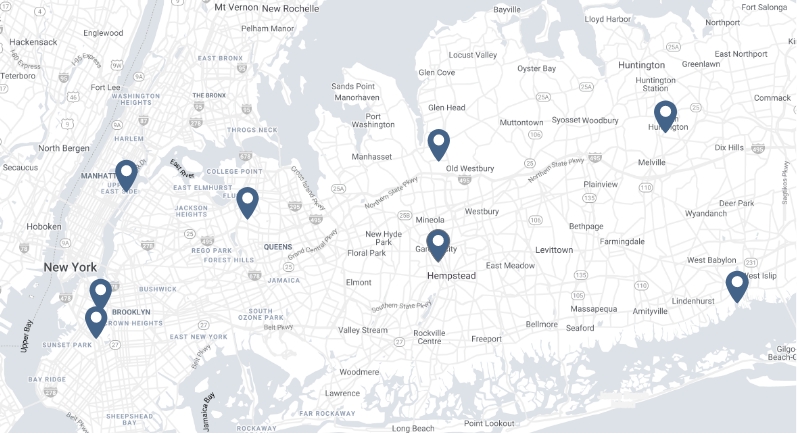 LIPSG LOCATIONS
Babylon

Brooklyn

Brooklyn – Park Slope

Connecticut

East Hills

Flushing

Garden City

Huntington

Manhattan Uptown

Westchester