Cancer Reconstruction
Patients who have had surgical treatment for cancer can sometimes be left with unfavorable functional and cosmetic results. Reconstructive plastic surgeons at New York Plastic Surgical Group, a Division of Long Island Plastic Surgical Group, employ the latest, most innovative techniques to help those patients who would like to rebuild what has been lost to cancer. Many of our plastic and reconstructive surgeons have attended some of the most prestigious medical institutions in the world, gaining specialty-training in advanced techniques to provide cancer reconstruction procedures that result in functional, natural-appearing restoration. In addition, we offer state-of-the-art skin cancer treatment which can help prevent further complications and minimize the possibility of scarring or disfigurement.
We understand the physical and emotional tolls that cancer survivors have gone through. Our team of doctors and medical professionals will be with you every step of the way, helping you through the process with skilled and compassionate care.
Please contact us for more information on cancer reconstruction.
Breast Reconstruction
Our plastic surgeons have decades of experience in breast reconstruction procedures. Our doctors use the most advanced techniques to help women rebuild breasts that have been removed by mastectomy or have been affected by trauma or deformity. Employing innovative procedures such as tissue expansion, flap surgery, and implant surgery, our plastic surgeons can give women new breasts that appear natural and beautiful.
All of our cancer reconstruction procedures will involve a detailed initial consultation with one of our plastic and reconstructive surgeons. At this meeting you and the doctor will discuss options available to you, what the procedure entails, risks and benefits, and more. We will address any questions and concerns you may have, and help you determine which reconstruction procedure may be best for your needs.
Learn more about breast reconstruction.
Skin Cancer Treatment
The most common type of cancer in the U.S. can be treated by our plastic and reconstructive surgeons with effective procedures designed to keep you healthy and minimize damage to the skin. Skin cancer is best treated when caught as early as possible. If you detect an unusual growth on your skin, an early consultation with a plastic surgeon will likely yield the best results for maintaining function and appearance.
The course of treatment depends on the location, size, and nature of the skin growth. Small skin lesions can often be excised on an outpatient basis with minimal scarring and microscopic techniques can assure the complete eradication of the cancerous tissues. A procedure called Curettage and Desiccation may also be required. This treatment involves the use of electric current to scrape out affected cells. This procedure leaves slightly more visible scars that are typically white in appearance.
Larger skin lesions that affect underlying tissue such as lymph glands may require more invasive surgery. Techniques involved in excising these cancerous growths are life-saving, and patients who see less than favorable functional and aesthetic results can benefit from reconstructive procedures to address extensive scarring or changes to structural areas such as the ear, nose, or mouth. Bone and skin grafting procedures, as well as scar revision can often help patients who experience these conditions.
Lymphedema Surgical Treatment
It's estimated that approximately 40% of women develop lymphedema from breast cancer treatment where lymphatic vessels cannot properly drain the lymph fluid from nearby tissues after treatment involving lymph node removal and/or radiation therapy. Lymph fluid build-up is a progressive condition that causes extensive swelling and discomfort and may lead to infection and amputation if left untreated. While a number of non-surgical techniques such as compression garments and massage can help reduce the symptoms of lymphedema, new specialized surgery to reroute the flow of lymphatic fluid may eliminate symptoms entirely.
The two types of surgery to treat lymphedema are Vascularized Lymph Node Transfer and Lymphaticovenous Anastomosis (or lymphaticovenular bypass surgery). Vascularized Lymph Node Transfer is most commonly performed in conjunction with a DIEP flap breast reconstruction where surgeons take functioning lymph nodes and tissues from elsewhere in the body and transfer it to the affected area so that fluid can return to the body's circulation through a new, natural conduit. Alternately, Lymphaticovenular bypass surgery directly connects the lymphatic vessels in the affected area of the body to the veins nearby by using tiny microsurgical tools. This surgery is minimally invasive and is generally an outpatient procedure that does not require an overnight hospital stay. With surgery, those who suffer from lymphedema will gradually show signs of improvement over several months as the severity of swelling decreases and the flexibility and comfort of limbs is restored.
The surgeons at New York Plastic Surgical Group are some of the most experienced and well-trained in the region, many of whom have attained extended fellowship training in microsurgery at some of the most prestigious institutions in the world. During an initial consultation with one of our plastic surgeons, the doctor will discuss the procedures available to you to reduce symptoms of lyphedema. We will address any questions and concerns you may have, and help you determine which procedure may be best for your needs.
Consultations
If you would like more information on skin cancer treatment, breast reconstruction, or other cancer reconstruction procedures, please contact New York Plastic Surgical Group to schedule a consultation. One of our plastic and reconstructive surgeons will be happy to meet with you and discuss your needs. Our number-one priority is you, and we look forward to helping you through this next stage.
View Our

Locations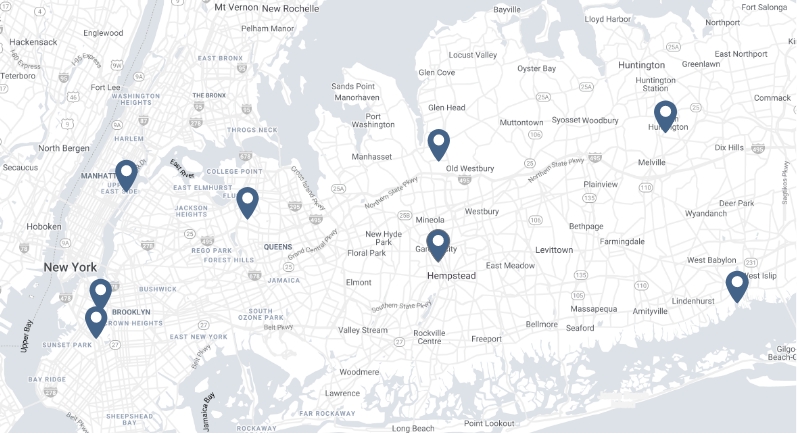 LIPSG LOCATIONS
Babylon

Brooklyn

Brooklyn – Park Slope

Connecticut

East Hills

Flushing

Garden City

Huntington

Manhattan Uptown

Westchester