Cleft Lip & Palate Repair
Cleft lip and palate is one of the most common birth deformities, occurring in thousands of births per year among children all over the world. At New York Plastic Surgical Group, a Division of Long Island Plastic Surgical Group, our Pediatric Plastic and Craniofacial Surgery Center takes a team approach to cleft lip and palate repair, utilizing some of the top reconstructive and plastic surgeons in the country along with a professional staff of specialists who work together to give your child the best treatment possible.
Please contact us for more information on cleft lip and palate repair, or to schedule a consultation at our Long Island, New York practice. If you have questions and would like to email Dr. Ruotolo directly please contact her at rruotolo@lipsg.com.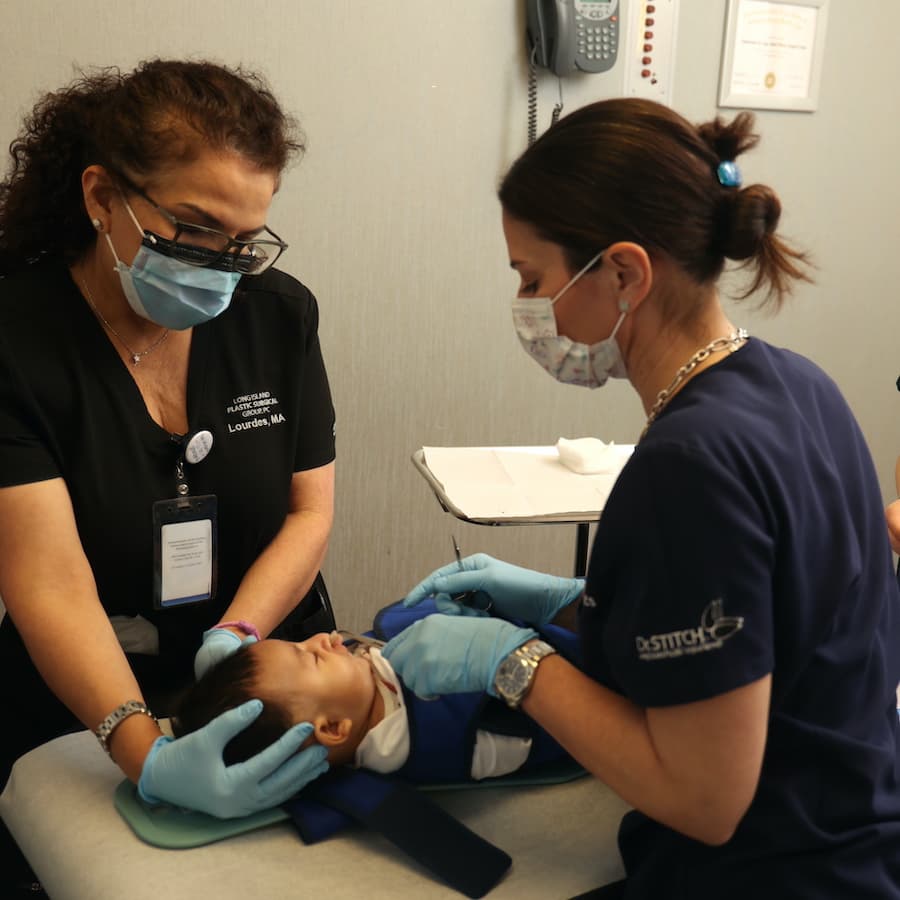 Our History With Cleft Lip / Palate Repair
For children who are in need of cleft lip and palate repair, our surgeons are some of the most experienced in the area with these procedures. We place a strong emphasis on not only effective and safe treatment with successful outcomes, but also an efficient treatment process so your child can return to normal daily routines as quickly as possible. 99% of children that have the cleft lip repair procedure go home the same day, and 99% of our patients who have had the cleft palate repair procedure go home the following day.
Since 1948, NYPS Group has performed more than 500 cleft lip/palate repairs. Working in conjunction with the Hagedorn Cleft Palate and Craniofacial Center at Long Island Jewish Hospital, our cleft lip and palate reconstruction team involves plastic surgeons, geneticists, ENTs, speech therapists, dentists, orthodontists, and professionals from a variety of disciplines all dedicated to treating these children. Following birth, our doctors will meet you in the hospital, and out-patient follow-up care begins just 2 weeks after discharge from the hospital in order to perform weight checks on the baby, help coordinate the subspecialty care, and communicate with your pediatrician.
What is a Cleft Lip / Cleft Palate?
A cleft lip and palate is a failure of the lip and palatal structures to fuse properly in utero. When in utero, all babies are clefted during development; however, the majority of fetuses eventually fuse the facial structures by the end of the first trimester. When a fetus fails to complete this fusion, various degrees of clefting may result. 85% of cleft lip and palate conditions are not affiliated with any other birth defects. The other 15% of children have concomitant abnormalities and/or existing genetic defects. Cleft palates are sometimes associated with other syndromes, such as:
Pierre Robin Sequence
Sticklers syndrome
Velocardiofacial syndrome (VCFS)
We recommend that children with both cleft lip and palate, and those with a cleft lip or a cleft palate alone, see a geneticist to rule out or identify possible genetic conditions.
When is Cleft Lip / Palate Repair Performed?
Cleft lip repair typically occurs at or about 3 to 4 months of age. Then, once your child is 9 to 12 months old, the cleft palate repair is performed. Hence, your baby will typically have two surgeries in his first year; however, the exact number of surgeries they will have in a lifetime is not fixed. For example, as your child grows, he may need jaw surgery at 16 or 17 because the jaw does not grow properly. Also, if the cleft extends through the tooth baring portion of the upper jaw (alveolus), the child will require a bone graft prior to the adult canine tooth eruption. Some children have one or two missing teeth that do not erupt until later in life, and sometimes they fail to erupt at all. Tooth development is not affected in children who have only a cleft lip. But, like most kids, many children with cleft lip and palate conditions will eventually need braces.
Our Cleft Lip Repair Results
View More Cleft Lip Before and After Photos
View Our

Locations
NYPS Group LOCATIONS
Garden City
Babylon
East Hills
Huntington
Manhattan
Brooklyn
Flushing
Astoria
Westchester
Connecticut