MACS Lift
One of the most popular surgical aesthetic enhancement procedures is facelift surgery, designed to significantly reduce the appearance of deep wrinkles and other signs of aging in the face. Over the years, techniques for providing patients with facelift surgery have seen remarkable innovations that improve results and quicken the procedure and recovery time. One of these procedures is the MACS Lift, also known as the Short Scar Facelift. The MACS Lift is able to produce more natural-looking results by lifting the skin vertically instead of horizontally, eliminating the risk of attaining a "windswept" look. Plus, the MACS Lift uses smaller incisions that are hidden within the hairline, and offers a shorter and easier recovery period. Many of our experienced doctors are extremely adept and experienced with all manner of facial plastic surgery procedures and can provide you with results that look natural and not "windblown." Our goal at New York Plastic Surgical Group, a Division of Long Island Plastic Surgical Group is to provide you with safe, effective procedures that do not give you the appearance of someone who has had plastic surgery.
Contact our plastic surgeons to schedule a consultation for MACS Lift (Short Scar Facelift) at one of our New York City or Long Island locations. At this initial consultation, you will be provided with a computer-generated image of how the results may look once the procedure is complete. The Vectra 3-D imaging system combines pictures of your face with specific medical data to form a digital photo of the likely outcome, before you even step into the operating room!
About MACS Lift
Developed in 2002, the MACS Lift stands for Minimal Access Cranial Suspension and is often appropriate for patients who desire mid-facial rejuvenation. While most patients who opt for this procedure are typically those who are under 60, MACS Lift can also be performed on older patients. The MACS Lift is designed for a bit more subtle rejuvenation – focusing on smoothing out the cheeks, reducing the appearance of jowls, and softening out wrinkles and creases in the nasolabial area (the region between the nose and mouth).
Please contact us for an initial consultation. We will be happy to discuss all aspects of the MACS Lift, including risks and benefits, and address any concerns you may have.
MACS Lift Procedure
MACS Lift addresses the most visible signs of aging in the face. A small incision is made within the hairline and in front of the ear. Skin is separated from the fat and muscle, and the muscles are tightened. The skin is lifted vertically, not horizontally as in a traditional face lift; and the middle layer is gently redraped, not pulled. The result can be a smoother, less aged appearance to the face that doesn't give away the fact that you have had plastic surgery. MACS Lift can be performed under general anesthesia or, in some cases, local anesthesia. The procedure typically takes about 2 ½ hours to complete.
The MACS Lift can be performed at one of our exclusive operating rooms. Accredited by the American Association for Accreditation of Ambulatory Surgery Facilities, Inc. (AAAASF), these state-of-the-art operatories are certified as employing only the most rigorous safety standards and offering the highest level of care.
MACS Lift Recovery
Patients can expect a more rapid recovery period from MACS Lift than from a traditional face lift. A mild degree of pain, discomfort, bruising, and swelling will likely be present in the first few days after surgery; however, this can be controlled with medication and should dissipate fairly quickly. Many patients are able to resume normal daily activities at about 7 days after the procedure.
MACS Lift Risks
Our plastic surgeons are known for their experience and safe techniques when performing any type of surgery, and every precaution will undertaken to ensure the entire surgical process. From before your MACS Lift procedure through to your recovery, the medical team at NYPS Group will do everything in our power to make sure your experience is safe, smooth, and effective.
Consultations
If you are considering facial plastic surgery to significantly enhance your appearance but you do not require a full face lift surgery, the MACS Lift may be the best option for you. Please contact New York Plastic Surgical Group and meet with one of our skilled plastic surgeons. We will be happy to talk about the procedure with you and answer any questions you may have.
View Our

Locations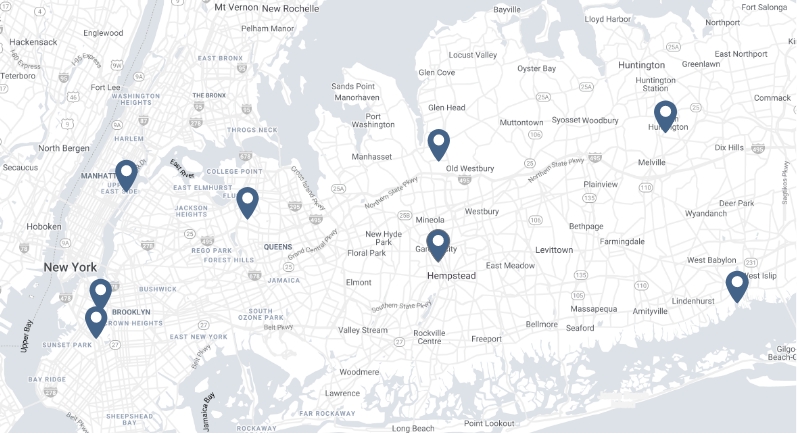 LIPSG LOCATIONS
Babylon

Brooklyn

Brooklyn – Park Slope

Connecticut

East Hills

Flushing

Garden City

Huntington

Manhattan Uptown

Westchester