Pediatric Plastic and Craniofacial Surgery
The pediatric plastic surgery team at New York Plastic Surgical Group, a Division of Long Island Plastic Surgical Group is made up of expert physicians who specialize in facial, skull, and extremity reconstruction for children affected by birth defects, trauma, and various genetic conditions. Our surgeons are focused on giving your child the best possible treatment through safe, specialized care with a compassionate bedside manner.
At New York Plastic Surgical Group, we are committed to bettering the lives of children, and as part of that commitment, our skilled surgeons spend a considerable amount of time offering their services to those in need, both locally, and around the globe. Members of our team have performed cleft lip and palate repairs as well as a variety of other reconstructive procedures in countries including Vietnam, Puerto Rico, Iran, India, and others.
We work with all insurance companies and hospitals throughout Long Island, including NYU Langone Hospital Long Island, Long Island Jewish and the Northwell Health System, St. Francis, Mercy, Nassau University Medical Center, Good Samaritan, and Mount Sinai South Nassau.
Please contact our Pediatric Plastic Surgery and Craniofacial Surgery Center to schedule a consultation with one of our specialists. If you have questions and would like to email Dr. Ruotolo directly please contact her at rruotolo@lipsg.com.
Why Would My Child Need a Plastic Surgeon?
Life sometimes presents families with unexpected challenges. Birth defects and other physical deformities are among those challenges. Also, as parents, we try hard to protect our children from harm. However, accidents do happen. Falling off a bicycle, encountering an unfriendly dog, or getting too close to a flame are all scenarios that families are faced with on a daily basis. Each of these situations can be daunting, but our pediatric plastic and craniofacial surgeons are dedicated to treating children and are here to help.
Cleft Lip & Palate
Cleft lip and palate is one of the most common birth deformities, occurring in thousands of births per year among children all over the world. A cleft lip and palate is a failure of the lip and palatal structures to fuse properly in utero. For children who are in need of cleft lip and palate repair, our surgeons are some of the most experienced in the area with these procedures. We place a strong emphasis on not only effective and safe treatment with successful outcomes, but also an efficient treatment process so your child can return to normal daily routines as quickly as possible.
Learn more about cleft lip and palate.
Congenital Lesions / Hemangiomas
Hemangiomas are the most common head and neck lesions in children. They are made up of capillaries that ultimately form a benign, rapidly proliferating vascular tumor. A hemangioma typically appears in the first month of life and then grows rapidly in the next 12 to 18 months, after which it involutes (regresses). Hemangiomas can manifest underneath the surface of the skin or as part of an internal organ, but more commonly, they appear superficially (on top of the skin). The exact type of treatment of these lesions depends on where the hemangioma appears on the body and how rapidly it grows. Treatment options include steroid injections, steroid medication taper, or surgical excision. Our doctors also work in collaboration with dermatologists to evaluate and treat skin lesions that are benign or malignant in nature. The precise diagnosis of a lesion can only be determined after a biopsy has been performed and then formally examined by a pathologist.
Craniofacial Surgery
The Pediatric Plastic and Craniofacial Surgery Center is home to some of the most experienced and skilled surgeons in the nation. This Center of Excellence has at least five doctors that perform cleft lip and palate reconstruction, and among our team, Dr. Rachel A. Ruotolo is one of the only plastic surgeons on Long Island that dedicates her practice to pediatric plastic and craniofacial conditions. The term "craniofacial" refers to the skull or cranium and facial skeleton, which includes the nose, ears, face and upper and lower jaw. Since the onset of her career, Dr. Ruotolo has performed thousands of major craniofacial surgeries and cleft lip/palate reconstructions.
Craniosynostosis
Craniosynostosis is premature fusion of the cranial sutures in infants, preventing normal growth of the skull and brain. The condition can be associated with certain syndromes – including Apert, Crouzon, and Pfeiffer, as well as being an isolated condition. Craniosynostosis is considered a birth defect that can lead to a number of problems, including increased intracranial pressure, skull deformity, visual impairment, and developmental delay. As a result, corrective surgery is essential and typically requires a multidisciplinary approach involving a team of pediatric and neurosurgery experts.
Cutis Aplasia
This rare congenital condition, in which babies are born without skin (and sometimes bone), occurs in approximately 3 in 10,000 births. While it can happen in a variety of areas on the body, it most typically involves the scalp and skull region. To reconstruct the defect, our expert physicians utilize a staged approach involving both surgical intervention and tissue expansion with medical balloons.
Infant Ear Molding
Infant ear molding is a noninvasive, infant ear correction system that address most newborn ear deformities.
Keloids
Keloid, is the medical term used to describe an irregular, fibrous scar that has developed at the site of an injury. These raised scars tend to be thick, pink or red in color, and sometimes itchy. While they aren't dangerous, keloids can be very visible, causing some patients to to feel uncomfortable or self conscious. The physicians at NYPS Group are available to offer multiple treatment options including excision and steroid injections.
Microtia
Microtia is a congenital deformity that occurs in roughly one in every 8,000-10,000 live births. The condition is characterized by a deformity affecting the outer ear, and is known as "small or absent ear." Grade III microtia is the most common form, and is typically treated in three stages, timed three months apart. Treatment usually involves the rebuilding of the ear with a bone graft from the rib cage. Since the ear does not reach its full adult size until the 5th to 9th year of life, treatment for microtia is typically provided to children within this age range.
Otoplasty
Otoplasty is a surgical procedure designed to treat ears that protrude too far from the head. This corrective ear surgery is most commonly performed on children after their ear cartilage has matured and when the entire external ear is at least 75% of the ultimate size of the adult ear. This typically occurs between the ages of 4 and 9. In addition, this age allows time for the participation and involvement of the child in the decision making process. The goal of this procedure is to create natural appearing ears that bring more balance and symmetry to the face.
Learn more about otoplasty.
Polydactyly / Syndactyly
Polydactyly is the medical term for extra fingers or toes that are present at birth. This is a common malformation that typically requires surgical intervention.
Syndactyly is the medical term for webbed or fused fingers or toes. This is a common malformation that typically requires surgical intervention to prevent conjoined digits from impairing growth and affecting dexterity.
Stitches
Physicians from all across Long Island and New York refer patients to NYPS Group for our expertise in quality suturing. Our surgeons and staff understand the concerns of parents and children when it comes to the physical and emotional aspects of scarring from surgical lacerations or injury repair. Doctors at New York Plastic Surgical Group are known for their exceptional technique and dexterity with suturing lacerations in ways that make the process as smooth as possible. Suturing can be performed here at our practice, or at one of the many hospitals on Long Island that keep our doctors on call.
Dr.STITCH is New York Plastic Surgical Group's on-call service for the immediate and urgent treatment of lacerations, burns, complex wounds, facial trauma, and hand injuries. When an accident happens, give us a call at the time of injury and before the emergency room visit at 877-DR-STITCH (877-377-8482). Our plastic surgeons are available 24 hours a day, 7 days a week, 365 days a year. Learn more at DrSTITCH.com.
Tongue And Lip Ties
Tongue and lip ties are genetic malformations of an infant's oral tissue. A tongue-tie is a band of tissue that tethers the tongue's tip to the floor of the mouth. Similarly, a lip-tie is when the mucosa of the upper lip is tethered to the gums. When left untreated, both of these conditions can affect feeding, speech, and dental development.
Other Conditions
Hemifacial Microsomia
Hypertelorism
Apert Syndrome
Pfeiffer's Syndrome
Crouzon Syndrome
Treacher Collins Syndrome
Velocardiofacial Syndrome (VCFS, also known as DiGeorge Syndrome)
Pierre Robin Sequence
Saethre Chotzen Syndrome
View Our

Locations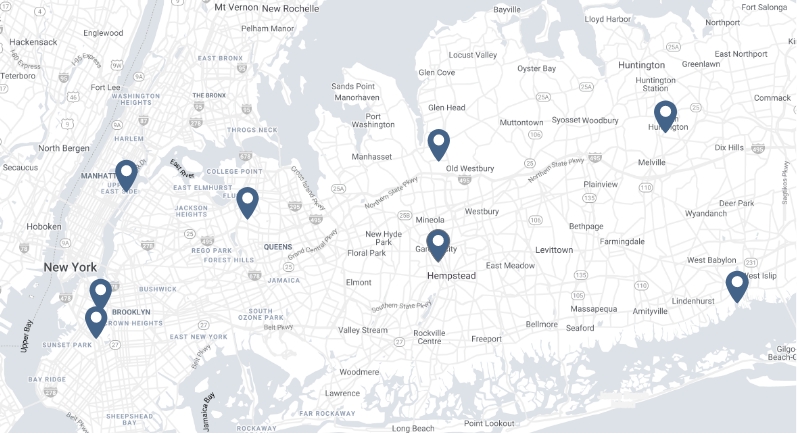 LIPSG LOCATIONS
Babylon

Brooklyn

Brooklyn – Park Slope

Connecticut

East Hills

Flushing

Garden City

Huntington

Manhattan Uptown

Westchester