Brazilian Butt Lift (BBL)
Buttock Enhancement In Long Island & NYC
The Brazilian Butt Lift (BBL), or buttock augmentation, is a plastic surgery body contouring procedure designed for patients who want to achieve a firmer, more voluptuous backside. At New York Plastic Surgical Group, a Division of Long Island Plastic Surgical Group, our dedicated team of plastic surgeons specializes in utilizing fat grafting, also known as autologous fat transfer, to enhance the buttocks with a patient's own natural tissue.
Benefits of BBL
BBL utilizes fat transferred from other areas of the body to add contour and volume to the buttocks, while simultaneously eliminating stubborn pockets of unwanted fat. In addition, a BBL provides the following benefits:
Natural-looking results
Enhanced size and shape of the buttocks
A safer alternative to implants
A more balanced figure
A more voluptuous silhouette
Improved body image and self-confidence
BBL Consultation
If you're interested in the Brazilian Butt Lift procedure, the first step is to schedule a consultation with one of our expert surgeons. During this appointment, you'll have the opportunity to ask questions and share your aesthetic goals. Your surgeon will also use this time to determine the amount of fat that is required to achieve the look you desire, as well as identify the best donor area on your body, and discuss realistic expectations for post-procedure results. Finally, you will receive a treatment plan and a breakdown of costs.
Good Candidates For BBL
Ideal candidates for BBL surgery are typically individuals looking to improve the shape and size of their backside. Candidates are non-smokers who are in good general health, and who have enough fat in the donor site for this fat transfer procedure.
BBL Procedure
Brazilian Butt Lift is performed on an outpatient basis under general anesthesia. Your BBL surgery will begin by removing excess fat from the donor site via liposuction. Donor sites typically include the abdomen, back, or thighs.
Once fat cells have been removed, the tissue is purified and precisely injected into the buttocks to create a softer and more voluminous appearance. Your surgeon will then meticulously sculpt the injected fat to create a shapely and natural-looking backside.
BBL Recovery
You will awake from your BBL procedure wrapped in a compression garment. This item will be worn throughout your recovery to help the buttocks mold to its new shape. It is common to experience bruising and swelling in both the donor and injection sites and to have fluid drainage from the incisions. Patients are generally able to walk several days after the procedure and can typically return to normal activities six weeks following surgery.
Are there any risks associated with BBL?
Because a fat transfer requires the use of one's own fat cells, there is a low risk of allergic reaction and/or infection.
Are BBL results permanent?
BBL results are permanent. However, like any other part of the body, the backside is still subject to the effects of aging. To maintain your results, it's best to incorporate a healthy diet and exercise regimen into your lifestyle. We also recommend maintaining a stable weight.
View Our

Locations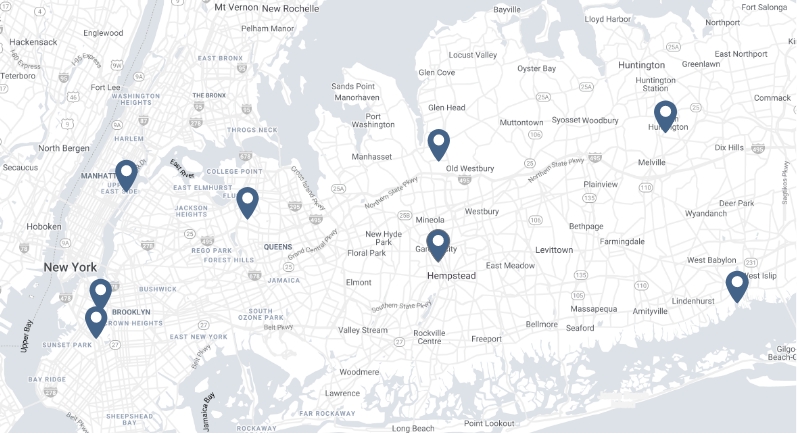 LIPSG LOCATIONS
Babylon

Brooklyn

Brooklyn – Park Slope

Connecticut

East Hills

Flushing

Garden City

Huntington

Manhattan Uptown

Westchester