Implant Reconstruction
After a mastectomy, women who are considering breast reconstruction can often achieve a natural-looking, beautiful new breast with the placement of a breast implant. Implant reconstruction can be performed in one of two ways: the placement of the implant under the remaining skin in the breast area after mastectomy (direct-to-implant breast reconstruction); or the placement of the implant after tissue expansion to form a breast pocket. Both methods of breast reconstruction are very common and are known to yield effective results.
Why New York Plastic Surgical Group?
The plastic and reconstructive surgeons at New York Plastic Surgical Group, a Division of Long Island Plastic Surgical Group are specialty-trained in breast reconstruction procedures from some of the most prestigious medical institutions in the world including Memorial Sloan Kettering Cancer Center and Cleveland Clinic. Our doctors are experts in the full range of breast reconstruction techniques and are the most experienced in the area, having performed over 10,000 breast reconstructive procedures.
At the Breast Reconstruction Surgery Center, a "Center of Excellence" within our practice, we emphasize a team approach to each patient's procedure. Our surgeons work with oncologists, radiologists, breast surgeons, and others involved in the breast reconstruction process to form a collaboration of expertise to determine the best options for each treatment plan in order to achieve the most successful breast reconstruction results possible. At the initial consultation, our NYPS Group plastic surgeon will cover all aspects of implant breast reconstruction, and will answer any questions concerning the overall treatment process. From developing pre-operative expectations to creating natural-looking breast reconstruction results, our surgeons understand the physical, mental, and emotional toll the entire process can have on our patients, which is why we focus on the specific needs of each patient.
Benefits of Implant Reconstruction
Implant reconstruction is an increasingly popular technique due to the advancements of implants that now allow for safe, natural-looking reconstruction. Additionally, implant reconstruction does not require microsurgery, thus reducing the actual procedure and recovery period. Whenever possible, our doctors work with breast surgeons to begin the reconstruction process at the time of cancer removal or prophylactic mastectomy. This collaboration is crucial to the overall success and natural appearance of the breast reconstruction through innovative techniques, such as oncoplastic incisions.
Oncoplastic Surgery
Commonly used with a lumpectomy, Oncoplastic surgery is an emerging technique designed to maximize aesthetic outcome by performing tumor removal and plastic surgery during the same operation. As a standard lumpectomy can create irregularities or unfavorable scars on the breast, patients may choose corrective cosmetic surgery at a later time. However, breast surgeons and several innovative plastic surgeons are now working together to use cosmetic-style incisions during the combined oncoplastic procedure to remove tumors and perform breast reconstruction surgery consecutively.1
Implant Reconstruction with Tissue Expansion
This procedure is designed for patients who need to expand the skin in the breast area in order to accommodate a breast implant. Tissue expansion involves the placement of a silicone balloon under the skin. After the balloon has been inserted, it will be filled with saline over a series of in-office treatment sessions in the ensuing months. The balloon causes the skin to grow and expand, stretching the skin to the point where a breast implant can be comfortably placed. The nipple and areola (the dark-pigmented area surrounding the nipple) can be recreated in a later procedure. The tissue expansion portion of this procedure typically takes about six to eight weeks, followed by the placement of the breast implant.
Learn more about implant with tissue expansion procedures.

Breast Implant without Tissue Expansion (Direct-to-Implant Reconstruction)
For some patients, there is enough remaining skin in the breast area to accommodate an implant without the need for tissue expansion. In these cases, an implant may be placed either during or after a mastectomy procedure depending on the particular treatment plan.
Whether our patients have undergone implant reconstruction with or without tissue expansion, the next phase in the treatment process can usually occur about two to three months after the implant has been placed. This usually involves nipple reconstruction or nipple tattooing, and some patients may require additional contouring and shaping of the new breast at this stage.
When the breast implantation procedure without tissue expansion is possible, patients can typically expect a shorter recovery time because the procedure can be completed in conjunction with the mastectomy, allowing patients to avoid the need for repeated visits to expand the tissue and a follow-up procedure to place the implant.
Types of Breast Implants
In a collaborative approach to the entire procedure, our patients and surgeons will decide which type of implant will best meet all surgical goals and expectations. Breast implants come in a variety of sizes, shapes, and types, and both saline and silicone-filled breast implants have been approved by the U.S. Food and Drug Administration for use in breast reconstruction procedures.
Who is a Candidate for Implant Reconstruction?
Breast reconstruction using implants may be the right choice for women who:
Do not have adequate donor tissue for a flap reconstruction procedure or are unable or unwilling to undergo a lengthier flap procedure.
Prefer not to have incisions and scars on other parts of their body, such as donor sites for flap reconstruction.
Do not require radiation therapy.
Are willing to make changes to a healthy breast to ensure symmetry. Sometimes, the best way to achieve a balanced appearance between an implant reconstructed breast and a natural breast is to make alterations to the healthy breast.
Have reasonable expectations about what can be achieved through implant-based breast reconstruction.2
Ready for a Consultation?
Implant reconstruction can provide results that look natural as we help our patients regain their physical, emotional, and mental well-being after mastectomy or injury. Our NYPS Group reconstructive surgeons will discuss all the risks and benefits to this procedure in the initial consultation, and go over all available options. At NYPS Group, we aim to inspire a collaborative environment to ensure all questions and concerns are answered and that our patients are thoroughly informed in all aspects of treatment. Together with our plastic surgeons, we will develop the treatment plan that can best meet each patient's needs. To schedule a consultation for breast reconstruction with one of our plastic and reconstructive surgeons at NYPS Group, please contact our practice.
View Our

Locations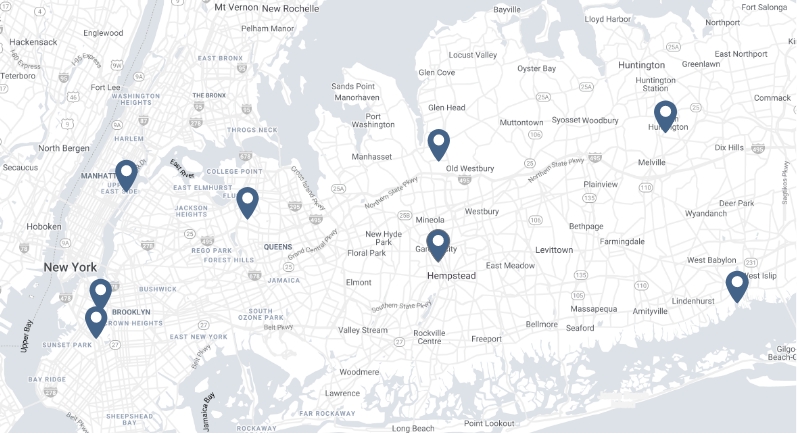 LIPSG LOCATIONS
Astoria 

Babylon

Brooklyn

Brooklyn – Park Slope

Connecticut

East Hills

Flushing

Garden City

Huntington

Manhattan Uptown

Westchester