Breast Revision
Breast revision, or breast augmentation revision surgery can help women who are dissatisfied with a previous breast enlargement or breast reconstruction procedure. By correcting complications or unhappiness with results stemming from your first surgical experience, our skilled plastic surgeons can perform breast revision surgery to address those concerns and provide you with the beautiful, natural-looking results you had originally hoped for. Many of our doctors at New York Plastic Surgical Group, a Division of Long Island Plastic Surgical Group have specialty training in breast surgery procedures and are committed to helping you attain your ultimate goals. At our Aesthetic and Reconstructive Breast Surgery Center, a designated Center of Excellence within our practice, problems from prior procedures can often be solved, and the results can be better than you imagined.
Breast Revision
For many women, breast augmentation surgery is a way to achieve fuller breasts that are in better proportion with their body frame. They can also provide a boost to self-esteem and make women feel more youthful and sensual. However, some patients find that their original breast augmentation procedure has not yielded the results they had hoped for, and others are affected by complications that have arisen after the procedure.
*model
Reasons patients may desire breast revision surgery include:
Breast implants are too large or too small
The desire to switch from saline to silicone implants or vice/versa
The desire to go back to their original breast size
Capsular contracture, scar tissue forming around the implant that can cause a painful hardened feeling in the breasts
Implant deflation or rupture
Rippling appearance to the implant
Infection around incision sites
Asymmetrical appearance caused by shifting of the implant or awkward implant shape
Breast revision surgery or implant removal may also be necessary if a patient is undergoing unrelated health problems such as breast cancer, which may be more easily treated without the implant.
Your plastic surgeon will meet with you in an initial breast revision surgery consultation to discuss all aspects of breast revision surgery, your goals for results, and whether breast revision surgery is the right procedure for your unique needs. At your initial consultation, we can also provide you with a 3-D Vectra computer image of the likely results from your procedure. This state-of-the-art technology combines patient data and photos of you into a computer-generated image. The image displays the possible outcome of breast revision surgery to give you an idea of how you may ultimately look.
Breast Revision Procedure
Depending on your needs and goals, breast revision surgery can be performed in a number of ways. Saline implant removal typically involves the deflation of the implant before removing it. Then, the surgeon will eliminate any existing scar tissue. Silicone implant removal is typically more involved and may require some surrounding muscle and tissue to be removed as well. If you are undergoing a removal and replacement breast revision surgery, the new implants are generally placed immediately after the original implants have been removed. Our plastic surgeon will take the greatest care to ensure the results meet your expectations and look natural and symmetrical.
The time it takes to perform breast revision surgery will depend on the extent of your procedure. Breast revision surgery is often performed under general anesthesia on an outpatient basis. Breast revision surgery can be performed at one of our brand new, accredited operating rooms located at our Garden City or Manhattan facility. Accreditation from the American Association for Accreditation of Ambulatory Surgery Facilities, Inc. (AAAASF) signifies the highest standard of care in a fully equipped surgical environment.
Breast Revision Recovery
The recovery process for breast revision procedures is dependent on which type of revision surgery you have undergone. Implant removal typically results in some mild discomfort, bruising, and swelling after surgery; however, this can be managed with medication. Implant replacement patients can expect some bruising, swelling, and discomfort in the few days after the procedure, although this can also be managed with medication. Patients who have undergone implant replacement may also be fitted for a compression bra for a few weeks after surgery to help the progression of healing.
Breast revision surgery patients are advised to not participate in strenuous activities or activities that could strain or harm the breasts for at least six weeks after surgery. Depending on the procedure you have undergone, most patients are able to resume normal daily routines a few days after the procedure.
Breast Revision Risks
Our plastic surgeons will discuss all risks with you before the procedure. Our doctors are extremely well-trained and experienced with breast revision surgery, and they will make every effort to ensure your surgery runs smoothly and safely, results meet your treatment goals.
Consultations
If you are unhappy with the appearance of your breasts after having breast enhancement or reconstructive surgery, or you are experiencing complications resulting from a previous procedure, the plastic surgeons at the New York Plastic Surgical Group can help. Please schedule a breast revision surgery consultation and speak with one of our doctors. Plastic surgeons at NYPS Group can provide you with results that look natural and conform to your original goals.
View Our

Locations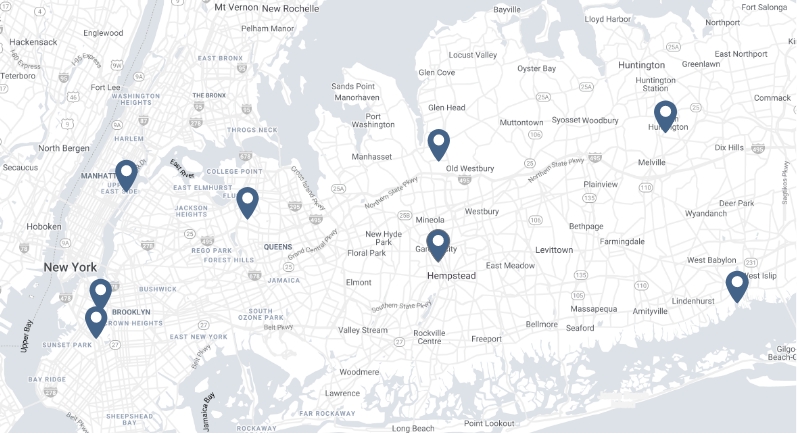 LIPSG LOCATIONS
Babylon

Brooklyn

Brooklyn – Park Slope

Connecticut

East Hills

Flushing

Garden City

Huntington

Manhattan Uptown

Westchester