Breast Augmentation
Breast Augmentation in NYC & Long Island, New York
As the most popular cosmetic procedure in the United States, breast augmentation is a surgery regularly performed by our physicians at New York Plastic Surgical Group, a Division of Long Island Plastic Surgical Group. In addition to technical experience and expert skill, our surgeons understand the delicate role a woman's breasts can play in affecting her confidence, happiness, and overall mental health. While all women electing to undergo breast augmentation surgery may come to the same conclusion, the reasons that bring them into our offices often vary. Whether it's breast size, asymmetry, shape, or droopiness, our surgeons are eager to help patients address their individual aesthetic concerns.
A breast augmentation surgery with breast implants is designed to help patients achieve larger, firmer, and more contoured breasts. By enhancing breast size and shape, this procedure can also provide patients with a more youthful appearance and symmetrical/ proportionate silhouette.
In addition, breast implants can aid women who are struggling with reduced breast mass after surgery or pregnancy, help to correct congenital breast defects, or be used in other breast surgery procedures such as breast reconstruction.
Our experienced breast augmentation surgeons have attended some of the most prestigious medical institutions in the world and are committed to giving you a new silhouette with breasts that look and feel natural. At New York Plastic Surgical Group, you will be treated by a team of professionals who care about helping you to safely attain your cosmetic goals.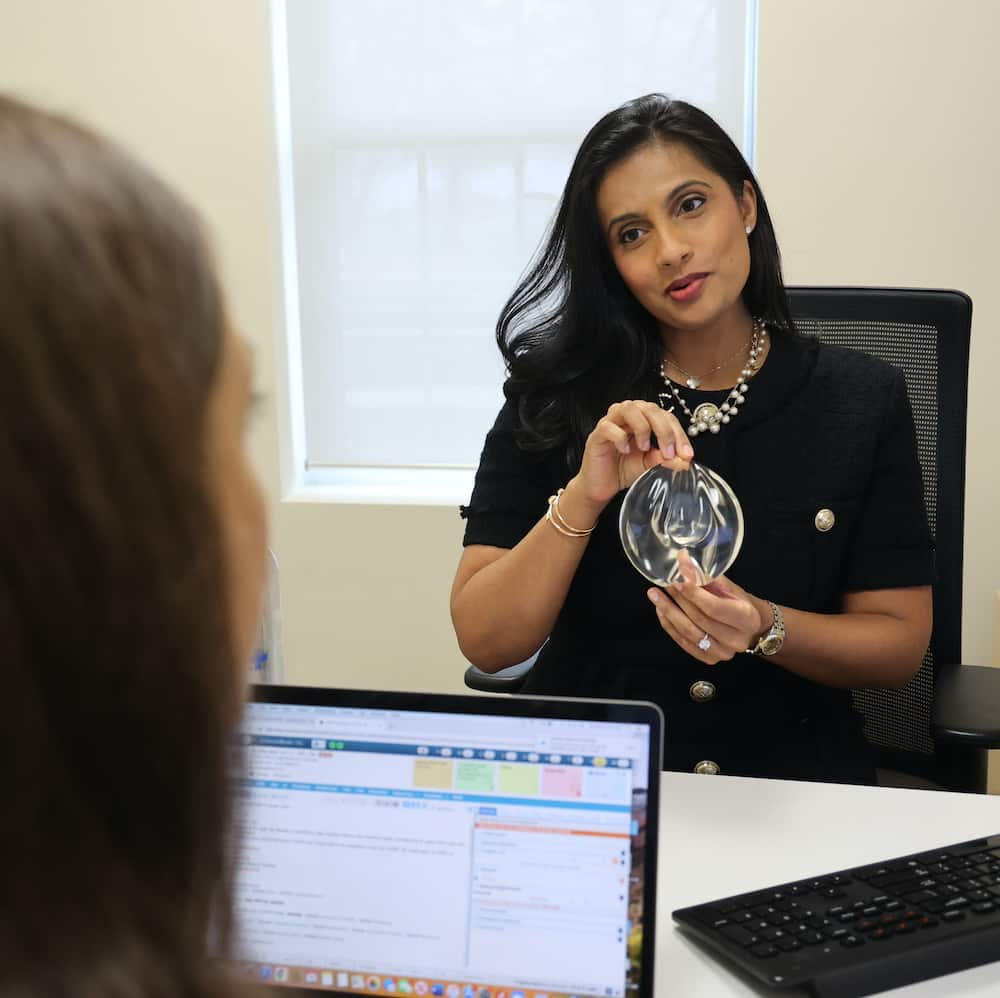 Breast Augmentation With Implants
Both silicone and saline breast implants are clinically proven to safely and effectively create fuller, more youthful-looking breasts. However, we recognize that every woman is an individual and has unique cosmetic goals. For this reason, each of our breast augmentation surgeries is customized to ensure the safest procedure and the best possible outcome for you. During your consultation you will be asked about your medical history and your goals for breast augmentation. You will also be given more details regarding both the procedure and breast implants in general. This includes the types, sizes, and shapes available to you, as well as what you should expect before, during, and after your procedure.
Your surgeon will address all of your questions and together, you'll determine the best treatment plan to achieve your goals. For those with concerns about sagging, drooping, or deflated-looking breasts, an augmentation with implants is often combined with a breast lift. This procedure is designed to remove excess skin and raise the position of the nipple for a perkier look.
Silicone Breast Implants
Silicone implants are breast implants that are filled with a silicone gel. Many patients find that silicone breast implants look and feel more like natural breast tissue. This type of breast implant has been FDA-approved for patients over the age of 22.1 Silicone breast implants are made of a silicone outer shell and are filled with a thick, silicone gel that holds its shape even if punctured and/or leaks. Silicone breast implants are less likely to ripple and can be more advantageous for patients that have less natural tissue to work with, such as exceptionally thin women or those who are undergoing breast reconstruction.
Saline Breast Implants
Saline implants are breast implants that are composed of a silicone outer shell filled with a sterile saltwater solution that is easily absorbed by the body in the rare case that a rupture or leak occurs.2 This type of breast implant is FDA-approved for use in patients over 18. Saline implants are round in shape and are ideal for patients who would like a more dramatic result. They may result in less visible scarring as this type of implant is filled after placement, making a smaller incision possible.
Vectra 3-D Imaging
Your plastic surgeon at New York Plastic Surgical Group will take the time to review the pros and cons of each type of Breast Implant with you during your breast augmentation consultation. As part of this initial meeting, you will also be given the opportunity for Vectra 3-D imaging. Vectra 3-D imaging allows your surgeon to render a custom computer-generated image of how you may look after surgery and can manipulate that image to show you various breast implant shapes and sizes for comparison.
*model
Benefits of Breast Augmentation
In addition to creating a more proportionate silhouette, breast implants can help to provide women with a more youthful, feminine appearance. However, that's not all. Breast augmentation with breast implants can also:
Improve the overall appearance of your breasts
Create fuller, more symmetrical breasts
Provide a more shapely breast contour
Restore breast volume after pregnancy or surgery
Correct a congenital breast defect
Rebuild breasts after mastectomy
Improve self-confidence
What to Expect During Your Breast Augmentation
During a breast augmentation surgery, breast implants are placed either beneath the breast tissue or beneath the chest muscle. Based on your anatomy and cosmetic goals, your plastic surgeon will determine which option is best for you. There are several surgical breast augmentation techniques our plastic surgeons can use to perform your procedure, including the following:
Inframammary Incision: An incision made in the breast fold (the crease where the bottom of the breast meets the chest)
Transaxillary Incision: An incision made in the armpit
Periareolar Incision: An incision made in a "U" shape on the bottom half of the areola (the darker-pigmented skin surrounding the nipple)
Transumbilical Incision: An incision made in the navel (belly button)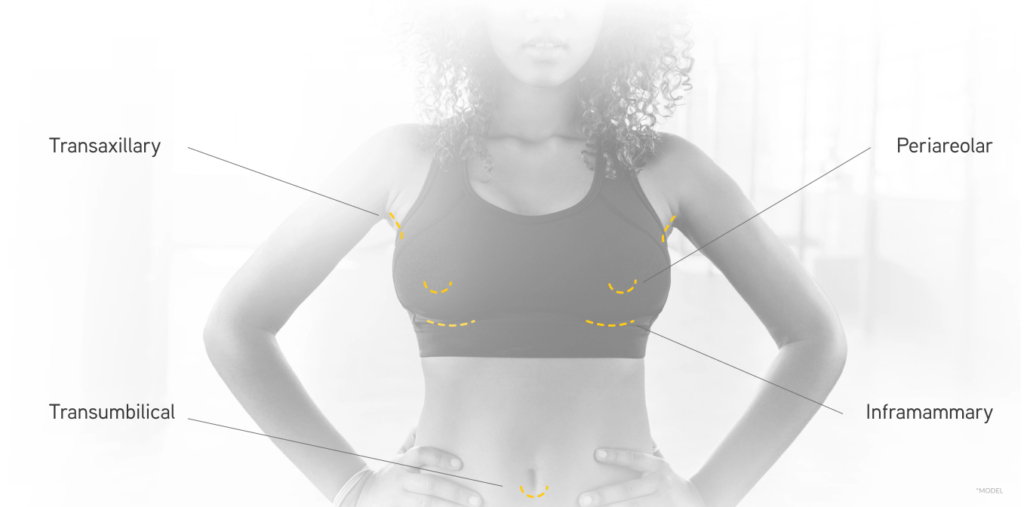 Preparing for Your Breast Augmentation
When preparing for your breast augmentation procedure, it's important that you:
Stop smoking
Fill any prescriptions provided by your surgeon
Avoid taking blood-thinning medications such as aspirin and anti-inflammatories
Arrange for a ride to and from surgery
Arrange to have someone stay with you for the first night after surgery
Breast Augmentation Recovery
Patients can expect to experience some pain following breast augmentation surgery. However, we will help you manage any discomfort with prescription and over-the-counter medications. You can also anticipate swelling, bruising, and possibly a loss of sensation in the breasts and nipples for several weeks following your procedure. Stitches are generally removed after 10 days at your first follow-up appointment. While you should plan to take at least two days off work, most patients find they can resume their normal routines within a few days to a week after surgery. Your surgeon will discuss further details of recovery as it pertains to your particular case and provide you with more information regarding how long you can expect the healing process to last.
Breast Augmentation Results
Breast augmentation using breast implants can help you add volume and projection to your bust, changing the shape in addition to the size of your breasts and offering a beautiful result. Click below to see real breast augmentation patient results from the plastic surgeons at New York Plastic Surgical Group.
Am I A Candidate For Breast Augmentation?
Candidates for breast augmentation are typically individuals who:
Are generally healthy
Are not pregnant and/or breastfeeding
Have realistic expectations
Desire larger breasts
Are dissatisfied with volume loss in the breasts after weight loss, pregnancy, or the natural effects of aging
Desire more asymmetrical breasts
Want to correct tubular breasts
Do not smoke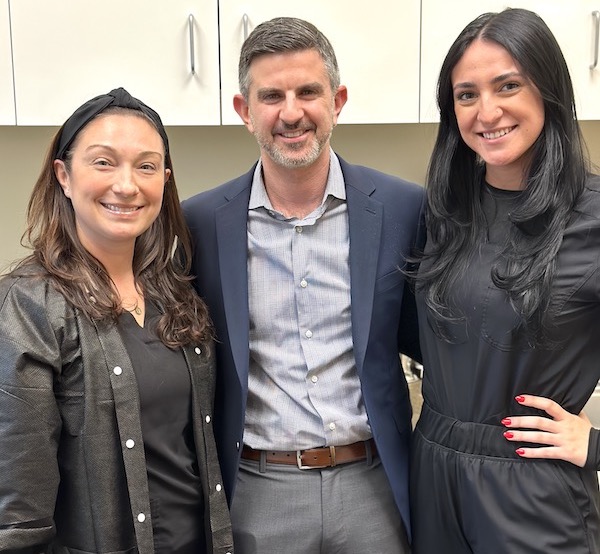 Why Choose New York Plastic Surgical Group For Breast Augmentation?
Our surgeons have more than 200 years of combined experience, and in that time have dedicated themselves to improving the lives of our patients through cosmetic and reconstructive surgeries. In addition to being the largest surgical practice in the United States, we have also been in operation longer than any other plastic surgery facility in North America. At New York Plastic Surgical Group we are proud to provide each and every patient with comprehensive and compassionate care. We invite you to learn more about New York Plastic Surgical Group here. 
Frequently Asked Questions About Breast Augmentation
Are There Any Risks or Complications Associated With Breast Augmentation?
Breast augmentation surgeons at New York Plastic Surgical Group are highly skilled and experienced plastic surgeons who take every precaution to ensure your safety. Risks and possibilities of complication associated with breast augmentation surgery will be gone over in detail with you at your initial consultation. Our entire team is committed to your success in every stage of your care.
How Much Does Breast Augmentation Cost?
There is no one-size-fits-all price for breast augmentation, as each surgery is as unique as the patient. You will receive a comprehensive treatment plan that includes pricing details during your consultation.
Is Breast Augmentation Covered By Insurance?
Cosmetic breast augmentation is not typically covered by healthcare insurance. However, some providers will cover or partially cover breast augmentation with implants when performed as part of breast reconstruction following mastectomy or qualifying injury. Make sure you review your insurance policy coverage before scheduling your breast augmentation.
Should I Have A Mammogram Following Breast Augmentation?
We recommend that women continue to schedule regular annual mammograms after breast augmentation surgery. A special mammogram will need to be used to see around the implants and deliver accurate results.
View Our

Locations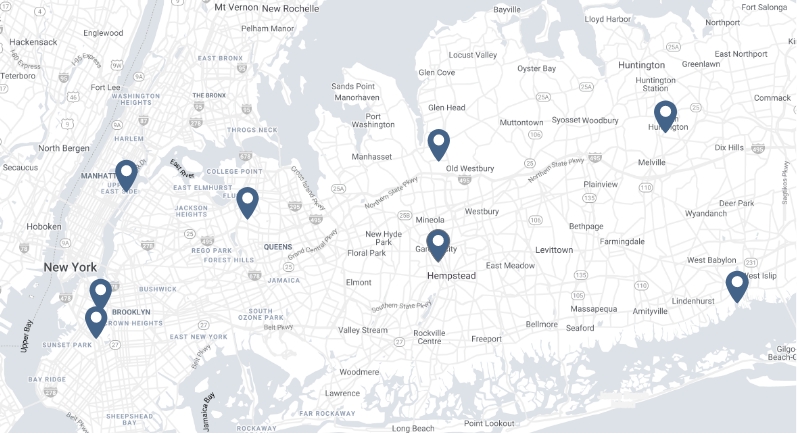 LIPSG LOCATIONS
Babylon

Brooklyn

Brooklyn – Park Slope

Connecticut

East Hills

Flushing

Garden City

Huntington

Manhattan Uptown

Westchester