Abdominoplasty (Tummy Tuck)
If you have concerns with loose folds of excess skin in your abdominal region, the experienced surgeons at New York Plastic Surgical Group, a Division of Long Island Plastic Surgical Group can help you attain a slimmer, tighter, more toned-looking stomach and midsection. This body contouring procedure is often performed in conjunction with liposuction to help patients lose stubborn abdominal fat that hasn't responded to diet and exercise. Tummy tuck surgery is also popular with mothers who experience difficulty restoring their pre-pregnancy bodies, which is why the tummy tuck procedure is included in mommy makeover surgery.
*model
Tummy Tuck Surgery in NYC & Long Island
A tummy tuck, medically referred to as an abdominoplasty, is designed to remove excess skin from the abdominal region and reposition the underlying tissue and muscles for a firmer midsection. Excess skin folds and fat can appear in this region due to a number of factors, including:
Significant weight loss
Genetics
Aging
Pregnancy
Excess fat and skin in the abdomen can often be extraordinarily difficult to eliminate, even with a strict diet and a rigorous exercise routine. While tummy tuck surgery can remove stubborn fat deposits along with loose skin, it is not a weight loss surgery. Typically, abdominoplasty procedures remove up to 10 pounds of excess stomach skin and fat.1 As you can see in some of these before-and-after tummy tuck photos, this procedure can do wonders for tightening the abdominal muscles and removing excess skin.
Our Long Island & NYC Tummy Tuck Surgeons
Our highly skilled abdominoplasty surgeons are alumni of the most renowned medical schools in the world and are dedicated to providing you with the flat, toned stomach and midsection you deserve. At New York Plastic Surgical Group, you can expect to be treated by a team of medical professionals who uphold the highest standards of patient care and who are passionate about helping you achieve beautiful and lasting results.
During your tummy tuck consultation, you will be asked to provide details about your medical history and your goals for tummy tuck surgery. You'll also have the opportunity to ask any questions you have about the procedure and your expected results, as well as pre-and post-operative instructions.
Benefits of Tummy Tuck
Tummy tuck surgery can provide you with a slimmer, more shapely, and toned midsection. Tummy tuck surgery can also:
Improve the appearance of your silhouette
Tone and tighten the stomach
Remove excess skin in the midsection
Strengthen core abdominal muscles
Improve posture
Relieve certain types of back pain2
Help clothes fit better
Restore a more shapely contour in the abdomen
Reduce stress urinary incontinence3
Correct ventral hernia4
Improve self-confidence
What to Expect During Your Tummy Tuck Surgery
Your tummy tuck surgery will be performed in one of our new, state-of-the-art operating rooms located at the New York Plastic Surgical Group's Garden City or Manhattan location. Each of these fully equipped, operating rooms have been certified by the American Association for Accreditation of Ambulatory Surgery Facilities, Inc. (AAAASF), an organization that only recognizes operating environments that adhere to the highest standards of medical care.
Your tummy tuck surgery will begin with a horizontal incision made above the pubic area that runs from hip to hip. An additional incision will be made to free the navel (belly button) from the surrounding tissues. Then, the excess skin is lifted, and your underlying abdominal muscles will be pulled taut and tightened. The excess skin will then be removed, and the remaining skin will be remodeled, tightened, and sutured into place for a flatter, firmer appearance. Finally, your surgeon will stitch your navel back into place and close any remaining incisions.
Mini Tummy Tuck
A mini tummy tuck, also called a partial abdominoplasty, is designed to specifically address the area below the navel. Unlike a full tummy tuck, which involves multiple incisions with one around the belly button, a mini tuck typically requires just one shorter incision placed just below the bikini line. This procedure does not address the abdominal muscles in the way that a full tummy tuck does, so it may not be the best option for patients who want to repair separated abdominal muscles (diastasis recti). A mini tummy tuck is ideal for patients who are seeking to tighten loose skin below the navel and remove excess pockets of fat in the lower abdomen.
Preparing for Your Tummy Tuck Surgery
When preparing for your abdominoplasty procedure, it's important that you:
Follow all of the instructions provided by your surgeon
Stop smoking
Fill any medications prescribed by your surgeon
Avoid blood-thinning medications such as anti-inflammatories and aspirin
Arrange for transportation to and from your surgery
Arrange to have someone stay with you for the first night after surgery
Tummy Tuck Recovery
After tummy tuck surgery, your surgeon will place a compression garment on your abdomen, which you will wear for 4-6 weeks following your procedure to reduce swelling. You can expect to feel some pain in the days after your surgery, but we'll help you manage any discomfort with a combination of prescription and over-the-counter (OTC) medications. During the recovery period, it's essential that your surgical incisions are not subjected to excessive motion, force, or abrasion.
Additionally, it's best to bend at the waist while standing or spend most of the day lying down for at least 7-10 days after your surgery. This will help to protect your incision and to give your skin and muscles time to adapt to their new position.5
You will be able to walk the day of your surgery, and we often encourage our patients to improve blood circulation by walking up to three times the day of surgery as it can minimize the risk of blood clots.6
Patients can plan to return to work in two weeks. You can expect bruising and swelling to subside gradually over several weeks, with swelling mostly diminished three months after your procedure. Your scars will also continue to heal and gradually become lighter and thinner in the 12-18 months following surgery.7
Tummy Tuck Results
You should expect that your tummy tuck surgery results will be initially obscured by swelling. After approximately 7 to 10 days your tummy tuck results will be visible and you can expect a flatter, firmer abdominal contour that is proportionate to your frame and weight. As always, following your surgeon's post-operative instructions is critical to an optimal outcome. Click here to see real tummy tuck patient results from  our plastic surgeons.
Am I A Candidate For Tummy Tuck Surgery?
Candidates for tummy tuck surgery are typically individuals who:
Are generally healthy
Do not smoke
Have realistic expectations
Are dissatisfied with the appearance of their midsection
Desire a firmer, flatter stomach
Are at a stable, healthy weight
Why Choose New York Plastic Surgical Group For Tummy Tuck Surgery?
With over 200 years of combined experience, our team of surgeons is dedicated to improving the life of each and every patient through both non-surgical and surgical (cosmetic and reconstructive) procedures.
We are proud to say that New York Plastic Surgical Group is the largest, longest running practice of its kind in the United States. To learn more about our compassionate team of surgeons and our unmatched standards of care, click here.
Frequently Asked Questions About Tummy Tuck Surgery
Are there any risks or complications associated with tummy tuck surgery?
Our doctors are extremely skilled and experienced with tummy tuck procedures and will make every effort to minimize risks. Risks can be further minimized by patients strictly adhering to the surgeon's instructions both before and after the procedure. All aspects of tummy tuck surgery, including the risk of complications, will be discussed in detail at your initial consultation.
How much does tummy tuck surgery cost?
Each tummy tuck surgery is customized to the patient so pricing can vary depending on several factors. During your initial consultation, you will receive pricing details and a comprehensive treatment plan.
Is tummy tuck surgery covered by insurance?
Cosmetic tummy tuck surgery is generally not covered by healthcare insurance. However, when combined with other surgeries such as panniculectomy (removal of excess skin after massive weight loss without tightening the abdominal muscles) or breast reconstruction procedures, such as DIEP flap surgery, exceptions are occasionally made. Depending on your needs, it's best to check with your insurance provider.
Are tummy tuck surgery results permanent?
After tummy tuck surgery, your results are permanent provided that you maintain your weight. The excess skin removed from your abdomen won't return unless a pregnancy or significant weight gain stretches this skin again.
Can tummy tuck surgery remove stretch marks?
Yes, tummy tuck surgery can remove some stretch marks. However, only the stretch marks on the skin excised from the abdomen will be removed.8
View Our

Locations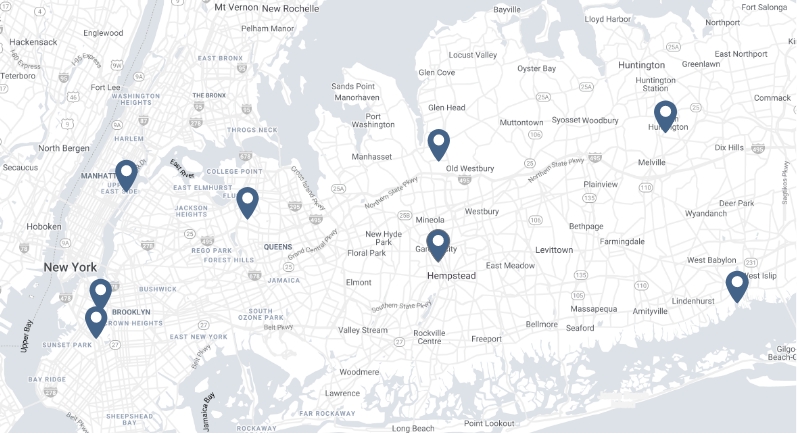 LIPSG LOCATIONS
Babylon

Brooklyn

Brooklyn – Park Slope

Connecticut

East Hills

Flushing

Garden City

Huntington

Manhattan Uptown

Westchester