Our Doctors
Laurence T. Glickman, MD, MSc, FRCS(C), FACS

Michael R. Christy, MD, MA, FACS

David Parizh, DO

Haritha B. Veeramachaneni, MD

Nikhil Agrawal, MD

Leland M. Deane, MD, MBA, FACS

Matthew S. Kilgo, MD, FACS

Tommaso Addona, MD, FACS

Rachel A. Ruotolo, MD, FACS

Thomas A. Davenport, MD, FACS

Anke Ott Young, MD, PhD

Richard G. Reish, MD, FACS

Frederick N. Lukash, MD, FACS, FAAP

Brian A. Pinsky, MD, FACS

Barry K. Douglas, MD, FACS

Roger L. Simpson, MD, MBA, FACS

George D. Xipoleas, MD, FACS

Finny George, MD

David Mattos, MD, MBA

Michael Dobryansky, MD, FACS

Yoel A. Rojas Ortiz, MD

Irena Karanetz, MD

Noël B. Natoli, MD, FACS

Jerry W. Chang, MD, FACS
Thank you for voting for us

Best Plastic
Surgery Group

Best Botox Practice


2022

Thank you for voting for us

Best Cosmetic Surgery Group

Long Island Plastic Surgical Group


2021
Our History
Over 200 Years of Combined Experience
The physicians at LIPSG have a history of seeking out and performing some of the most complex cases in the field. Through this work they remain dedicated to improving the lives of both cosmetic and reconstructive patients from all corners of the world.
Our LIPSG Specialities
As the largest, longest-running private and academic plastic surgery practice in the United States, LIPSG offers a full range of reconstructive and cosmetic plastic surgery options.

Deep Blue Med Spa is a comprehensive medical spa focused on enhancing natural beauty and restoring a youthful look through skin rejuvenation and body treatments.

New York Plastic Surgical Group, a division of Long Island Plastic Surgical Group, encompasses our Manhattan, Brooklyn, and Queens locations.

Dr.STITCH is LIPSG's 24 hour hotline and on call service for immediate and urgent treatment. This includes lacerations, burns, complex wounds, facial trauma, and hand injuries.

The Facial Reanimation Center is dedicated to helping patients who have suffered trauma, disease, stroke, infection, and other afflictions that have caused them to lose function in facial motion.

Each year LIPSG sponsors the annual Breast Cancer Summit, an event which brings breast cancer survivors, current patients, our surgeons, and other healthcare professionals together in solidarity for awareness, education, inspiration, and hope.

The Institute for Hand Surgery is focused on providing extensive care for conditions of the hand, upper extremity, and peripheral nervous system.
in the media
LIPSG is regularly recognized in the media as a leading plastic surgery practice. Our experienced and widely renowned plastic surgeons are often consulted by major publications and news outlets to share their knowledge and expertise.
View Our

Locations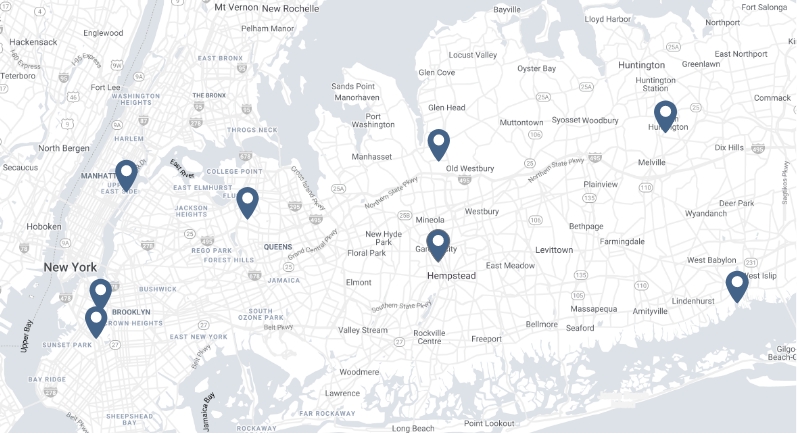 LIPSG LOCATIONS
Babylon

Brooklyn

Brooklyn – Park Slope

Connecticut

East Hills

Flushing

Garden City

Huntington

Manhattan Midtown

Manhattan Uptown

Westchester