Skin Lesions
Skin lesions can not only be unpleasant to those who suffer from them, they can also be an indication of something more serious that can dramatically affect your health. Doctors at New York Plastic Surgical Group, a Division of Long Island Plastic Surgical Group work with top dermatologists to evaluate and treat skin lesions that are benign or malignant in nature. Our plastic surgeons can help eliminate skin lesions and assess whether further treatment may be necessary.
Contact us for more information, or to schedule a consultation on treatment for skin lesions at our Long Island, New York practice.
What Are Skin Lesions?
Skin lesions are abnormal, superficial growths on the skin. They can be caused by a number of conditions or diseases. Skin lesions typically fall under one of two categories:
Primary Skin Lesions
This type of skin lesion varies in color and texture. They are often present at birth, such as birthmarks or moles. Primary skin lesions can also result from an allergic reaction, environmental factors, or disease.
Secondary Skin Lesions
Secondary skin lesions are changes occurring in the skin that result from a pre-existing skin lesion. They are typically brought on by scratching or by natural progression.
Treatment for Skin Lesions
Treatment for skin lesions will depend on the individual patient's health, type of skin lesion, and the cause of the condition. The quickest way to treat a skin lesion is removal. After administering a local anesthetic, one of our plastic surgeons will shave down the skin lesion or simply eradicate it. Stitches may be required following treatment depending on the size of the skin lesion being removed.
Consultations
Skin lesions should not be ignored, as they may be indicative of a more serious health problem. Doctors at NYPS Group and our partnering dermatologists can assess skin lesions and determine the best course of treatment. In many cases, we can eliminate skin lesions for an improved appearance. Please contact the New York Plastic Surgical Group to schedule a consultation with one of our experienced plastic surgeons. Our doctors will be happy to address any questions or concerns you may have.
View Our

Locations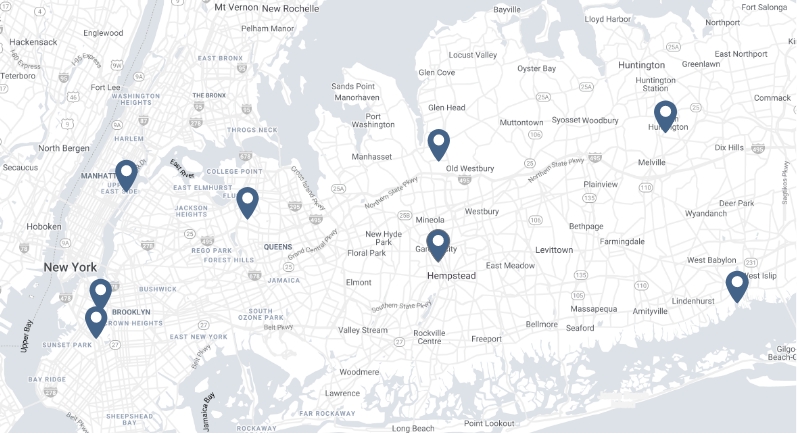 LIPSG LOCATIONS
Astoria 

Babylon

Brooklyn

Brooklyn – Park Slope

Connecticut

East Hills

Flushing

Garden City

Huntington

Manhattan Uptown

Westchester