Gender Affirming Surgery for Transgender Patients
The highly experienced Plastic Surgeons at New York Plastic Surgical Group, a Division of Long Island Plastic Surgical Group are dedicated to helping patients feel comfortable in their bodies and confident in their appearance. We specialize in a variety of gender affirming surgical procedures for transgender patients, including facial surgery, transmasculine top surgery, and transfeminine breast augmentation. The decision to have surgery is a very personal one, and you can expect compassionate and comprehensive care from our team of experts.
What is Gender Affirming Surgery?
When a person's assigned or biological sex does not match their gender identity, there are many ways they can express their gender in order to live a more comfortable and authentic life. Transgender, gender fluid, or non-binary people may change their names, adapt their clothing, and undergo hormone treatment. Not all transgender people decide to have surgery, but for people who experience the stress or anxiety of gender dysphoria, surgery can be an effective solution that improves overall well-being. 1
Gender affirming surgery can include a variety of procedures that aim to help patients create an appearance that is more in line with the typical physical standards of their gender identity. At New York Plastic Surgical Group, each patient receives a personalized treatment plan to meet their unique needs and goals. The World Professional Association for Transgender Health defines such surgeries as medically necessary for the health of transgender patients. 2
Chest Reconstruction for Transgender Men
Chest reconstruction surgery, sometimes called FTM top surgery or subcutaneous mastectomy, creates a more masculine-looking chest. This type of surgery may also benefit non-binary people who would like a less feminine-looking chest. In this surgery, breast tissue and excess skin are removed and the chest is given a masculine contour. The nipple may also be resized and repositioned.

Breast Augmentation for Transgender Women
Breast augmentation with breast implants and fat transfer techniques can enhance a feminine appearance. Your breast augmentation treatment plan can vary depending on a number of factors, including your aesthetic goals and whether you have developed breast tissue as a result of hormone therapy. Learn more about breast augmentation surgery.
Gender Affirming Facial Surgery
There are certain facial characteristics that we are socialized to view as distinctly male or female and there is a wide range of procedures that can help transgender patients reinforce their gender identity. Some of the same procedures used for facial feminization may also be utilized in facial masculinization, with different techniques employed depending on your underlying bone structure and aesthetic goals. Our surgeons have an in-depth understanding of facial proportions and can use their expertise to create a customized treatment plan for you that delivers natural-looking results.
Facial feminization for transfeminine patients
The contours of a feminine face tend to be more refined and delicate than a typically masculine face. Transgender women may opt for a brow lift, rhinoplasty, lip augmentation, jaw contouring, or facial implants in the cheeks or chin.
Facial masculinization for transmasculine patients
Masculinity is often associated with a rugged appearance and strong features. In order to achieve a more masculine appearance, transgender men may choose to have rhinoplasty, facial implants, brow contouring, or jaw reshaping.
Candidates for Gender Affirming Surgery
Candidates for gender affirming surgery should be over 18 years of age and in good general health. The best way to determine if surgery is right for you is to schedule a consultation appointment at one of our NYC or Long Island offices. Please be prepared to discuss your hormone treatment regimen and other details of your gender transition.

Recovery from Gender Affirming Surgery
Your recovery will vary depending on which procedure you have and your individual treatment plan. Your surgeon will let you know what to expect from recovery, including how much time you will need away from work. It is important to understand and follow all aftercare instructions in order to optimize your results and have a healthy recovery.
Contact New York Plastic Surgical Group
Contact us if you have questions about gender affirming surgeries, or if you would like to schedule a consultation. Gender affirming surgery is available at our Garden City and Manhattan locations.
View Our

Locations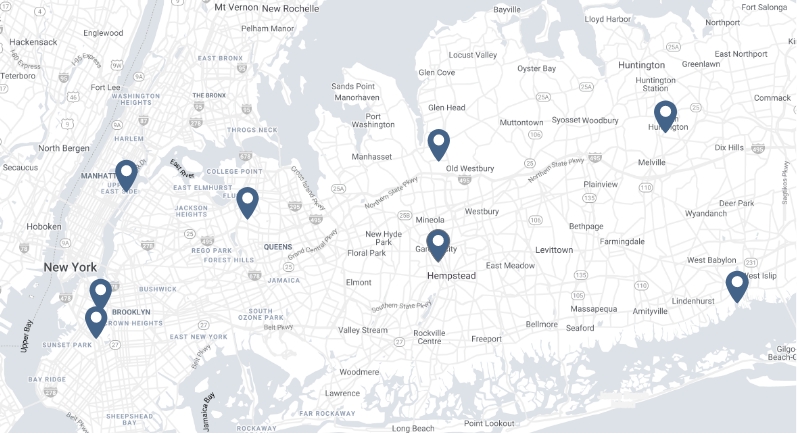 LIPSG LOCATIONS
Babylon

Brooklyn

Brooklyn – Park Slope

Connecticut

East Hills

Flushing

Garden City

Huntington

Manhattan Uptown

Westchester