Maxillofacial Surgery
Individuals who have suffered trauma, disease, and deformity affecting the face and neck can be afflicted with debilitating pain and severe self-consciousness about their appearance. The New York Plastic Surgical Group, a Division of Long Island Plastic Surgical Group, is home to specialty-trained reconstructive and plastic surgeons who are highly skilled in the latest techniques in maxillofacial and pediatric craniofacial surgery procedures to help you improve both physiological and aesthetic issues related to these conditions. Our doctors are committed to providing you with effective treatment and compassionate care for a number of facial issues.
Please contact us to schedule a consultation for maxillofacial surgery at one of our NYC or Long Island locations. Our experienced maxillofacial surgeons will be happy to answer your questions and discuss options which can best achieve your goals.
About Maxillofacial Surgery
Maxillofacial surgery is the process of rebuilding faces that have been affected by traumatic injury, genetic or developmental deformity, disease, and other causes. Maxillofacial procedures typically address conditions in areas such as the:
Surgery can restore faces shattered by trauma or disease, correct deformities in the jaw, repair defects associated with cleft lip and/or cleft palate, and serve to help patients achieve a better quality of life.
Our plastic and reconstructive surgeons use the latest techniques and concentrate on giving patients safe, effective treatment that will significantly enhance the appearance and minimize scarring.
Maxillofacial Surgery Procedures
The specific procedure patients undergo for maxillofacial surgery will depend on the type, area, and extent of the issues being addressed. Procedures can include:
Craniofacial implants to replace the eyes, ears, and/or nose
Sinus bone grafting
Cleft lip / palate repair treatment
Dental Implants
An experienced doctor here at New York Plastic Surgical Group will meet with patients in an initial consultation to determine the best course of treatment and address any and all questions and concerns.
Pediatric Craniofacial Surgery
The Pediatric Plastic and Craniofacial Surgery Center is home to some of the most experienced and skilled surgeons in the nation. This NYPS Group Center of Excellence has at least five doctors that perform cleft lip and palate reconstruction, and among our team, Dr. Rachel A. Ruotolo is the only plastic surgeon on Long Island who devotes 100% of her practice to craniofacial procedures. The term "craniofacial" refers to a deformity involving the skull or cranium and facial skeleton, which encompasses conditions affecting the nose, ears, skull, and face. Since September of 2007, Dr. Ruotolo performed more than 100 major craniofacial surgeries and cleft lip/palate repairs. We are committed to giving your child the best possible treatment with excellent results and a compassionate team of caregivers.
Pediatric Craniosynostosis
Craniosynostosis is premature fusion of the cranial sutures in infants, preventing normal growth of the skull and brain. The condition can be associated with certain syndromes – including Apert, Crouzon, and Pfeiffer, as well as being an isolated condition. Craniosynostosis is considered a birth defect that can lead to a number of problems, including increased intracranial pressure, skull deformity, visual impairment, and developmental delay. Surgical intervention consists of a multidisciplinary approach involving pediatric neurosurgeons. This team approach is invaluable in achieving the ultimate goal in craniosynostosis treatment, which is to restore the normal shape of the skull in addition to preventing developmental delay and visual disturbance that can result from increased intracranial pressure.
Consultations
Individuals who are experiencing debilitating pain and low self-esteem due to imperfections in facial features can be helped with maxillofacial surgery procedures. To schedule a consultation for maxillofacial surgery, please contact New York Plastic Surgical Group. One of our surgeons can meet with you to address your concerns and discuss procedures designed to help you enhance your appearance and correct facial conditions.
View Our

Locations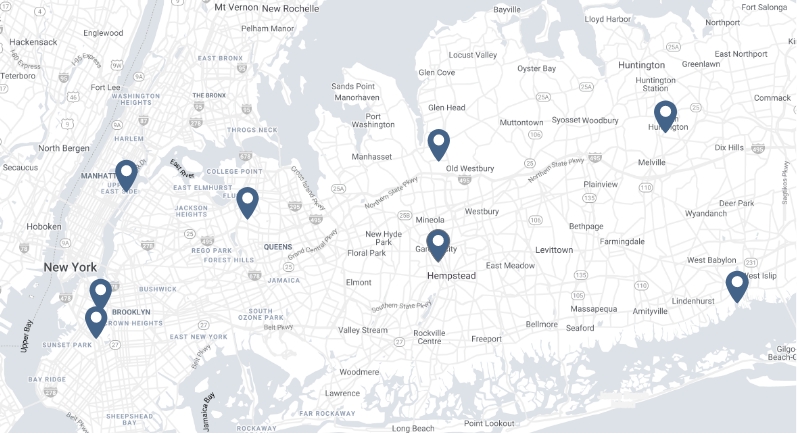 LIPSG LOCATIONS
Babylon

Brooklyn

Brooklyn – Park Slope

Connecticut

East Hills

Flushing

Garden City

Huntington

Manhattan Uptown

Westchester