TRAM Flap Breast Reconstruction
The TRAM Flap is one of the most common techniques used for reconstruction of the breast after mastectomy. This procedure involves the creation of a new breast mound using skin and tissue taken from the abdominal region and has proven to be very effective in many patients who have been affected by breast cancer. The results of TRAM Flap breast reconstructions are known to look very natural, and the procedure is a time tested technique with proven efficacy.
The breast reconstruction surgery team at the New York Plastic Surgical Group, a Division of Long Island Plastic Surgical Group includes some of the most skilled plastic and reconstructive surgeons in the nation. Our doctors are experienced with every breast reconstruction technique in use today, and a number of our surgeons have attained fellowship training in breast reconstruction at prestigious medical institutions such as Memorial Sloan Kettering Cancer Center. At our Breast Reconstruction Center here at NYPS Group, we forge collaborative partnerships with breast surgeons, oncologists, radiologists, and other medical professionals involved in each patient's treatment to provide the best possible care and ensure the most successful, natural-looking breast reconstruction results.
How Does TRAM Flap Breast Reconstruction Work?
There are two basic methods of performing the TRAM (Transverse Rectus Abdominis) Flap breast reconstruction procedure: the Pedicle Flap procedure, and the Free Flap procedure.1
Pedicle Flap
This procedure is often called the "standard" in breast reconstruction and has been in use for more than twenty years. Pedicle Flap breast reconstruction involves a technique called "tunneling," utilizing tissue and part of the abdominal muscles to create a reconstructed breast mound. An added benefit to the Pedicle procedure is that through the process of taking skin and fat from the abdomen, patients may have a flatter midsection. In order for the transfer of the flap to the chest to work, the abdominal muscle must be tunneled under the upper abdominal skin and connected to the breast site, where the tissue from the donor site will be used to create the new breast.
The Pedicle Flap technique allows many of the blood vessels to remain intact, therefore does not require microsurgery. This procedure is often quicker to perform, and has proven itself to be a remarkably successful technique for rebuilding the breasts with natural-looking results.
Free Flap
The Free TRAM Flap is a microsurgical technique, requiring the meticulous connection of blood vessels under microscopic magnification. In this procedure, abdominal skin, fat and a portion of the muscle (along with its blood vessels) are removed and placed in the chest area, where it is shaped to create a new breast. The artery and vein of the donor tissue are reconnected to blood vessels in the chest, creating a healthy blood supply to the new breast.
At the initial consultation, our NYPS Group reconstructive surgeons will explain all the breast reconstruction procedures available, to ensure each patient is informed and aware of all their options. At our Breast Reconstruction Center, we have plastic surgeons who are specialty-trained in both TRAM Flap techniques, and they are able to perform either procedure with successful results.
Who is a Candidate for TRAM Flap?
Candidates for TRAM Flap breast reconstruction surgery include:
Patients who have an adequate amount of tissue in the lower abdomen to provide donor skin for the new breast
Patients who have had radiation therapy targeted in the chest wall
Patients who have not undergone previous abdominal surgery that resulted in large scars across the upper abdominal area
Breast Reconstruction in NYC and Long Island, New York
TRAM Flap breast reconstruction at the New York Plastic Surgical Group is one of the most commonly performed and effective reconstruction techniques. Many of our surgeons are specialty-trained in microvascular and cancer reconstruction surgery, and patients should know that they are in the experienced hands of surgeons who are committed to restoring their breasts with results that look natural and beautiful. To schedule a consultation for breast reconstruction and discuss all treatment options, including the TRAM Flap breast technique, please contact our practice.
View Our

Locations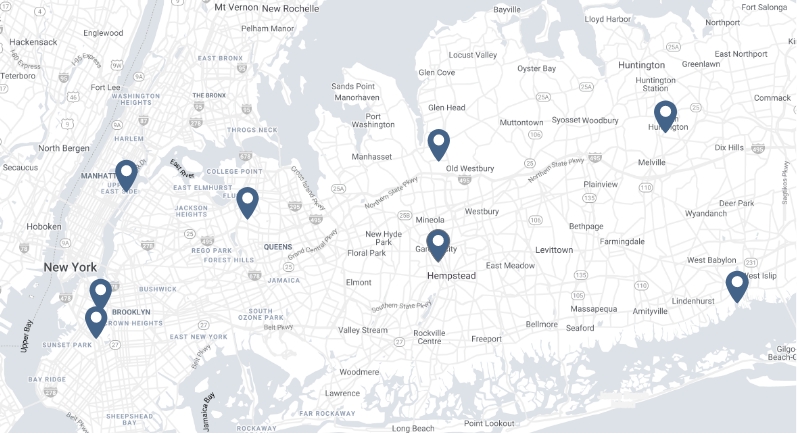 LIPSG LOCATIONS
Babylon

Brooklyn

Brooklyn – Park Slope

Connecticut

East Hills

Flushing

Garden City

Huntington

Manhattan Uptown

Westchester