Dr. Pinsky Patient Testimonials
Here's an in-depth look at a brachioplasty (arm lift surgery) performed by board-certified plastic surgeon Dr. Brian Pinsky. The patient featured above recently lost 60 pounds through diet and exercise. However, she was unhappy with the excess skin and fat remaining under her arms. Post-surgery, she now has beautiful contour to her upper extremities, and even exclaimed during her post-op visit, "I have guns now!" A happy patient, makes for a happy surgeon!
This is an actual LIPSG patient who has given informed consent to appear on the practice's social media pages. Please do not use or distribute video without permission. Individual results may vary.
Tune in to hear from board-certified plastic surgeon Dr. Brian Pinsky's happy post-bariatric patient. This patient underwent a tummy tuck after losing a tremendous amount of weight. Here, she details her experience with Dr. Pinsky, and shares how much her life has changed since completing this final stage of her transformation.
This is an actual LIPSG patient who has given informed consent to appear on the practice's social media pages. Please do not use or distribute video without permission. Individual results may vary.
"The word is "Courage" and Dr. Brian Pinsky is the "Man." God Bless you for taking a "Brave" move and saving my leg. I'll never forget all you did, and I will always remember your kindness and care.
The nurses deserve praise for their steady encouragement and caring.
God Bless your special gifts. I'll keep you in my thoughts and prayers.
Sincerely,"
JK – March 2022
"Jason had his follow-up yesterday and we wanted to thank Dr. Pinsky and Mary for the wonderful care he received. Everyone was so great at the hospital and we are very grateful for Dr. Pinsky. Jason still has weeks of healing but we have hope that he will gain movement and be able to do the things he loves like play the saxophone and piano. Thank you so much!"
Jason and family – February 2022*
"Dr. Pinsky did a great job! He was always attentive and thoroughly explained the procedure. He did not feel pushy, like he was trying to push the procedure on you. Instead, he made sure that it was tailored for me and what was best for my body. He took good care of me during the surgery and after, I love his bedside manner. Dr. Pinsky performed breast reduction and tummy tuck and I am in love with the final result! Scars are minimal and healing Very nicely. I would definitely recommend his services for everyone!!!"
R.G – June 2021*
"Hey doc! Nancy & I were just talking about you. It's about seven years post-surgery and I am doing great!!! Just wanted to let you know."
John C. – October 2020*
"Hi Dr. Pinsky!
Just wanted to say thank you so much for my procedure. It's life changing. My family loves it! I love the results already and I can't wait to see the changes as time goes. Thank you for making me feel so comfortable throughout this process, answering all my questions and getting on the phone with me when I was a nervous wreck! Thank you."
B.M. – June 2020*
"Hi Dr. Pinsky,
Just wanted to reach out and let you know that I am going through with custom finger prosthetics! I went home for the summer because I am from Grand Rapids Michigan, and I found a clinic where I had a consultation and am now going through with the process of getting them made. I just wanted to thank you for your help a few months ago in giving me options to think about. I never thought I would actually go through with it or even decide to do it, but I did and I'm excited to continue the process. My parents were thrilled to hear what silicone finger prosthetics were all about too because as a baby there weren't those options available as technology had not been as advanced as it is now. Thanks again!"
M.B. – July 2018*
"In June 2016, Dr. Pinsky performed major surgery on my right hand. I had ruptured my right ring and small finger extensor tendons. Those fingers were rendered motionless as a result. During a complicated and intricate surgical procedure, Dr. Pinsky transferred tendons from unaffected fingers on that hand to the immobile ones in order for my ring and pinky fingers to regain mobility. It has been three months since the surgery. I have regained dexterity in both fingers. Due to Dr. Pinsky's expertise and surgical precision, I now have a fully functional hand. I am truly grateful to Dr. Pinsky for the successful outcome of my surgery. Besides his surgical talents, Dr. Pinsky was compassionate, attentive and encouraging. He is a valuable asset to the medical profession."
Marianne B. – October 2016*
"I would definitely recommend Dr. Pinsky he is great! He made me feel so much better about myself with my breast reduction. I suffered with back, neck, and shoulder pain for a very long time. I feel much more confident about myself and I can exercise better! He is one of the best!!"
Melissa – September 2016*
"After many hours in the ER where two attempts to re-align my bones in a cast were unsuccessful, it was obvious that a surgical consult was in my future; and that is how I came to be a patient of Dr. Brian Pinsky.
I was immediately impressed by Dr. Pinsky's thorough assessment of my injury and his patience in explaining the distal radial fracture in layman's terms and outlining post-surgical hand therapy that would be required to achieve maximum future use of my fingers, hand and wrist.
His interest in my results did not end when he put down the scalpel after surgery. He received progress reports from my therapist on a frequent basis. During a therapy session, I was discussing a problem that I was experiencing and the therapist said she would contact Dr. Pinsky. No more than 10 minutes later, she had a text reply from Dr. Pinsky! I saw him for follow up visits, where despite some of my own concerns, he was able to answer all of my questions, provide me with additional therapy suggestions for home and reassure me that even though recovery would be a lengthy process, it was attainable.
I must also include my thanks to all of the West Babylon staff who could not have been nicer, more accommodating and professional."
Eileen – June 2016*
"After multiple office visits, Dr. Pinsky is consistently professional, warm, and personable. He listens to my concerns and responds with sound advice. I'm grateful to him and his staff for making me feel comfortable when I was very nervous. I highly recommend his services for facial fillers."
C.R. – March 2016*
"After many years of suffering with extremely large breasts, I made a decision to do something about it as my health was suffering as well as my self-esteem. I was talking to my primary care physician and my dermatologist and told them what I was prepared to do. I had received a few different names, saw 3 others before I selected Dr. Pinsky. I felt very comfortable with him and he looked me in the eye, which is so important to me and explained the entire process, from initial markup to healing. I trusted him with my life basically and am so very happy now with my smaller breasts. Highly recommend him, very talented hands."
Joann – March 2016*
"I went for a consultation with Dr. Pinsky for a breast reduction. He took the time to listen and discuss what I wanted and then explained my options telling me what he could do. He and his staff were very personable and professional and I felt comfortable enough to go ahead with the surgery. I had no complications afterwards and am very happy with results."
W.G. – January 2016*
"After slipping and breaking my wrist I was treated by Dr. Pinsky. His caring, professional treatment made this injury and the recovery from it, a far better experience then I could have imagined. His staff was helpful and caring. He did not rush into surgery which I was grateful for. When he determined surgery was necessary we moved forward and I am very pleased with the results. He was involved thru the whole rehab process and I am grateful to have my wrist back better than ever. Thank you."
Carol – November 2015*
"I am so glad I found Dr. Pinsky. I cut my thumb opening a can, and severed the tendons. Dr. Pinsky took the time to carefully explain the surgery needed to repair my thumb. He's skilled, knowledgeable, professional, and compassionate. I would recommend him to anyone who needs hand surgery. I am completely satisfied with the result. Everyone I have interacted with in the Babylon office at Long Island Plastic Surgical Group has been very friendly and helpful. Thank you."
Santina – August 2015*
"Thank You! We will be forever grateful to Dr. Pinsky . I thank God for being in the right place and for Dr. Pinsky being on call. He is a fantastic surgeon. We're forever thankful he was there to help."
Francesca – August 2015*
*Results May Vary
View Our

Locations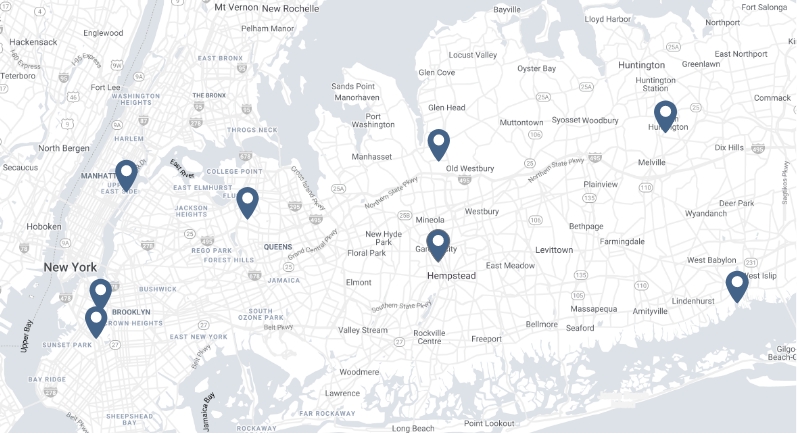 LIPSG LOCATIONS
Babylon

Brooklyn

Brooklyn – Park Slope

Connecticut

East Hills

Flushing

Garden City

Huntington

Manhattan Uptown

Westchester