The Rare Incidence of Anaplastic Large Cell Lymphoma UPDATE
You may have heard reports in the media regarding breast implants and a rare form of cancer. The FDA recently updated information regarding this disease (Breast Implant Associated-Anaplastic Large Cell Lymphoma (BIA-ALCL). If you have a breast augmentation or implant-based breast cancer reconstruction, there is no cause to be alarmed.
Here are some basic facts about BIA-ALCL:
BIA-ALCL is not a breast cancer, but a rare and treatable T-cell lymphoma that usually develops as a fluid swelling around breast implants.
1,400 patients per year diagnosed with ALCL – all types
265 suspected/confirmed United States cases of BIA-ALCL have been reported to the PROFILE registry
The lifetime risk for this disease appears to be about 1 case for every 3817-30,000 textured implants. This equates to a 0.003 percent risk.
To date, no purely smooth-implant (87% of implants placed annually) case of BIA-ALCL has ever been reported in any series, registry, or case report with a detailed history. The FDA confirmed that BIA-ALCL is predominantly associated with textured surface implants.
The FDA is NOT recommending removal of all textured implants. Rather, the FDA recommends that every woman conduct regular self-examination. If you develop swelling or a lump in your breast, contact our office immediately. We will comprehensively evaluate you and order the appropriate tests to determine if any treatment is indicated.
Women who develop BIA-ALCL can often be treated by simply removing the implant and the scar tissue (capsule) surrounding it. Some patients may require additional treatment methods(such as radiation or chemotherapy). Following removal, replacement with a smooth surface implant may be an option.
View Our

Locations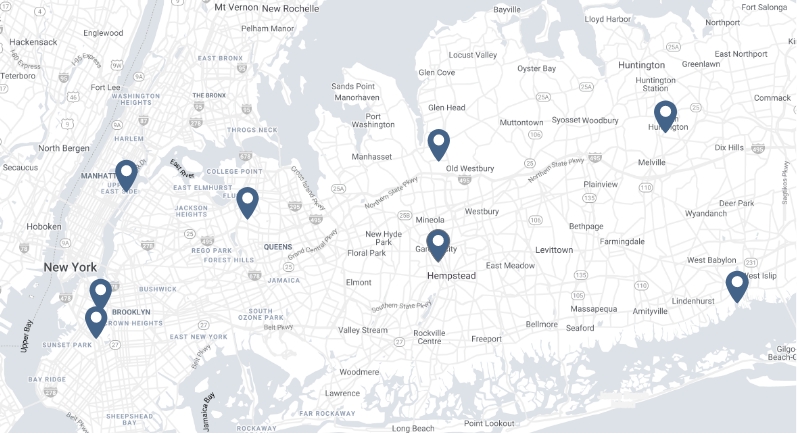 LIPSG LOCATIONS
Astoria 

Babylon

Brooklyn

Brooklyn – Park Slope

Connecticut

East Hills

Flushing

Garden City

Huntington

Manhattan Uptown

Westchester