Dr. Chang Patient Testimonials
"Over 14 years ago, I had bilateral mastectomy with immediate reconstruction. It became necessary for those implants to be exchanged and I was referred to Dr. Chang. Today, I am looking at myself in awe and cannot believe how different and natural I look. I know technology has changed but it really must be his technique. I am so happy, grateful, and now comfortable inside my own skin. Thank you, Dr. Chang, and staff."
DB – April 2022*
"I lost a lot of weight and my arms became wrinkly and sagging. I scheduled a consult with Dr. Chang and asked him if he would perform an arm lift brachioplasty for me. I was a bit reluctant at first and worried about the scars following the procedure. Well, let me tell you, Dr. Chang was MAGNIFICENT!!! My arms look amazing and my scar is so light you can barely notice it. The few people I told that I was having this done are amazed by the outcome of my surgery. Nobody notices anything when I wear sleeveless blouses and I can now wear the gown I wanted to wear to my daughter's wedding. Dr. Chang is way beyond terrific and I will be having other surgeries performed by him."
SA – July 2021*
"My mother had used Dr. Chang and had an amazing experience, so there was no doubt in her mind that I would also use him when the time came for my breast reduction. I had an incredible experience with Dr. Chang and all the staff within the office and New York Presbyterian Hospital. Dr. Chang was caring to all my needs, intelligent, and attentive to anything I had asked. I HIGHLY recommend him to anyone, I have had a wonderful and painless recovery and I am overall very happy with my end results."
AE – June 2021*
"Dear Doctor Chang,
Thank you for restoring my confidence and making me feel complete and beautiful again. In 2019, when my battle with cancer began, I was uncertain of what my future would be. Now, 2 years later, with the help of you and many other doctors, I'm still here and couldn't be happier. Every time I walked into your office and you told me I was gonna look amazing, I truly felt like everything would b okay, and me, my husband, and my three kids could not thank you enough for that." *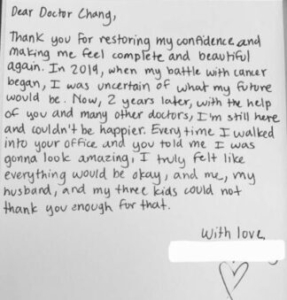 "Dr. Chang and I spent two years together. He and his staff got me through the toughest challenge of my life. He was caring, available and educational. He answered all my questions, medical and silly. He is professional with a heart. My family also came to love him. I cried when he told me I don't have to come back for a year."
SW – October 2020*
"I was referred to Dr. Chang by my breast surgeon after being diagnosed with breast cancer in 2018. The very long process is finally wrapping up this year and I have zero complaints and only the best things to say about Dr. Chang and his staff. They are knowledgeable and open to any questions and concerns I've had. I still can't believe how real my nipple looks. Lol, It's like magic!"
MP – October 2020*
"I would highly recommend Dr. Jerry Chang. When speaking with Dr. Chang about my surgery he made me feel very confident that he understood exactly what I wanted to have done. He explained to me all the facts so depending upon the outcome I would be aware of everything. He also gave me different options that I did not know of, that was extremely helpful and gave me more confidence in having the surgery. His staff before and after were extremely helpful with answering any questions. His staff also answered any phone calls that I had made to the office. I was very nervous about having my surgery, but after meeting with Dr. Chang and speaking with him I felt totally confident in his abilities as a plastic surgeon. Also, there was no waiting time for your appointment if you were scheduled at a certain time you were seen at that time. I am extremely happy with my results. If I were to have any more surgery I would absolutely go back to Dr. Chang."
Anonymous – August 2020*
"Dear Dr. Chang,
I applaud your dedication to medicine and cancer patients…
6 months chemo, 25 rounds radiation hormone inhibitor for next 5 years, 16 months of breast extender, mastectomy and breast reconstruction and I'm finally feeling like I just might win this race!
You're a phenomenal physician. You and your entire staff from your office to the hospital displayed kindness, professionalism and patience. You are my SUPERHERO. Please enjoy this T-shirt. God Bless you always from my family…my mother, my sister, my nephew who stood by me these last 2 years since I discovered that lump. I know I will be OKAY!
Thank you for everything."
Sincerely,
VN – August 2019*
"On the recommendation of my breast surgeon, I met with Dr. Chang to discuss reconstruction after my mastectomy. I remember feeling both overwhelmed and distraught at the thought of having breast cancer, losing my breast and never being able to look the same again. During our consultation, Dr. Chang took time to discuss all aspects of the reconstruction process and assured me that he would do his best to make happy with the results. He showed me photos, samples of the implants and answered all my questions. Although we discussed in detail what would be done, I was still a bit apprehensive. This would quickly change, however. I had my tissue expander put in at the same time that I had my mastectomy done, and the next morning, Dr. Chang was the first to show up at my bedside. His concern about my recovery was so genuine, I was truly moved. Over the next several weeks and months, I began to see what the outcome of my reconstruction might look like, and was elated. Dr. Chang's PA, Megan gave great advice, support and encouragement to me throughout the entire process and his office staff facilitated appointments that were always convenient to my schedule. Despite being a very talented and skilled surgeon, Dr. Chang and his team demonstrates a level of compassion, humility and patient care that is exemplary. A true perfectionist and one who takes and enormous amount of pride in his work, it has been my personal experience that Dr. Chang will do whatever it takes to make sure you are completely happy and satisfied with the final outcome. Fifteen months after my mastectomy, I have become a completely new woman, looking better than before, all due to the wonderful work of Dr. Jerry Chang and his team. I owe you all a huge debt of gratitude."
VS – July 2018*
"Dr. Chang, Thank you for such great care and for being such a great, kind and patient doctor. You have always taken the time to answer all my questions and put my mind to ease."
Yamile – April 2018*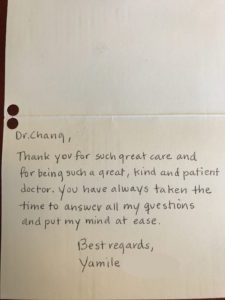 "I was referred to Dr. Chang by my breast surgeon. After my decision to have a bi-lateral mastectomy I had so many questions about the way I would look. When I met Dr. Chang and his team, I knew I was in good hands. They supplied me with photos to give me an idea of what I would look like. Dr. Chang had explained all my options to me. He is very smart, patient, and caring. I knew I was dealing with a doctor that was special! I have had three surgeries and tattooing with Dr. Chang. I truly believe that with the help of Dr. Chang's guidance and support, I was able to make the right decisions with my breast cancer diagnosis. I want to thank Dr. Chang, Meghan, Kim, Cheryl and so many others at LIPS for their hard work and dedication. They are extremely professional. Dr. Chang and his team helped me get my life back and they totally exceeded my expectations. I'm very happy with all Dr. Chang has done for me and would recommend him to anyone."
Ruth L. – February 2017*
"Dr. Chang and his team are one of a kind, an outstanding doctor, PA and staff, as well as caring professionals. They helped me make it through a terrible life circumstance, breast cancer, with dignity, respect and a sense of confidence in their abilities. I cannot thank them enough for their excellent work, care and consideration. I was recommended to Dr. Chang by my breast surgeon with whom I've been a patient for 16 years, and was extremely apprehensive of what would happen. He explained the process in depth and he, Megan, and Irene were always available to answer my many questions. They were kind and gracious to all my family members during this difficult time. I have almost completed breast reconstruction and am very happy with the results. I would highly recommend Dr. Chang, Megan and team to everyone. They are the very best. Thank you, thank you from the bottom of my heart! You have helped to give me hope."
Tina – January 2017*
"I was undergoing breast reconstruction after a mastectomy and the results are much better than I could have expected. Dr. Chang did a great, great job. I love my " new" breast. He is an outstandingly skillful surgeon and a very caring person. He always addresses all my concerns and patiently answers all my questions. Dr. Chang made me whole again and now I can feel good about myself. I would highly recommend him to anybody who considers any type of plastic surgery. My biggest thanks to Dr. Chang and his entire team – Megan , Irene, and Kim."
Ellen – December 2016*
"I was introduced to Dr. Chang by my breast surgeon in whom I have the utmost trust. We first met in his office prior to my mastectomy for a consult. His easy manner and frank in depth discussion of the procedures involved with breast reconstruction following mastectomy left me feeling reassured and confident during this frightening time in my life. He showed me photos that gave me a good idea of what I could expect. Even though I was well informed before the surgery I still had lots of questions and needed lots of reassurance during my recovery, and he was always available to address my concerns. After the initial surgery I went to his office weekly to fill the implant and was always treated by Dr. Chang and his PA, Megan with tenderness and respect. I recently had the exchange and a lift on the other side. I am very happy with the results. Because of his excellent work, I am able to wear whatever I want and look just fine. Most important for me was the fact that I could ask Dr. Chang anything and he always responded with sincere and accurate answers. I felt as if his priority was to get the absolute best result for me and that he would do whatever he needed to achieve it. I feel whole again and have Dr. Chang and Megan to thank for it. I would absolutely recommend Dr. Chang and his team to anyone in need of this type of surgery."
Lauren H. – December 2016*
"I had the pleasure to meet Dr. Jerry Chang under a very stressful time in my life where I had been diagnosed with breast cancer and had to have a double mastectomy sooner than later. Dr. Chang is the most knowledgeable, professional, personable, and incredible plastic surgeon I could have ever hoped for. He was understanding and took as much time that was needed to explain to me the procedure and the following procedures to come. I underwent my double mastectomy on February 2, 2016 and Dr. Chang performed my immediate breast reconstruction at that time. He then performed my implant exchange on June 24, 2016. Dr. Jerry Chang has "Golden Hands." He is meticulous, caring, supportive, reassuring, and there is no question about his ability to perform life changing surgery. He uses the most high tech procedures and his results are phenomenal! I feel blessed to have met Dr. Chang and still have one more surgery to go. Dr. Chang's staff is also amazing. Megan, who is Dr. Chang's PA is one of the most knowledgeable and personable woman I have ever met, she is meticulous and explains everything to you as it comes up. Kim, who assists Dr. Chang's patients with scheduling appointments and anything and everything is caring, friendly, knowledgeable and can always be reached if you have any questions. To all of the other staff members whose names I have not mentioned, you are all fantastic and I appreciate everything you have all done for me. Just by Dr. Chang's staff alone, you can be positive that he is an amazing plastic surgeon. Dr. Chang's surgery has amazed me and continues to amaze me as to how I look only 2 months after having double reconstructive implant surgery. I would and will recommend any person who needs a plastic surgeon to contact Dr. Jerry Chang!
Dr. Chang is an outstanding plastic surgeon and has outstanding results, I can attest to that — I bless the day I met Dr. Chang!"
TE – August 2016*
"Dear Dr. Chang and Team
I would love to thank you for bringing be back from the terrible state I was in after my breast cancer ordeal. Trust me if It wasn't for you and your wonderful staff I would not be looking like a million bucks now. After breast cancer brought me down to my knees you put me back together like brand new, so now I have the confidence once again to move on with my life. I wish that I could tell the whole world about the terrific awesome job you have done for me. I would even volunteer to put my picture up on your website to encourage everyone to seek your expertise, they would not regret it at all. Continue shining and thanks for always smiling and being patient and understanding with me. I just want to say I love you Dr. Chang and Staff."
Sharon – August 2016*
"There's no way I can ever thank you for being awesome, concerned and for having good humor. You're the best. Thanks to Dr. Jerry Chang."
Margarette – July 2016*
"I was recommended to Dr. Chang from my breast surgeon shortly after my cancer diagnosis. I am so glad she did. Not only is Dr. Chang an expert in his field, he is also known for his meticulous work. Dr. Chang, Megan (PA) and their team never failed to put me at ease during my surgeries and the many visits with them. They were always patient, caring and professional. Megan is also so personable and pleasant that I felt comfortable seeing her when Dr. Chang's schedule conflicted with mine. I am extremely happy with the results. Thank you to Dr. Chang and his team for giving me back what cancer took away and more."
JL – June 2016*
"I would like to thank Dr. Chang and his staff for their consistent patience and understanding through my surgical process. They were very considerate of what I wanted and made sure I was pleased with the results. I am very happy to have chosen such an amazing team for both my surgeries."
Sarah – June 2016*
"At the referral of my breast surgeon, my husband John and I met Dr. Jerry Chang in March 2014 only a few weeks after my breast cancer diagnosis. At the end of my first consultation meeting with Dr. Chang, I knew instantly that I wanted him to take care of the breast reconstruction process following my bilateral mastectomy. Dr. Chang is caring, patient, compassionate, and understanding. He guided me throughout my journey with breast cancer and explained everything to me in terms that I was able to easily understand. I greatly appreciate his experience, expertise, and dedication. After completing three surgeries and one tattooing procedure, I am very pleased with the results of my breast reconstruction. Dr. Chang and his entire staff at Long Island Plastic Surgical Group are all wonderful and I sincerely thank them for taking such excellent care of me over the past two years! I am really happy that I chose Dr. Chang as my doctor and highly recommend him to anyone seeking a plastic surgeon."
Lisa – June 2016*
"I would like to thank Dr. Chang, Megan and the whole staff for taking care of me and making me feel better and confident. You guys did a good job, and I always tell people about it and I highly recommend you."
L – May 2016*
"Dear Dr. Chang, Megan and staff,
As hard of an experience as cancer, you guys have not only took care of me but made me have the confidence I needed to beat my cancer battle. I am blessed to have this second chance at life and I am blessed to have you all be apart of it. The care I have experienced at Long Island Plastic Surgical Group is more than just doctor and patient. You all became my friends. Words cannot express how thankful I am to you all. This has totally changed my life."
With love,
HLW – May 2016*
"Dr. Chang and Megan,
Words cannot describe how thankful I am for everything the both of you have done for me. I will never forget how caring and understanding the both of you were to my situation and how hard you tried to help me. This surgery changed my life forever and you both hold a special place in my heart.
Love,"
CK – March 2016*
"Dr. Chang, Megan, and the entire staff,
Thank you so much for all your patience and understanding as I go through this process.
I am happy to have chosen your group for my procedure. See you Friday!"
Kindly,
Lori*
"Dr. Chang,
Thank you very much for your help during my surgery. I greatly appreciate your kindness, help, expertise, and patience from you and your staff.
It means a lot to me, especially during this hard time in my life. Thank you very again for all your assistance. I am so happy I get to work with you.
Sincerely"
MB – March 2015*
"Dr. Chang and his staff were extremely professional and courteous. He provided all the necessary information in an easy to understand manner."
Simone Y. – June 2018*
"I cannot begin to express my satisfaction with Dr. Chang and his first-class staff. My visit was as comfortable as they could possibly be. I appreciate their promptness and friendly atmosphere. Thanks to everyone."
SL – May 2018*
"Thankful to professional, outstanding, talented Dr. Chang and the team for making me feel better and confident, I'm very pleased with all the process and the result, greatly appreciated."
HK – May 2018*
"I am thankful to be a patient of Dr. Chang. His staff is courteous, kind and professional. I appreciate the services he provides. Thank you."
Veronica N. – April 2018*
"I had seen several doctors before seeing Dr. Chang and I feel without a doubt he is the best! He listened, took notice, and offered several options. I feel optimistic about moving forward with the procedure."
Richard P. – March 2018*
"I am very pleased with my experience as Dr. Chang' patient. Everyone is very nice, and it's very wonderful to be treated with the utmost respect. Caring, smiles and laughing is a good atmosphere for a patient, Dr. Chang's office offers all of the above. This is the best team of medical and office staff I have been around. Dr. Chang is always busy but still, he makes me feel like I was his only patient. I know I got the best possible treatment. I owe my health to Dr. Chang and his assistant Meghan. I cannot begin to express my gratitude. Thanks to everyone."
SL – March 2018*
"Dr. Chang and his team are outstanding. A great doctor who is caring and compassionate to patients going through reconstruction."
B L – May 2018*
"Dr. Chang is a great plastic surgeon. He makes sure you understand exactly every step of your process and his work is amazing. He makes you feel at ease."
Maria G. – January 2018*
*Results May Vary
View Our

Locations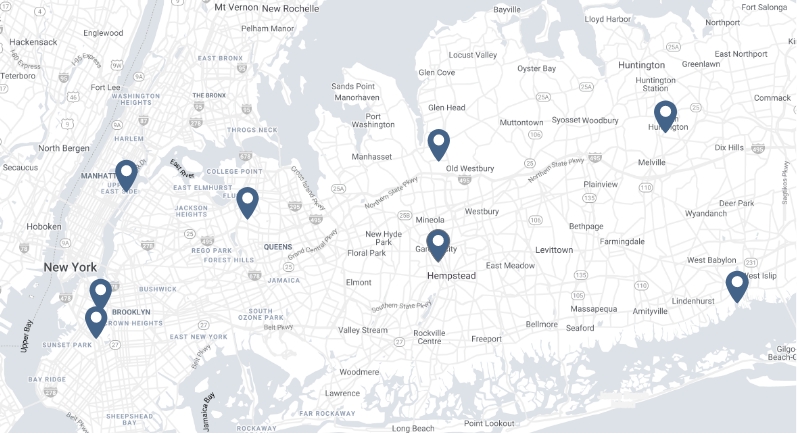 LIPSG LOCATIONS
Astoria 

Babylon

Brooklyn

Brooklyn – Park Slope

Connecticut

East Hills

Flushing

Garden City

Huntington

Manhattan Uptown

Westchester