Dr. Douglas' Patient Testimonials
"Dear Dr. Douglas,
From the moment we had our first consultation, I knew you were the doctor for me. I had never had surgery before, and you made me feel so at ease the entire process.
This last year has been one of the best of my life, and I attribute that in large part to you and your team. Before my breast reduction, I was constantly in pain, insecure, and hated the way I looked. But after my surgery, everything changed. Not only did I become more confident and comfortable in my looks, but eventually I became more confident in myself as a whole.
I always hated shopping, especially dress shopping for events, because I could never find something that fit my breasts but also was my style and was flattering all around.
Well, I had my breast reduction in August 2021, and that following January, I placed an order for some dresses for a wedding. I ordered 2 dresses, in two sizes each, and was so anxious for them to come. And when I put the first dress on, I burst into tears (so did my mom). I guess for the first time, it hit me that my body was forever changed. I had spent the last few months in sweaters and sweatshirts because it was winter, and I hadn't seen the full effect of the surgery. And now it all felt real.
I think I got the most compliments at the wedding (other than the bride of course). I was happy, comfortable, and beautiful. Three things I had never been at the same time before (unless I was fully covering myself up).
I wanted you to know, personally, how grateful I am for you. You and your team changed my life, and I will forever be in debt to you all. You took a horrible, uncomfortable situation and said, "We can help!" And you did you, more than you can ever know. You changed my life. Thank you."
PG – August 2022*
"Dear Dr. Douglas,
As I drove home from my final follow up appointment with you today, I reflected over the past year and wanted to thank you for not only your surgical expertise but also for your compassion about the difficult time I was experiencing. When I came to the first consultation, it was at the suggestion of Dr. Maurer. I was still stunned from the cancer diagnosis and my future appearance was the furthest thing from my mind. Your understanding of my feelings and fears were comforting and calming. From day one I felt like I was in good hands. It wasn't until months after the surgery, after the radiation that I was able to think clearly and positively toward the future. It was then that I realized how appreciative I was that you knew how important to my self-confidence and recovery the reconstruction would be. Thank you for your skilled expertise and for always making me feel like I deserved the positive outcome achieved. Please know how much I appreciate not only your skill but also your concern and care for my emotional self as well."
With much appreciation,
Terri D. – September 2018*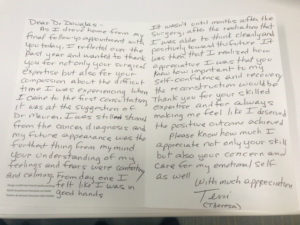 "Dear Dr. Douglas,
I would be remiss if I didn't take a moment to write a note expressing my gratitude for everything you have done to help me during a most stressful time.
Shortly after our initial meeting I watched your "YouTube" video, and everything you profess to do, to enhance a woman's recovery after receiving a breast cancer diagnosis, your most assuredly do, but so much more. Your sincerity, kindness and compassion are beyond compare.
In my 50 years as a nurse, I have met and worked with many physicians, in various clinical specialties, and I've admired many of them but never anyone quite like you. At my very first appointment you managed to ease my apprehension and all of my fears. My hope is that you realize how very special you are! You restored , not only my health, but my dignity, and for that I will be eternally grateful. You will always hold a special place in my heart.
You are a credit to your profession and LIPSG is fortunate to have you as part of their practice. Please thank Terry for me, as well. She was wonderful…always upbeat, supportive and encouraging. The girls at the front desk were a pleasure t deal with. My only regret is not seeing everyone again now that my treatment is complete.
Thank you again."
Sincerely,
Carol Nardi – August 2017*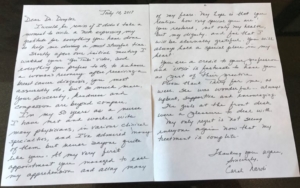 "Dear Dr. Douglas,
I have written to you today because it is hard to express how I feel during an office visit as I always have so many questions and concerns which you address without ever making me feel like my questions are foolish. I am truly afraid that the results of my facelift will not be as I wanted them to be, not because of anything on your part, but because of my own healing and adjustment – things that you can't control. I am thrilled that you said you would do some "injectables" for me to smooth out some creases and, again, I trust your judgment on what is changeable and what isn't and what is wise to do.
Thank you again for being the caring person you are, the expert surgeon and the talented artist. I look forward to seeing you again soon as we continue this process together. For some women this may have been just another cosmetic surgery experience. To me it is life-changing."
Phyllis – May 2016*
"I am writing this as a thank you & to share my amazing experience at Long Island Plastic Surgical Group, P.C. and specifically with Dr. Barry K. Douglas and Staff.
I cannot thank Dr. Douglas enough for the "gift" he has given me. He has such a loving heart and a special interest in helping women, like me, following a breast cancer diagnosis. Dr. Douglas truly changed my life. Dr. Douglas and his wonderful nurse, Terri took one of the scariest times in my life and from day one, turned it into a positive and wonderful experience. The entire office at Long Island Plastic Surgical Group, P.C. is made up of special people who make you feel comfortable from the moment you enter the office, which by the way, is immaculate, welcoming and beautiful.Dr.Douglas_BreastReconWM
I had a total double mastectomy with sentinel lymph node mapping and immediate breast reconstruction with Dr. Douglas. The results of my breast reconstruction that Dr. Douglas performed after my double mastectomy are beyond my expectations. What is so impressive about this plastic surgeon is that Dr. Douglas does not just arrive for his portion of the surgery after the mastectomy is completed like many plastic surgeons. No – Dr. Douglas is there with you for the "entire procedure". On the day of my surgery, Dr. Douglas even held my hand as the anesthesiologist started my anesthesia & stayed right there with me holding my hand until I was sleeping. This is an example of Dr. Douglas' incredibly loving bedside manner and compassion not only as a doctor, but also as a truly caring human being.
During my office visits, I have personally seen Dr. Douglas' artwork, i.e., drawings and he is an amazing artist. So to me, it was not surprising that he is also phenomenal at his craft of breast reconstruction. You want a talented "artist" creating your new breasts. After our pre-surgical consultation and discussing my case at length with Dr. Douglas, I had enough trust and confidence in him and his remarkable skills to allow Dr. Douglas to determine how I would get the best result on the day of my surgery – and I felt comfortable allowing him to select the size and shape of my breast implants during my surgery to match my small body frame. My results were what I asked for — Dr. Douglas took large C/D droopy breasts and made them into perky A/B breasts using silicone implants. My case was not easy either as he had to come up with a plan to do this with a prior lumpectomy scar I had in an awkward spot on my left breast which could have interfered with blood flow after my surgery but the way Dr. Douglas did it, this did not happen to me and I had no post-surgical complications whatsoever (thank goodness). I also have normal looking "to-be-expected" breast reconstruction scars, which will gradually fade in time. Recently, I was even able to go into a store and purchase a size 6/8 regular bikini that covered all the scars from my surgery – which are healing beautifully.
To me, being healthy after my double mastectomy was my main goal but looking fantastic afterward, even in a nice tiny bikini, is definitely an extra "bonus". Thanks to Dr. Douglas, I got the "bonus"!!! And you can too if you place your trust in Dr. Douglas' skilled hands. Believe me, after viewing many "before and after" photographs of breast reconstruction patients from all over the world by many plastic surgeons on-line via Google, I saw all sorts of results … great, good, bad and very bad. Therefore, I was extremely picky as to how I wanted to look after my surgery and like me, you will not be disappointed with Dr. Douglas' work. And don't think you need to only be a size 6/8 to have a fantastic result with Dr. Douglas.
He is so knowledgeable about all the current techniques and options out there in the field of breast reconstruction and/or revision for women of all shapes and sizes. He will tailor a surgical plan specifically for you that will give you the best result possible following your total double mastectomy. Moreover, if there are any changes you wish to make to your breasts after your surgery, including but not limited to plumping them, creating nipples and/or tattooing, Dr. Douglas knows exactly what options to offer you to make you truly happy with your results. He also doesn't push anything such as additional surgery on you either. He only has your best interest in mind and your happiness.
Dr. Douglas and his nurse, Terri have been extremely attentive at each and every appointment … from my pre-surgical consult to all my follow-up appointments, which are continuing to date. It is never difficult to get an appointment with Dr. Douglas, nor does he keep you waiting for him at your appointment time like is common practice at many doctor's offices. You are always promptly seen. I also never feel rushed during my appointments and Dr. Douglas has such a patient and calming persona that just having him by my side, answering all my questions (no matter how silly they may be), providing information & advice has given me peace of mind throughout my journey. Most importantly, having him there for me during every step of the process has made me feel extremely well cared for and special.
For me, my results have made me feel "whole" again as a woman. Something taken away from me by my double mastectomy was given back to me by Dr. Douglas. I didn't have any feelings of "loss" after my surgery because of my breast reconstruction. I love the way I look. My husband loves the way I look. After almost fifteen years of marriage, my new breasts have put a "spark" back into our marriage. Who would have expected this after a total double mastectomy?? Certainly not me. And I have Dr. Douglas to thank for this.
Dr. Douglas treats me like family, not just a patient. Now for those of you ladies who are researching plastic surgeons, this is exactly the type of doctor you want on your surgical team. Trust me, you will be in great hands and will be thrilled that you have chosen Dr. Douglas as your surgeon, but also as a life-long friend who truly cares about you, your life and your happiness … before AND after your surgery.
I cannot be more thankful to Dr. Douglas and everyone at Long Island Plastic Surgical Group, P.C. I am forever grateful to all of you, especially Dr. Douglas who will always have a special place in my heart."
Feeling blessed,
WM – April 2016*

"Dear Dr. Douglas,
Five weeks after my first surgery, my husband called me to ask for a divorce. He had found someone else!
Needless to say, I was devastated but I always looked forward to my appointments because you always made me laugh and treated me with such kindness and respect. I thank you from the bottom of my heart.
The results of your skilled hands have produced extraordinary results. I am so pleased and grateful for your amazing work. God Bless always, Dr. Douglas!"
Sincerely,
Dona – December 2015*

"Dear Dr. Douglas,
May 16th was the anniversary of my mastectomy and I want you to know what a major part you played in my life this past year. I have to say, I miss the way you made me feel so special. The rational side of my brain knew that I was one of my nervous, anxious patients. However, from the first day that I visited your office from a consultation with the hope and concern that you could take on my case, you allowed me to feel like I was on a journey to result in a body that would be even more attractive than before and you weren't wrong. I do think that I should be your advertisement for your excellent artistic work. I was able to "rock the beach" in a two-piece bathing suit in Cancun and received many compliments. Thank you again for the fabulous care you always gave me and thank you for making me feel so special."
Phyllis – May 24, 2014*
"Dear Dr. Douglas, there's not much more I can say, but thank you so much! I feel so good about myself again, and I'm so very happy with the results. Just keep in mind I've put in some effort too, so you don't take all the credit. Weight watchers, exercise and a strong will had a part."
Vita – March 13, 2014*
"Dear Dr. Douglas, I am writing to thank you for my operation. I found the entire process to be extremely professional and smooth. My eyes look fabulous even my daughters have told me that I look significantly younger and refreshed. I feel more confident. Thank you again so much!"
Grace*
*Results May Vary
View Our

Locations
NYPS Group LOCATIONS
Garden City
Babylon
East Hills
Huntington
Manhattan
Brooklyn
Flushing
Astoria
Westchester
Connecticut