Dr. Kilgo's Patient Testimonials
"To Dr. Kilgo, Dr. Christine, Bobby, Angelina, Stephanie, Jen, Amy, Stella, and Sara,
Thank you for kindness, patience and thoughtfulness. Thank you for the pre-op calls and post – op calls. I truly appreciate it. The professionalism is truly the best. I am so happy for the life changing results of my breast reduction and lift.
Thank you again."
LM – September 2017*

"Dear Dr. Kilgo,
I don't always know how to put my feelings (of gratitude!) into words, but I want you to know how much I appreciate the way you've turned the nightmare of my illness into a dream of recovery!
Thank you for everything!"
DM – September 2017*
"To Dr. Kilgo, Bobby, Angelina, and the Staff @ LIPSG,
There really aren't any words that could express how thankful I am for everything you have done for me throughout this reconstruction process. I know I am not completely done, but I am so grateful to have such a precise, professional, and trustworthy doctor. You have made one of the most difficult experiences in mine and my family's life that much easier!"
Heather and family – September 2016*
"Dear Dr. Kilgo,
I would like to thank you very much for your kindness and compassion in making this procedure possible. It seems that I was caught in a difficult situation and your understanding helped make a positive outcome. I am most pleased with the results and am able to feel whole again."
Thank you again,
Jill – April 2016*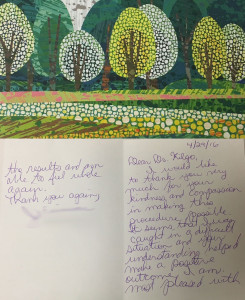 "Dear Dr. Matthew Kilgo,
I want to thank you for the amazing work you do. No amount of diet or exercise could improve the appearance of my breasts. I feel, you made me whole.
The unfortunate women who have breast cancer are blessed to have you as a surgeon. You are compassionate and professional.
Taking the time to answer any and all questions. Your actions and results show that you are passionate. It's obvious, that you found your calling in life!
Many blessings, health, happiness and love to you and your family. Happy Holidays!"
Sincerely,
Danielle – December 2015*
"Dear Dr. Kilgo,
Just want to thank you so much for being such a warm and kind doctor. I knew from the first day I walked into your office I was in good hands. You explained everything to me in such a way that you took the fear out for me. Thank you for everything you do. I wish you and your family the best. Hope you enjoy the gift I made for you. Thank you again. You're the best! Best wishes for a Very Happy Halloween!"
Love,
Joyce – September 2015*
"Dear Dr. Kilgo,
Please accept this for you and/or your family to say another "Thank you" for the care you have given me over the years to keep me feeling young and healthy. Your professionalism is unique. I have recommended you, you may expect a visit from a friend of mine soon. Best to you and your family!"
Sincerely,
Prudence – August 2015*
"Dear Dr. Kilgo,
Just wanted to thank you again, for your care and concern throughout my procedure. You're a great doctor who cares about his patients.
Thanks,
Carmen*
"Dear Dr. Kilgo,
I wanted to personally thank you and your staff for the phenomenal treatment that I received while I received by breast reduction. Everyone was so amazingly resourceful and professional and offered advice to me along the way. From Jenny who helped me so much with the scheduling to your phenomenal nursing staff Janet, Debbi, and Amy. Debbi went beyond and above reassuring me that I made the right decision to have the surgery and even helped me so much with deciding on the right support bra to wear afterwards.
I also want to especially thank Linda O'Hagan who was so patient with me as well.
Dr. Kilgo, it has been 4 weeks since my surgery and I can honestly say I feel terrific!!!"
Thanks for everything,
WBF*
"Dear Dr. Kilgo & Dr. Matthews,
I want to thank you for the wonderful work you've done on me. Your talent, professionalism, and care shines through your work. I'm forever grateful."
Sincerely,
Heather H., August 2014*
"Dear Dr. Kilgo,
As difficult as this surgery is, you have given me comfort in what is to come. I thank you for your caring and comforting ways. I feel confident going into this surgery knowing you are my Dr. Thank you again."
Sincerely,
Jeanne M., June 2014*
"Dear Dr. Kilgo,
As it will be a year from now that I see you again, I wanted to make sure you know how much I appreciate what you've done for me over the past year and a half. I'm so lucky to have been under your care and so appreciative of the wonderful surgical results you've given me. I couldn't have asked for more. Plus, never having been very "well endowed," I know the challenge you faced when trying to "even me out." LOL.
Please also thank Bobby Matthews for me as well. He is a pure joy to deal with and he has such an easy nature about him that puts one at ease. Jenny has always been so helpful in scheduling my surgeries – I'm sure you'll miss her while she's out on family leave.
I hope 2014 brings you many rewarding days professionally, and especially many happy and healthy days personally for you and your family."
Best regards,
Karen M., January 2014*
"Dr. Kilgo,
Sorry it took a while…thanks for all your help both professional and financially. For years at North Shore, I've been able to see all of your excellent work- now I was able to experience it first-hand. Enjoy the rest of your summer!"
Thanks once again,
Gregg W., August 2014*
"Dear Dr. Kilgo,
Although we're not finished with this particular event in my life, please accept this little thank you for making me feel more comfortable and confident in the decision I made."
Sincerely,
Elaine*
"Dear Dr. Kilgo,
Once again we'd like to thank you for the beautiful work you have performed. We have the deepest admiration for your skill and talent. We will be eternally grateful to you for giving Christopher John (CJ) such a beautiful smile."
Sincerely,
Lauren & John*
"Dr. Kilgo and Staff (Dr. Addona, Bobby, etc.),
Dr. Kadison was "right on" when he referred me to you in 2012. Twelve years after initial breast cancer diagnosis, surgery, chemo, radiation, biopsies, mammography, sonograms, MRIs, I received the diagnosis of LCIS in 8/2012. I was "done". The decision to take action was fairly easy, but what action to take needed research and I am forever grateful I was referred to Dr. Kilgo. He assessed my options and due to previous radiation, didin't feel regular bilateral breast reconstruction would bring the desired results. DIEP was explained and he patiently answered my many questions. While still at NSUH, Dr. Kilgo would appear in the middle of the night to check the Doppler's on my breast reconstruction. He listened intently when on follow-up visits. I explained I just didn't feel well (my gallbladder had flared up). My experience with Dr. Kilgo, Dr. Addona, RPA, Bobby and the entire staff at LIPSG was so positive. Professional, dedicated, compassionate, and positive are just a few of the adjectives I would use to describe the care I received.*** Two years have passed since my surgery (1/15/13). I often recall the scene of pre and post-surgery. Your patience, compassion, along with positive yet honest opinion didn't go unnoticed. Thank you, sounds so inadequate. I am so grateful. Life moves on and I am enjoying retirement, my grandchildren (7 now) along with Charlie my spouse (5/3/14). I try to celebrate each day as it comes, and truly feel very blessed. I am whole!
Thank you again."
Susan – January 2015*
"Dr. Kilgo,
We've been on quite a journey you and I since our first breast reduction meeting. I just wanted to let you know how grateful I am that it was you who traveled it with me. Thank you for all your expertise, honesty and dedication concerning my road to recovery. More specifically, going back a ways, thank you for informing me about my cancer in person rather than over the phone. Thank you for coming to my hospital room while on break during a 12 hour operation to answer my questions and see how I was doing. Thank you for always steering me in the right direction. What a class act you and your staff are, in every respect. Most of all, thank you for being you, exactly the way you are. Thanks for putting me back together… beautifully."
Rachel*
"I would like to take this time to write you to tell you that I am very happy with the results of my breast reconstructive surgery you performed on me. I know we are at the early stages of the reconstruction process, but I already feel so much more confident in myself and my appearance. You totally corrected the horrible deformities I had in my breasts, and now I feel like a complete woman again.
I was searching for a doctor to perform this surgery for the past two years and could not find anyone who had the compassion and expertise that I found in you. Both you and your staff have treated, and continue to treat me, with kindness and general concern for my well-being.
May God bless you for the wonderful work that you do to help women like myself who go through the journey of breast reconstruction due to breast cancer.
Patricia – November 1, 2013*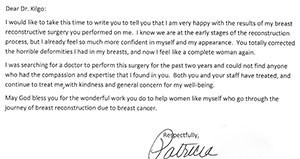 "I wish to thank you and your colleagues for the excellent care and competence you have all provided me from my first inquiry phone call, through surgery and recovery. I certainly appreciate that Dr. Colin Brathwaite my Bariatric Surgeon recommended you.
Dr. Kilgo, your gracious professionalism has provided me with the standard by which all physicians past and present will always be measured. Despite an occasional complication during my rehabilitation you and your very capable Physician's Assistant, Bobby Mathews, RPA-C, always provided me with a clear understanding of my circumstances, and offered various healing options, taking my personal and professional needs into account. In addition, Bobby took a personal interest in my well-being, and often made follow up calls to check on my condition, and kept you updated if additional care was warranted.
I also want to thank Debbie Greenberg, RN who always showed a sincere interest to be sure I was comfortable, and that my care was paramount. Finally I wanted to let you know that Jenny Chiques, your Administrative Assistant, is very efficient and courteous with prompt answers and a very valuable member of your "A-TEAM."
The fact that your talented colleagues travel with you to the various LIPSG offices is very much appreciated. This is very efficient as compared to other medical practices with various office locations. Each visit is more comfortable for the patient knowing all involved, and that they have first-hand knowledge of my medical situation. It provides a very nice personal touch.
David – May 13, 2011*
"Let me first start by saying thank you for your excellent skill and compassion. I am sure I proved to one of your more difficult patients so I truly appreciate your patience and understanding. After losing a significant amount of weight, I was left feeling extremely uncomfortable in my own skin … which truly felt like some sort of cruel punishment. Within a week after my surgery I was able to look at my own body without flinching, something I was unsure would ever happen. Thank you for helping to restore my confidence.
As you well know, this was surgery was at least three years in the making, but after numerous obstacles my surgery became a reality. Through each step your staff was kind, attentive, and inspiring. Your secretary Jenny was always a pleasure to speak with and was there to answer any question I had. Dawn Belmonte was with me every step of the way and made me feel genuinely cared for. Thank you once again for all you and your staff have done. I look forward to continuing my journey with you."
Deirdre – February 7, 2013*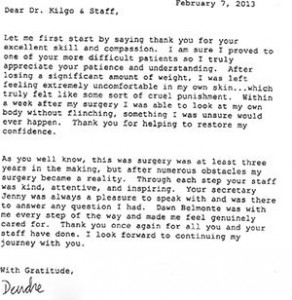 *Results May Vary
View Our

Locations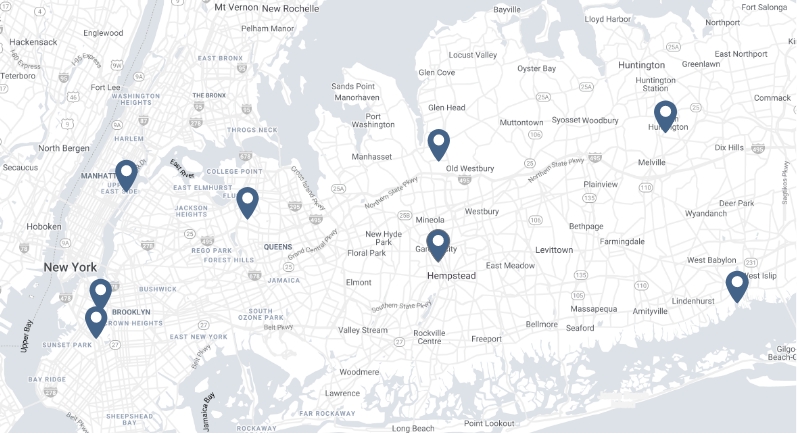 LIPSG LOCATIONS
Babylon

Brooklyn

Brooklyn – Park Slope

Connecticut

East Hills

Flushing

Garden City

Huntington

Manhattan Uptown

Westchester