Dr. Natoli's Patient Testimonials
"My husband and I want to say thank you for all the comfort and concern, on so many levels, that you have cared for us; (even though I am the patient). We feel very safe and secure in your care."
Thank you,
Mary G. – July 2018*
"To Dr. Natoli,
I came to see Dr. Natoli for a breast reduction consultation. After so many years of pain in/on my shoulder, neck. I finally got approved by insurance to have breast surgery on October 20, 2017. I had my breast surgery. I was very happy everything went well and I was very happy with the results.
Dr. Natoli called me to inform me of the results of the pathology reports that showed the tissue samples contained CARCINOMA CELLS. But she reassured me that everything was removed. I was scared, but I trusted her and she sent me to a breast surgeon. I met with the breast surgeon, she sent me to see an oncology radiologist, and everything was okay.
I wanted to share my story because cancer didn't show on my annual mammogram. I would like to thank Dr. Natoli because I would have never known about the cancer!
FD – January 2018*
"When my son was bitten by our family dog and I realized he needed stitches, I immediately contacted Dr. Stitch. Upon calling, I was instructed to go to Cohen's Children's Hospital where Dr. Natoli would be waiting for us. As soon as we met her, she immediately attempted to ease my six year old's and my angst regarding what would need to occur. Dr. Natoli comforted my son like mother, she explained everything to my son and to myself in terms that we would both understand. She spoke with my son while she meticulously stitched him up. The next day, we followed up with our pediatrician and he didn't even notice the wound. During our follow up visit with Dr. Natoli, we received even more excellent care and instructed how to minimize scarring. I would absolutely recommend Dr. Natoli to anyone in need of plastic surgical care. Thank you Dr. Natoli!"
TP – August 2017*
"I would like to thank Dr. Natoli for her excellent work. In my experience it was not an easy surgery, meaning that there is some down time and recovery. In my case, I needed to have an adjustment about 4 months after the original surgery, I was retaining fluid and I needed recovery after that too. Dr. Natoli did the second surgery right in her office, amazing. She accepted my insurance for payment.
The most important thing is her expertise in making incisions, and placement of the nipples. Almost a year later, you can hardly tell I had surgery, that is so important, I am very happy. My back and shoulders are feeling much better. I would recommend Dr. Natoli to anyone at any time because of her fine work. I think being a woman in this field also matters a lot. She's great, Love her!"
LMK – March 2017*
"I have always been self-conscious about my profile view, particularly my chin. I hated getting up and walking across a room because I always felt that people were looking at my profile and thinking how bad it was. I never knew that I could actually do something about it and once I found out that I could I found Dr. Natoli and met with her to discuss my options. From the first time I met with her I felt extremely comfortable and she was so approachable and knowledgeable. I knew that I had made the right decision when I chose Dr. Natoli and my results confirmed it! I love my new chin/profile, I don't feel self-conscious about walking across a room anymore or giving presentations at work. Dr. Natoli did such a wonderful job, and the results are subtle but exactly what I wanted. Thank you Dr. Natoli!"
K.K. – June 2016*
"There aren't many people who come into your life during a very difficult time who you can say were a true blessing. Dr. Noel Natoli was that blessing for me. Having been diagnosed with breast cancer this year and having to go through a trying time, Dr. Natoli made it easier and allayed some of my fears. From the first visit where she spent as much time as I needed explaining all my options, showing me pictures and sketching out how each procedure would go to each and every visit I have with her where she takes the time to sit and talk with me not just about my medical needs but about all of me, let me know that I'm a person to her not just a number or a patient. She put all my pieces together and made me feel whole again. Her compassion and thoughtfulness are second to none of any doctor I have ever had. In addition, her amazing ability and talent as a doctor who is well versed in all the latest treatments and procedures makes choosing her a simple decision. A decision I would make over again because it was the right one. Her dedication to women with breast cancer and her desire to expand the supports available is indicative of her approach to treatment. Dr. Natoli not only was my doctor but I can truly say that I feel like she is a part of my family now. She is my biggest cheerleader on my journey to a healthier and happier self and encourages me to keep moving forward. I know that my family and I could not have asked for a better person to care for me. There are no words that can fully express my appreciation for Dr. Natoli."
Grace – June 2016*
"I would like to thank Dr. Natoli. I am a 56 year old. I contemplated for years to do something about my hanging tummy, I was very uncomfortable with my body. When I finally decided to go visit a plastic surgeon, that's when I found Dr. Noel Natoli. The surgery was the best decision that I ever made. I had a Tummy Tuck with liposuction and repair of abdominal muscles. It's been a year since the surgery, and I am very happy with the results. Dr. Natoli made the process very comfortable for me. The day of surgery, she was very comforting and made me feel at ease. Dr. Natoli reassured me everything was going to go smoothly and it did.
So thank you, Dr. Natoli, for giving me back the confidence that I needed. I feel great about myself, I have joined the gym and feel great."
DS – June 2016*
"Dr. Noel Natoli is the ultimate combination of old school doctoring and new school technology. She always makes you feel like you are her only patient; taking time to consistently making sure the person inside the patient is also taken care of. You are never just a number when you are in Dr. Natoli's care. I truly felt Dr. Natoli was by my side throughout my battle with breast cancer (even when I was physically 4,000 miles away). Although Dr. Natoli's caring attitude is reminiscent of the old school doctors who made house calls and knew their patients' entire family, her medical knowledge and ability to perform the latest surgical techniques is very much present day. Dr. Natoli performed a procedure that was not even offered to me the first time I was diagnosed with breast cancer. Her confidence, skill and knowledge gave me a beautiful, healthy body that does not say CANCER every time I look in the mirror. My family and I cannot thank her enough!"
Lisa – January 2016*
*Results May Vary
View Our

Locations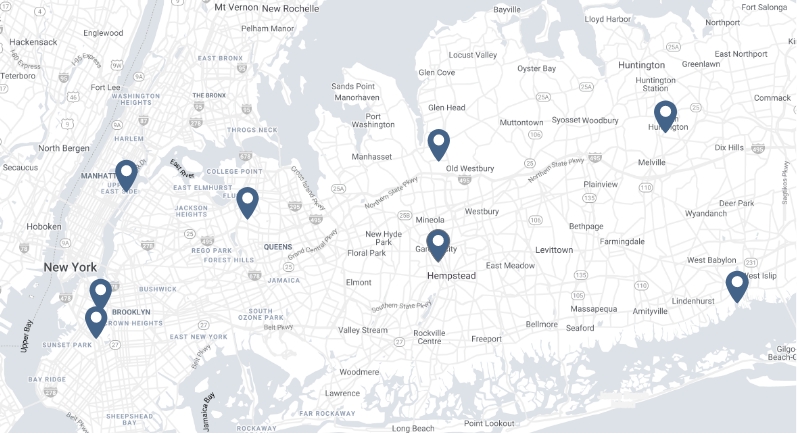 LIPSG LOCATIONS
Astoria 

Babylon

Brooklyn

Brooklyn – Park Slope

Connecticut

East Hills

Flushing

Garden City

Huntington

Manhattan Uptown

Westchester