CO2RE® Skin Resurfacing
Clinically proven to significantly improve skin's tone and texture, the CO2RE fractional CO2 resurfacing laser provides dramatic facial rejuvenation in a single treatment. As a highly advanced fractional CO2 system, CO2RE can smooth away fine lines, treat wrinkles and scars, and minimize signs of sun damage, all while enhancing your overall complexion. At New York Plastic Surgical Group, a Division of Long Island Plastic Surgical Group, our aesthetic experts are proud to offer patients this revolutionary non-surgical procedure.
What Can CO2RE Treat?
Fine lines and wrinkles
Sun damage and age spots
Hyperpigmentation and other discoloration
Enlarged pores
Skin laxity
Acne or surgical scarring
Dull or uneven skin tone and texture
How Does CO2RE Work?
CO2RE is an innovative device that can quickly resurface skin, treat scars, and eliminate visible signs of aging. With a multifunctional treatment platform, CO2RE surpasses other lasers by offering comprehensive tissue ablation at customizable depths with precision accuracy. CO2RE works by harnessing CO2 laser energy in a way that creates a matrix of controlled damage and healthy skin, which stimulates new collagen production.
Preparing for CO2RE Skin Resurfacing Treatment
If you are interested in skin resurfacing, a consultation appointment can help to determine if CO2RE is right for you. Prior to your CO2RE appointment, you may be advised to avoid sun exposure and stop using exfoliating skin products for several weeks before treatment.
What to Expect During CO2RE Skin Resurfacing Treatment
A topical numbing cream will be applied to your skin at the beginning of your CO2RE treatment. Your provider will confirm your treatment plan and set the CO2RE settings to adjust the strength and penetration of the laser to meet your needs. You also have the option of adding PRO-NOX to your treatment plan, which is a non-narcotic nitrous oxide and oxygen system to ease stress and increase comfort.
Recovery After CO2RE Skin Resurfacing Treatment
Immediately after treatment, you may experience mild redness or swelling which are temporary and can be soothed with a cool compress. CO2RE provides results quicker and with less downtime than traditional resurfacing lasers. Your recovery time will vary depending on your treatment settings.
Get CO2RE Skin Resurfacing
If you would like smoother, more even-toned, younger-looking skin, CO2RE may be right for you. Contact us today with any questions or to schedule your consultation appointment.
View Our

Locations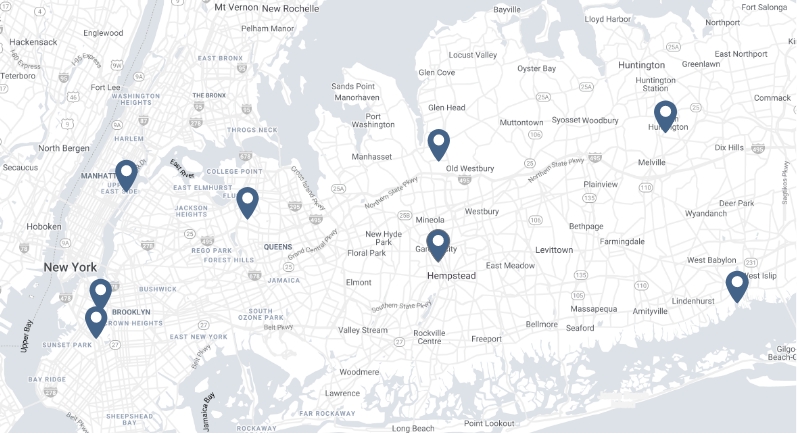 LIPSG LOCATIONS
Babylon

Brooklyn

Brooklyn – Park Slope

Connecticut

East Hills

Flushing

Garden City

Huntington

Manhattan Uptown

Westchester