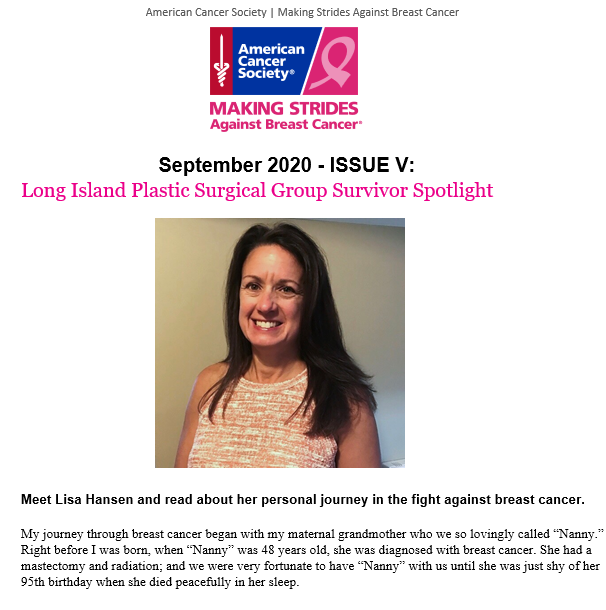 My journey through breast cancer began with my maternal grandmother who we so lovingly called "Nanny." Right before I was born, when "Nanny" was 48 years old, she was diagnosed with breast cancer. She had a mastectomy and radiation; and we were very fortunate to have "Nanny" with us until she was just shy of her 95th birthday when she died peacefully in her sleep.
Knowing our family's breast cancer history, my mother was very diligent about getting her yearly mammograms and when I turned 30 almost to the day, I started getting mammograms and sonograms.
Although my mammogram was often normal, my doctor and the mammography tech requested additional films, I was told I had cystic breasts and had to go for a biopsy twice. When I was 45 years old, my gynecologist recommended I follow up with a breast surgeon to oversee my reports and films. I was fortunate to find Dr. David Kaufman, and he would see me every 6 months for 2 years. It was always a very stressful time from making the appointment through getting the final results.
After a suspicious finding on a sonogram, I needed a biopsy. Although the results were benign, I had LCIS and had a lumpectomy. However, when I went for my six-month follow-up, a sonogram revealed another concerning clinical finding. I had another biopsy which determined another benign LCIS finding, and I had a second lumpectomy. Unfortunately, six months and another sonogram revealed another LCIS.
After speaking with my breast surgeon, an oncologist, and reaching out to family and friends to ask if they knew anyone in the same situation, I decided to have a double mastectomy. I have two children that I need to be here for, and if I ever turned malignant, I would never forgive myself for not being proactive. It felt like it was the right thing to do, and it was the best decision I have made.
From Dr. Kaufman, I was referred to Dr. Addona and together they performed my surgery. After the surgery, I was uncomfortable but not in pain. I had limited use of my arms but regained use day by day. I got stronger and returned back to work about a month later.
I no longer have the fear and worry of having to get checked every six months. I have freedom that I haven't had in almost 20 years and a feeling of peace. I'm also thankful for organizations like the American Cancer Society for starting Making Strides Against Breast Cancer, and bringing other survivors together in the fight against breast cancer.