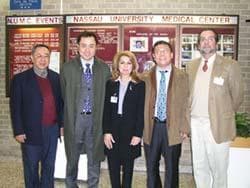 Representatives from the largest plastic surgical group in the U.S. and the largest plastic surgical group in China signed a memorandum of understanding that will bring U.S. reconstructive techniques to China.
The agreement, between Long Island Plastic Surgical Group and Evercare Medical Institute of Beijing, will create an exchange program for plastic surgeons to share the latest techniques in surgery, train doctors in those techniques, and perform cases in China.
During the visit, the Chinese representatives observed the residency conference at Nassau University Medical Center and toured other local medical facilities, including Winthrop University Hospital.
LIPSG doctors and Evercare representatives will kick off the agreement with an international medical conference in China next fall. The agreement will also establish a reconstructive surgery clinic in China with participation from LIPSG doctors.
Efforts will include a focus on reconstructive surgery for cleft lip and palate. China has the highest incidence of cleft lip and palate in the world, where it is estimated that between 15 and 20 children per 10,000 births will have some form of this condition.
Evercare Medical Institute is the largest and most highly regarded plastic and reconstructive surgery enterprise in China, with headquarters in Beijing and six clinics in major Chinese cities. The group has more than 100 staff performing cosmetic surgery, dentistry and dermatology.