After a two-year hiatus, Long Island Plastic Surgical Group returns for 10th Annual Breast Cancer Summit, focusing on the latest developments in treatments, reconstruction, and resources.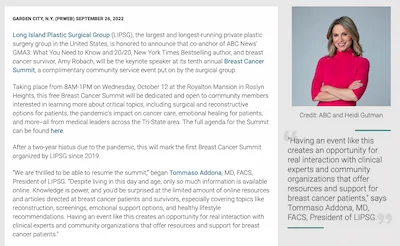 Long Island Plastic Surgical Group (LIPSG), the largest and longest-running private plastic surgery group in the United States, is honored to announce that co-anchor of ABC News' GMA3: What You Need to Know and 20/20, New York Times Bestselling author, and breast cancer survivor, Amy Robach, will be the keynote speaker at its tenth annual Breast Cancer Summit, a complimentary community service event put on by the surgical group.
Taking place from 8AM-1PM on Wednesday, October 12 at the Royalton Mansion in Roslyn Heights, this free Breast Cancer Summit will be dedicated and open to community members interested in learning more about critical topics, including surgical and reconstructive options for patients, the pandemic's impact on cancer care, emotional healing for patients, and more–all from medical leaders across the Tri-State area. The full agenda for the Summit can be found here.
After a two-year hiatus due to the pandemic, this will mark the first Breast Cancer Summit organized by LIPSG since 2019.
"We are thrilled to be able to resume the summit," began Tommaso Addona, MD, FACS, President of LIPSG. "Despite living in this day and age, only so much information is available online. Knowledge is power, and you'd be surprised at the limited amount of online resources and articles directed at breast cancer patients and survivors, especially covering topics like reconstruction, screenings, emotional support options, and healthy lifestyle recommendations. Having an event like this creates an opportunity for real interaction with clinical experts and community organizations that offer resources and support for breast cancer patients."
The program, hosted by WABC-TV Eyewitness News' investigative reporter, Kristin Thorne, will feature breakfast, panel discussions, survivor's stories, and more, with Robach giving a highly-anticipated 30-minute keynote address, titled "My Breast Cancer Journey: From Fighter to Thriver."
When Amy Robach revealed her shocking diagnosis on live television in November 2013, the seasoned news reporter embarked on the most difficult and illuminating journey of her life. Her keynote will candidly touch upon how her illness affected her personally and professionally, tapped into her deepest fears and strengths, and transformed her in ways she never could have imagined.
Past keynote speakers for LIPSG's Breast Cancer Summit include Cynthia Nixon, Fran Drescher, Joan Lunden, and other breast cancer survivors.
For additional updates and added speakers, please visit breastcancersummit.com.
ABOUT AMY ROBACH
Amy Robach is the co-anchor of ABC's "20/20" and reports for "Good Morning America" and across ABC News. Previously, Robach was a news anchor for ABC's "Good Morning America" beginning in 2014. In 2015, Robach wrote a New York Times bestseller titled "Better: How I Let Go of Control, Held On To Hope, and Found Joy in My Darkest Hour" about her unexpected journey with breast cancer after being diagnosed following an on-air mammogram on GMA.
Before joining ABC News, Robach worked at NBC News from 2003 to 2012. In 2007, Robach was the co-anchor of Saturday TODAY and an NBC News National Correspondent. During that time, she also filled in as weekday TODAY co-anchor and newsreader, and NBC Nightly News anchor. Prior to that, Robach was an anchor for MSNBC from 2003-2007. She also worked as a correspondent for WTTG TV in Washington, DC, and WCBD TV in Charleston, SC.
ABOUT LONG ISLAND PLASTIC SURGICAL GROUP
2023 will mark the 75th anniversary of LIPSG. The practice currently comprises 24 plastic surgeons. Having performed over 10,000 breast reconstruction procedures and being the oldest and largest private and academic plastic surgery practice in the United States, LIPSG has committed to provide education, create awareness, and take leadership on breast cancer and reconstruction. LIPSG's main facility is located in Garden City, NY, and the practice has additional offices in East Hills, Babylon, Manhattan, Brooklyn, Flushing, Huntington, Westchester, and Connecticut. LIPSG also operates Deep Blue Med Spa, which offers clinically proven skin rejuvenation procedures, and Dr.STITCH, a 24/7 on-call service and hotline. LIPSG surgeons also do extensive international charity surgery work through their support of ReSurge International.