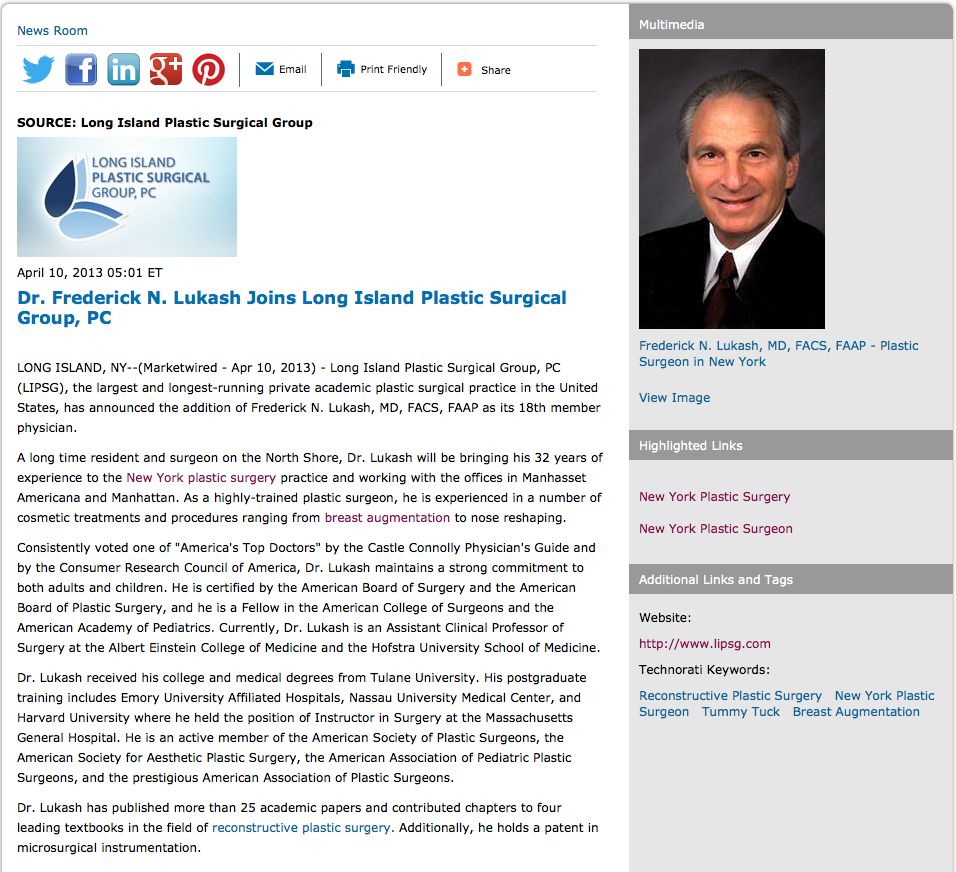 Long Island, NY — Long Island Plastic Surgical Group, PC (LIPSG), the largest and longest-running private academic plastic surgical practice in the United States, has announced the addition of Frederick N. Lukash, MD, FACS, FAAP as its 18th member physician.
A long time resident and surgeon on the North Shore, Dr. Lukash will be bringing his 32 years of experience to the New York plastic surgery practice and working with the offices in Manhasset Americana and Manhattan. As a highly-trained plastic surgeon, he is experienced in a number of cosmetic treatments and procedures ranging from breast augmentation to nose reshaping.
Consistently voted one of "America's Top Doctors" by the Castle Connolly Physician's Guide and by the Consumer Research Council of America, Dr. Lukash maintains a strong commitment to both adults and children. He is certified by the American Board of Surgery and the American Board of Plastic Surgery, and he is a Fellow in the American College of Surgeons and the American Academy of Pediatrics. Currently, Dr. Lukash is an Assistant Clinical Professor of Surgery at the Albert Einstein College of Medicine and the Hofstra University School of Medicine.
Dr. Lukash received his college and medical degrees from Tulane University. His postgraduate training includes Emory University Affiliated Hospitals, Nassau University Medical Center, and Harvard University where he held the position of Instructor in Surgery at the Massachusetts General Hospital. He is an active member of the American Society of Plastic Surgeons, the American Society for Aesthetic Plastic Surgery, the American Association of Pediatric Plastic Surgeons, and the prestigious American Association of Plastic Surgeons.
Dr. Lukash has published more than 25 academic papers and contributed chapters to four leading textbooks in the field of reconstructive plastic surgery. Additionally, he holds a patent in microsurgical instrumentation.
Recognized as an innovator with his work in body image issues with children, adolescents, and teens, Dr. Lukash says he understands that these age groups may have difficulty in emoting feelings regarding their looks whether congenital, traumatic, or aesthetic. He has used art as a non-verbal vehicle before and after surgery to "understand and appreciate their angst."
Together with specialists in child psychiatry and art therapy, an analysis of 30 years experience led the New York plastic surgeon to write a landmark article: "Children's Art as a Helpful Index of Anxiety and Self-Esteem with Plastic Surgery" (Journal of Plastic Surgery: 109:6 May 2002). This authorship led to a writing of his position paper on teenage plastic surgery for the American Society of Plastic Surgeons. Currently, Dr. Lukash's collection is in a traveling exhibit called "Operation Art."
In 2010, Dr. Lukash published the critically acclaimed book, "The Safe and Sane Guide to Teenage Plastic Surgery" (BenBella Books, Dallas TX). It is regarded as a breakthrough publication appealing to both professionals and consumers on the topic of plastic surgery among adolescents and teens.
His strong commitment to community service has resulted in volunteering his time and expertise to "Surgical Aid to Children of the World" and "Operation Smile," as well as local foster and adoption agencies so that "young innocents may have a better quality of life." In addition to being honored by the Chief Executive of Nassau County for this service, Dr. Lukash was also recognized by the United States Olympic Committee for service at the summer games.
Additionally, Dr. Lukash holds staff appointments at Long Island Jewish Medical Center, Cohen Children's Hospital, North Shore University Hospital, St. Francis Hospital, Winthrop-University Hospital, and Lenox Hill Hospital where he treats both adult cosmetic and pediatric/adolescent body image patients.
About Long Island Plastic Surgical Group
As the largest and longest-running private plastic surgery practice in the U.S., Long Island Plastic Surgical Group (LIPSG) has been dedicated to providing the highest level of cosmetic and reconstructive plastic surgery care for 65 years. Spanning ten specialty centers, LIPSG offers a comprehensive range of procedures ranging from liposuction and breast augmentation, to tummy tuck surgery and post-bariatric surgery. For more information about LIPSG, visit their practice website at lipsg.com or their Aesthetic Center website at aestheticcenter.com.