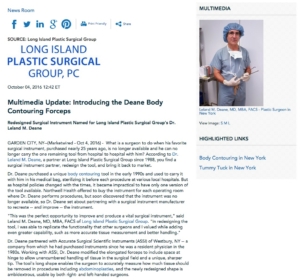 Redesigned Surgical Instrument Named for Long Island Plastic Surgical Group's Dr. Leland M. Deane.
GARDEN CITY, NY – What is a surgeon to do when his favorite surgical instrument, purchased nearly 25 years ago, is no longer available and he can no longer carry the one remaining tool from hospital to hospital with him? According to Dr. Leland M. Deane, a partner at Long Island Plastic Surgical Group since 1988, you find a surgical instrument partner, redesign the tool, and bring it back to market.
Dr. Deane purchased a unique body contouring tool in the early 1990s and used to carry it with him in his medical bag, sterilizing it before each procedure at various local hospitals. But as hospital policies changed with the times, it became impractical to have only one version of the tool available. Northwell Health offered to buy the instrument for each operating room where Dr. Deane performs procedures, but soon discovered that the instrument was no longer available, so Dr. Deane set about partnering with a surgical instrument manufacturer to recreate – and improve – the instrument.
"This was the perfect opportunity to improve and produce a vital surgical instrument," said Leland M. Deane, MD, MBA, FACS of Long Island Plastic Surgical Group. "In redesigning the tool, I was able to replicate the functionality that other surgeons and I valued while adding even greater capability, such as more accurate tissue measurement and better handling."
Dr. Deane partnered with Accurate Surgical Scientific Instruments (ASSI) of Westbury, NY – a company from which he had purchased instruments since he was a resident physician in the 1980s. Working with ASSI, Dr. Deane modified the elongated forceps to include space at hinge to allow unencumbered handling of tissue in the surgical field and a unique, sharper tip. The tool's long shape enables the surgeon to accurately measure how much tissue should be removed in procedures including abdominoplasties, and the newly redesigned shape is ambidextrous, usable by both right- and left-handed surgeons.
In June of 2016, the ASSI Deane Body Contouring Forceps made its debut, manufactured by ASSI in Germany and marketed worldwide.
"The naming of a surgical instrument for the physician who designed it is a noteworthy tribute," said Roger L. Simpson, MD, FACS, president of Long Island Plastic Surgical Group. "The surgeon's involvement in the development of a product is a testament to that person's experience, expertise and exacting standards, and we are proud of Dr. Deane's role in bringing this new instrument to market."
About Dr. Deane
Dr. Leland M. Deane is a board certified plastic surgeon and has been a partner at Long Island Plastic Surgical Group since 1988. He specializes in post-weight loss surgery, breast augmentation, tummy tucks, hair restoration, and facial cosmetic surgery. He is currently the Associate Chief of the Division of Plastic Surgery at Southside Hospital within the Northwell Health System. From 2009-2015, Dr. Deane was a board member of the New York State Department of Health and Office of Professional Conduct. He has been featured and interviewed on the Wall Street Journal televised network, the Discovery Health Channel, Cablevision Network, the New York Post, and many other media sources.
About Long Island Plastic Surgical Group (LIPSG)
LIPSG comprises 20 plastic surgeons and is the oldest and largest private and academic plastic surgery practice in the United States. LIPSG's main facility is located in Garden City, NY, and the practice has additional offices in East Hills, Babylon, Manhattan, Brooklyn, Flushing, Huntington, and Lynbrook. LIPSG also operates Deep Blue Med Spa, which offers clinically proven skin rejuvenation procedures, and Dr.STITCH, a 24/7 on-call service and hotline. LIPSG surgeons also do extensive international charity surgery work through their support of ReSurge International.
For additional information about the Deane Body Contouring Forceps or Long Island Plastic Surgical Group, please contact Jeanine DiGennaro, Director of Marketing, at
(516) 629-3835 or email jdigennaro@lipsg.com.
Contact:
Long Island Plastic Surgical Group
999 Franklin Avenue
Garden City, NY 11530
(516) 629-3835
Jeanine DiGennaro
(516) 629-3835
jdigennaro@lipsg.com
Rosemont Media
(858) 200-0044
www.rosemontmedia.com