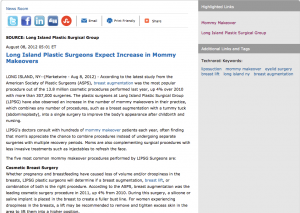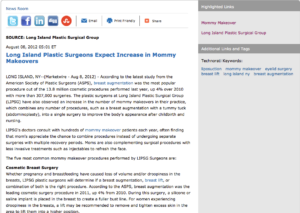 Long Island, NY- According to the latest study from the American Society of Plastic Surgeons (ASPS), breast augmentation was the most popular procedure out of the 13.8 million cosmetic procedures performed last year, up 4% over 2010 with more than 307,000 surgeries. The plastic surgeons at Long Island Plastic Surgical Group (LIPSG) have also observed an increase in the number of mommy makeovers in their practice, which combines any number of procedures, such as a breast augmentation with a tummy tuck (abdominoplasty), into a single surgery to improve the body's appearance after childbirth and nursing.
LIPSG's doctors consult with hundreds of mommy makeover patients each year, often finding that mom's appreciate the chance to combine procedures instead of undergoing separate surgeries with multiple recovery periods. Moms are also complementing surgical procedures with less invasive treatments such as injectables to refresh the face.
The five most common mommy makeover procedures performed by LIPSG Surgeons are:
Cosmetic Breast Surgery
Whether pregnancy and breastfeeding have caused loss of volume and/or droopiness in the breasts, LIPSG plastic surgeons will determine if a breast augmentation, breast lift, or combination of both is the right procedure. According to the ASPS, breast augmentation was the leading cosmetic surgery procedure in 2011, up 4% from 2010. During this surgery, a silicone or saline implant is placed in the breast to create a fuller bust line. For women experiencing droopiness in the breasts, a lift may be recommended to remove and tighten excess skin in the area to lift them into a higher position.
Tummy Tuck
Addressing the area of the body most impacted by childbearing, an abdominoplasty (or tummy tuck), may be performed to restore a woman's pre-pregnancy body. During a tummy tuck, the stretched stomach muscles are tightened and excess skin is removed to create a flatter and firmer stomach.
Liposuction
Also in the ASPS Top 5 list with over 200,000 procedures in 2011, liposuction removes excess pockets of fat in areas such as the thighs, love handles, abdomen, and buttocks.
Facial Rejuvenation
As signs of aging and loss of sleep appear on the face, surgical and non-surgical options are available to create a refreshed and younger look. BOTOX® Cosmetic and other types of injectables such as JUVEDERM® and Sculptra®, can restore volume in the face and reduce the appearance of wrinkles. Last year, BOTOX® was the #1 minimally invasive procedure, followed by injectable treatments.
For women seeking to correct droopy eyelids and puffy under-eye bags, eyelid surgery can be performed to smooth the skin around the eyes. The ASPS reported almost 200,000 eyelid surgeries performed in 2011, making it one of the top 5 cosmetic surgery procedures last year.
Stretch Mark Reduction
To reduce the appearance of stretch marks that may result from pregnancy, LIPSG's medical spa, Aesthetic Center, offers a FDA-cleared non-ablative laser to promote new tissue and collagen growth. As a result, the texture and color of new and mature marks are able to improve.
The highly trained and experienced plastic surgeons at Long Island Plastic Surgical Group understand that each woman requires a combination of procedures customized for her body and personal goals. While it is beneficial for any individual to understand their cosmetic enhancement options, a consultation with a qualified plastic surgeon is the best way to determine the right procedure.
About Long Island Plastic Surgical Group, PC
For more than 60 years, Long Island Plastic Surgical Group has been dedicated to providing compassionate and comprehensive care, while pioneering and performing the most advanced reconstructive and cosmetic surgical procedures. As the largest and longest running private academic plastic surgical practice in the nation, LIPSG surgeons have over 200 years combined experience as leaders and innovators in the field. The size of the practice and diversity of expertise is reflected in its nine specialty centers: Skin Care and Age Management, Non-invasive and Surgical Facial Rejuvenation, Pediatric Plastic and Craniofacial Surgery, Facial Reanimation and Peripheral Nerve Repair, Microsurgery and Hand Reconstruction, Breast and Body Cosmetic Surgery, Burns and Complex Wound Management, Breast Reconstruction Surgery, Post-Weight Loss Cosmetic, and Reconstructive Surgery.
The fifteen surgeons in practice at LIPSG are: Dr. Vincent DiGregorio, Dr. Roger Simpson, Dr. Bruce Brewer, Dr. Leland Deane, Dr. Barry Douglas, Dr. Laurence Glickman, Dr. Louis Riina, Dr. Thomas Davenport, Dr. Matthew Kilgo, Dr. Rachel Ruotolo, Dr. Michael Dobryansky, Dr. Tommaso Addona and Dr. Jerry Chang, Dr. Joshua Zuckerman, and Dr. Noel Natoli.