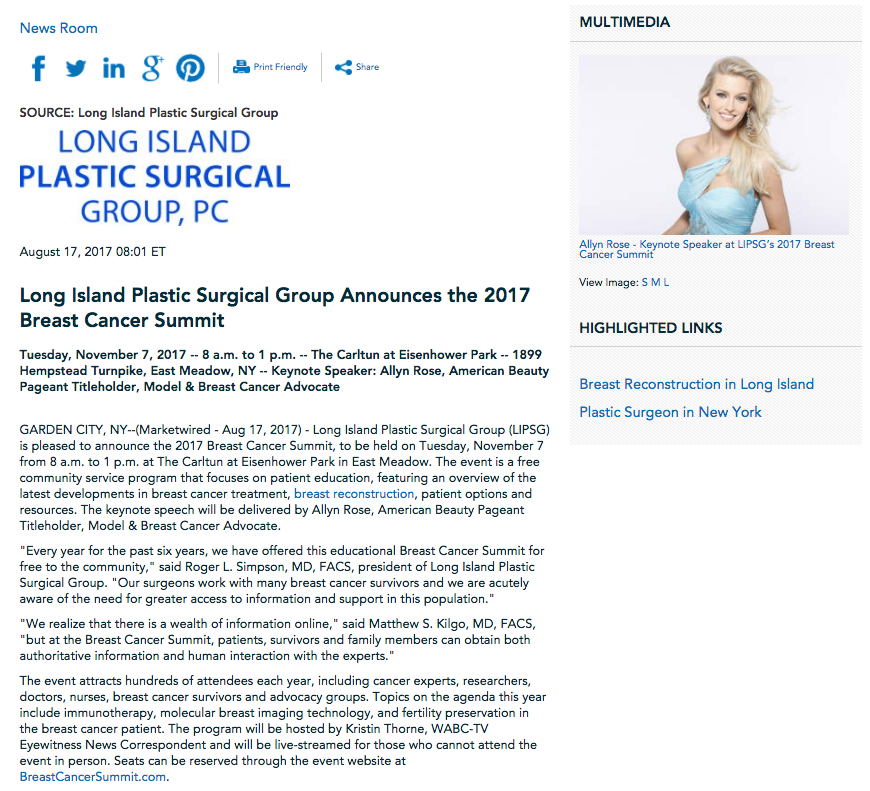 Tuesday, November 7, 2017 · 8 a.m. to 1 p.m. · The Carltun at Eisenhower Park · 1899 Hempstead Turnpike, East Meadow, NY · Keynote Speaker: Allyn Rose, American Beauty Pageant Titleholder, Model & Breast Cancer Advocate
GARDEN CITY, NY – Long Island Plastic Surgical Group (LIPSG) is pleased to announce the 2017 Breast Cancer Summit, to be held on Tuesday, November 7 from 8 a.m. to 1 p.m. at The Carltun at Eisenhower Park in East Meadow. The event is a free community service program that focuses on patient education, featuring an overview of the latest developments in breast cancer treatment, breast reconstruction, patient options and resources. The keynote speech will be delivered by Allyn Rose, American Beauty Pageant Titleholder, Model & Breast Cancer Advocate.
"Every year for the past six years, we have offered this educational Breast Cancer Summit for free to the community," said Roger L. Simpson, MD, FACS, president of Long Island Plastic Surgical Group. "Our surgeons work with many breast cancer survivors and we are acutely aware of the need for greater access to information and support in this population."
"We realize that there is a wealth of information online," said Matthew S. Kilgo, MD, FACS, "but at the Breast Cancer Summit, patients, survivors and family members can obtain both authoritative information and human interaction with the experts."
The event attracts hundreds of attendees each year, including cancer experts, researchers, doctors, nurses, breast cancer survivors and advocacy groups. Topics on the agenda this year include immunotherapy, molecular breast imaging technology, and fertility preservation in the breast cancer patient. The program will be hosted by Kristin Thorne, WABC-TV Eyewitness News Correspondent and will be live-streamed for those who cannot attend the event in person. Seats can be reserved through the event website at BreastCancerSummit.com.
About Allyn Rose
Allyn is a 29-year-old law student, currently living abroad in Frankfurt, Germany. By the age of 16, Allyn had lost her mother, grandmother and great aunt to breast cancer, motivating her to explore her family health history and take charge in her healthcare. As a successful model, Miss USA and Miss America contestant, she made headlines across the globe with her controversial decision to undergo a double mastectomy at the age of 24, despite being cancer and BRCA 1&2 mutation negative. By 26, Allyn had completed her mastectomy and reconstruction and has continued championing preventive healthcare. She has been featured on Good Morning America, Fox & Friends, E! News, The Today Show, Katie Couric, Inside Edition, in PEOPLE Magazine, Us Weekly, Cosmopolitan, In Touch Weekly, and was a FOX Power Player of the Week. Allyn gave a TEDx Talk at Chapman University and continues to work as an advocate and contributor on several national media outlets sharing a message of hope and the importance of putting life before vanity. Read about her life experiences at www.allinwithallyn.com.
About Long Island Plastic Surgical Group (LIPSG)
LIPSG comprises 22 plastic surgeons. Having performed over 10,000 breast reconstruction procedures, and being the oldest and largest private and academic plastic surgery practice in the United States, LIPSG has made a commitment to provide education, create awareness, and take leadership on the subject of breast cancer and reconstruction. LIPSG's main facility is located in Garden City, NY, and the practice has additional offices in East Hills, Babylon, Manhattan, Brooklyn, Flushing, and Huntington. LIPSG also operates Deep Blue Med Spa, which offers clinically proven skin care treatments, and Dr.STITCH, a 24/7 on-call service and hotline. LIPSG surgeons also do extensive international charity surgery work through their support of ReSurge International.
For additional information about the 2017 Breast Cancer Summit or Long Island Plastic Surgical Group, please contact Jeanine DiGennaro, Director of Marketing, at
(516) 629-3835 or email jdigennaro@lipsg.com.
Contact:
LIPSG
Jeanine DiGennaro
(516) 629-3835
jdigennaro@lipsg.com
Rosemont Media
(858) 200-0044
www.rosemontmedia.com