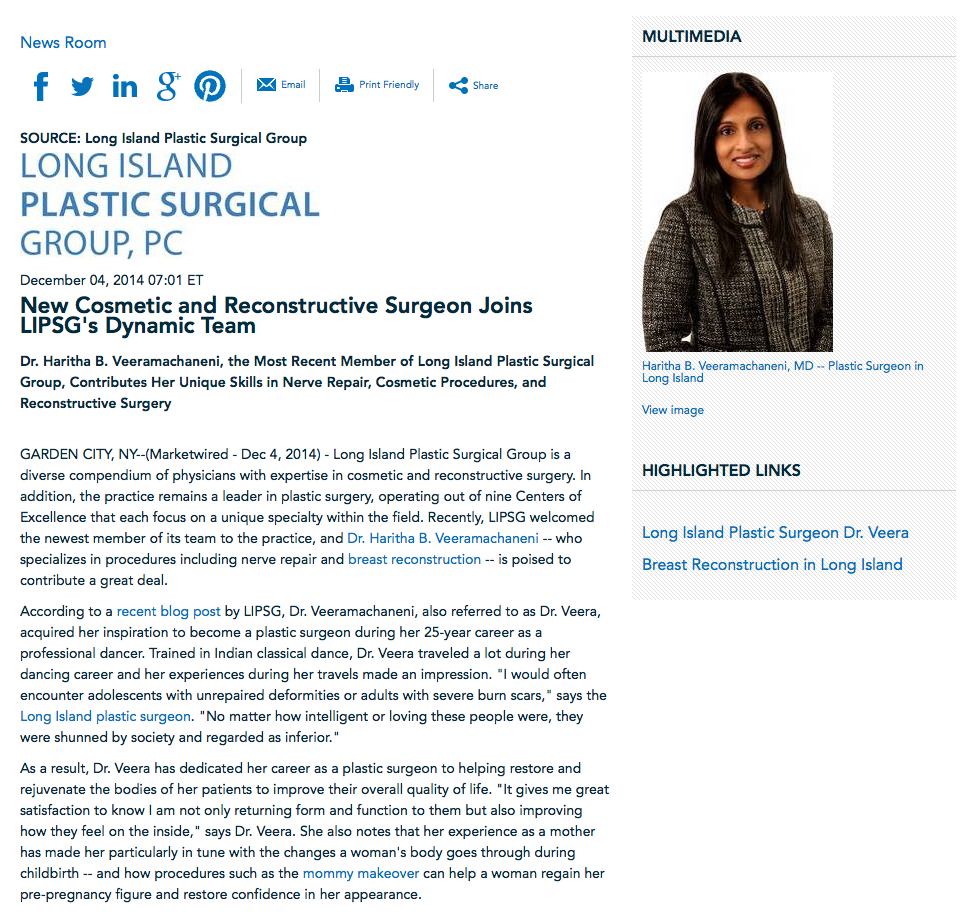 Dr. Haritha B. Veeramachaneni, the most recent member of Long Island Plastic Surgical Group, contributes her unique skills in nerve repair, cosmetic procedures, and reconstructive surgery.
Garden City, NY – Long Island Plastic Surgical Group is a diverse compendium of physicians with expertise in cosmetic and reconstructive surgery. In addition, the practice remains a leader in plastic surgery, operating out of nine Centers of Excellence that each focus on a unique specialty within the field. Recently, LIPSG welcomed the newest member of its team to the practice, and Dr.Haritha B. Veeramachaneni – who specializes in procedures including nerve repair and breast reconstruction – is poised to contribute a great deal.
According to a recent blog post by LIPSG, Dr. Veeramachaneni, also referred to as Dr. Veera, acquired her inspiration to become a plastic surgeon during her 25-year career as a professional dancer. Trained in Indian classical dance, Dr. Veera traveled a lot during her dancing career and her experiences during her travels made an impression. "I would often encounter adolescents with unrepaired deformities or adults with severe burn scars," says the Long Island plastic surgeon. "No matter how intelligent or loving these people were, they were shunned by society and regarded as inferior."
As a result, Dr. Veera has dedicated her career as a plastic surgeon to helping restore and rejuvenate the bodies of her patients to improve their overall quality of life. "It gives me great satisfaction to know I am not only returning form and function to them but also improving how they feel on the inside," says Dr. Veera. She also notes that her experience as a mother has made her particularly in tune with the changes a woman's body goes through during childbirth – and how procedures such as the mommy makeover can help a woman regain her pre-pregnancy figure and restore confidence in her appearance.
About Haritha B. Veeramachaneni, MD
Dr. Haritha B. Veeramachaneni is a graduate of Duke University and earned her medical degree from Vanderbilt University School of Medicine. After completing her Residency in Plastic & Reconstructive Surgery at the University of Southern California, she went on to complete a fellowship in Hand and Microsurgery at the C.M. Kleinert Institute. Specializing in complex hand and wrist injuries, nerve repair, and treatment of arthritis and nerve compressions, Dr. Veera is also skilled at performing a wide array of cosmetic and reconstructive procedures. She is available for interview upon request.
About Long Island Plastic Surgical Group
Long Island Plastic Surgical Group (LIPSG) is the longest tenured private plastic surgery practice in the U.S., and has been dedicated to pioneering and providing state-of-the-art cosmetic and reconstructive surgery procedures for more than 65 years. LIPSG surgeons have over 250 cumulative years of experience in the field of aesthetic and reconstructive surgery. The practice operates nine Centers of Excellence that specialize in areas such as breast and body cosmetic surgery, skin care and age management, microsurgery and hand reconstruction, breast reconstruction surgery, pediatric plastic and craniofacial surgery, and more. LIPSG is located in New York City and Long Island and has offices in Manhattan, Huntington, Babylon, Flushing, Garden City, Manhasset and Lynbrook.
The surgeons at LIPSG are available for interview upon request, and the practice can be reached online at lipsg.com or facebook.com/liplasticsurgical/.
Contact:
Long Island Plastic Surgical Group
Garden City Office:
999 Franklin Avenue
Second Floor
Garden City, NY 11530
516-742-3404
Americana Manhasset Office:
2110 Northern Boulevard
Suite 210
Manhasset, NY 11030
(516) 439-5500
Babylon Office:
200 W. Main Street
Building A, Suite 101
Babylon, NY 11702
(631) 376-0656
Manhattan Office:
1111 Park Avenue
Suite 1G
New York, NY 10128
(212) 879-8506
Huntington Office:
206 E. Jericho Turnpike
Huntington Station, NY 11746
(631) 683-5630
Flushing Office:
136-20 38th Avenue
Suite 5E
Flushing, NY 11354
(347) 738-0225
Lynbrook Office:
444 Merrick Rd
Suite 200
Lynbrook, NY 11563
(516) 629-3810
Rosemont Media
(858) 200-0044
www.rosemontmedia.com