The Vibrant 40′s and the Fabulous 50′s
By the time we've hit our 40′s and 50′s, many of us have experience with families, careers, travel, and adventures leading us down exciting paths. This is the period where keeping up appearances and maintaining good health becomes a bit more of a challenge. Sagging skin in the face, breasts, arms, and other parts of the body can be more common and more pronounced. Noticeable wrinkles and skin damage becomes apparent in the face. And excess fat starts to appear in our bodies that is resistant to diet and exercise.
The 40′s and 50′s often represent major changes in our appearance due to the natural aging process, but as long as you stay healthy and keep a steady diet and exercise routine, these changes can be less severe and can be significantly enhanced with a little help. Injectable cosmetic treatments can be greatly beneficial in reducing the appearance of wrinkles and fine lines in the face, as well as adding volume to facial features such as the lips and cheeks. Face lift and eyelid surgery can provide you with even more significant facial enhancement with results that are long-lasting. Abdominoplasty (tummy tuck surgery) and liposuction procedures can get rid of stubborn fat for a tighter, more fit-looking appearance; and breast enhancement options can eliminate excess skin and give the breasts a more youthful, sensual aesthetic.
Take a look at this guide which shows some of the most popular procedures performed in women and men in their 40′s and 50′s. The links will take you to more detailed descriptions of each procedure. If you are considering any of these options, please contact one of our plastic surgeons at Long Island Plastic Surgical Group for a consultation. Our experienced doctors will meet with you and discuss the options that can meet your ultimate goals.
View Our

Locations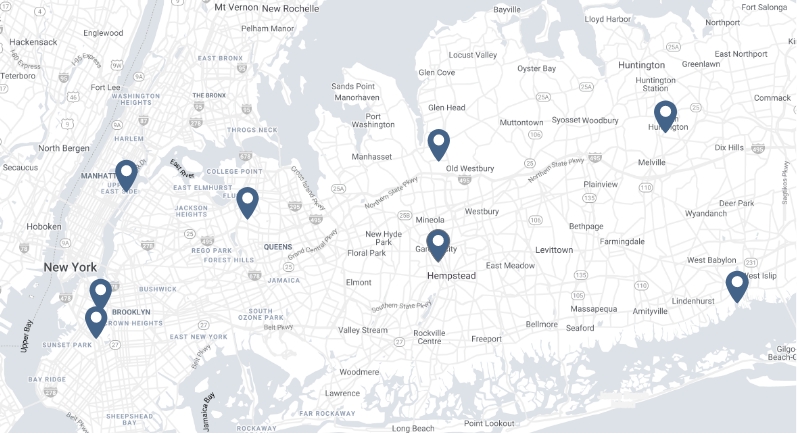 LIPSG LOCATIONS
Babylon

Brooklyn

Brooklyn – Park Slope

Connecticut

East Hills

Flushing

Garden City

Huntington

Manhattan Uptown

Westchester