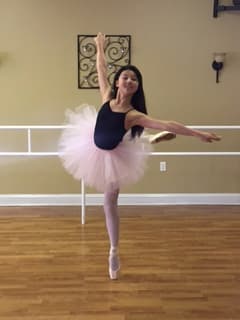 No one is happy when accidents happen, but when they do happen we're there to help. One thing that does make us happy is seeing our patients recover and go on to do great things! We love catching up with former patients to check in on their progress. When Diana was hurt during a ballet practice in 2014, her mom called Dr.STITCH to ensure that Diana was in experienced hands.
We were thrilled to hear that since her accident, Diana has flourished as a dancer. She has pursued ballet with great passion and she has participated in esteemed performances and received many accolades, including being chosen to participate in the Martha Graham Young Artist Program. Choreographer David Marquez says that Diana is "possessing remarkable pick up skills, a natural zest for life and a whollup of I-can-do!, I should say she will undoubtedly surprise us all with what she will accomplish, no matter how much we already know she will achieve, I have no doubt she will surpass any expectation!" Diana dedicates an impressive amount of time and energy into her dance practice, and she is currently looking forward to her first year at the Professional Performing Arts High School in addition to studying ballet at Ballet Tech.
The team at Long Island Plastic Surgical Group and Dr.STITCH is so proud of Diana's accomplishments, and we're honored to have provided the best care possible to such a talented young woman!