Long Island Plastic Surgical Group is committed to raising awareness of cleft lip and palate and craniofacial birth defects. Our experienced plastic surgeons and medical professionals utilize their skills to improve the lives of patients with facial differences in our local community and abroad.
What Are Craniofacial Anomalies?
Craniofacial anomalies encompass a variety of conditions in which the skull and facial skeleton develop differently than expected. The causes of these abnormalities are not always known, but birth defects may be caused by genetics or environmental factors. Common craniofacial differences include cleft lip and cleft palate, as well as craniosynostosis, which occurs when an infant's skull fuses too early, hemangioma, which is an abnormally growing blood vessel, and microtia, which is an ear deformity.
Long Island Plastic Surgical Group's Pediatric Plastic & Craniofacial Surgery Center
One of the ways in which Long Island Plastic Surgical Group stands apart from other plastic surgery practices is our Centers of Excellence, which combine specialized expertise, comprehensive care, and advanced treatment. At our Center of Excellence devoted to pediatric plastic & craniofacial surgery, we provide compassionate care for children with craniofacial differences and birth defects. Dr. Rachel A. Ruotolo is one of the only plastic surgeons on Long Island whose practice is dedicated to pediatric craniofacial procedures.
LIPSG Craniosynostosis Patient Results
This pediatric patient, shown pre-op and 2 weeks post-op, was treated for metopic craniosynostosis by Dr. Rachel Ruotolo: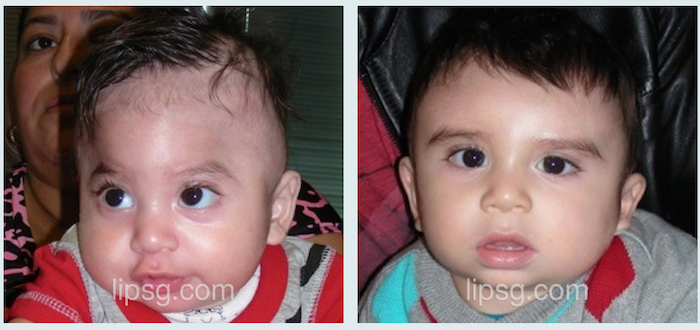 View details of this patient's procedure and see the full gallery of pediatric patients with craniosynostosis who have received surgical care at Long Island Plastic Surgical Group.
What is Cleft Lip and Palate?
Cleft lip and palate are types of craniofacial birth defects that affect approximately 7,000 babies born in the United States each year and many more worldwide.1 When a fetus is developing, each side of the upper lip and palate (the roof of the mouth) develops separately at first. With proper growth, the two sides fuse together by the ninth week of pregnancy. When the two sides do not fuse together, the result is an opening in the lip that can extend to the nose, an opening in the palate, or both, as they often occur together. Although it remains unclear what exactly causes cleft defects, genetics, nutrition, and environment may all play a role.
Throughout our history, and in partnership with ReSurge International, our dedicated physicians have had the opportunity to help patients with cleft lip and palate, both here in our local community and in developing countries.
Comparing Cleft Experiences in the United States and Abroad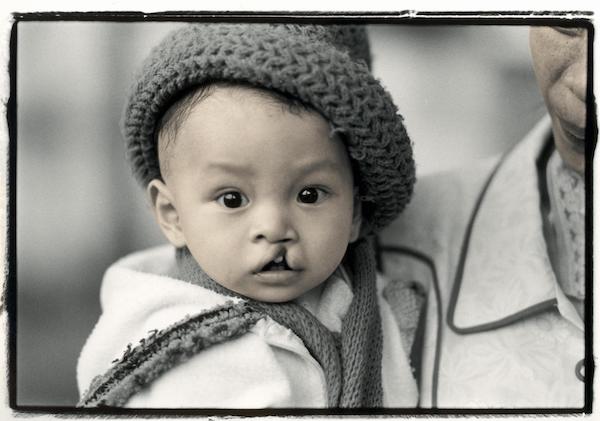 While any parent may be alarmed to learn their newborn has a birth defect, parents in the United States can rest assured that effective treatment is widely available. Babies born with a cleft lip or palate in the United States typically grow up with normal function and minimal visible abnormalities due to early treatment. In fact, unborn babies in the U.S. may even be diagnosed via ultrasound. However, children born with cleft deformities in developing countries face many challenges. Adequate medical care can be difficult to obtain and there is a shortage of qualified surgeons who are able to repair a cleft lip or palate.
The Medical and Social Impact of Cleft Lip and Palate
The disadvantages faced by children with unrepaired cleft lip or palate go far beyond cosmetic concerns. Infants and children with cleft palates can have difficulty drinking milk or eating, causing them to struggle to get enough sustenance and potentially become malnourished. Older children with unrepaired cleft defects may develop severe speech impediments that can affect them for the rest of their lives. People who have grown to adulthood with a cleft lip may feel socially isolated and unaccepted in a way that severely diminishes their quality of life. A cleft deformity can have a social impact on the entire family due to cultural myths that can have painful implications. For example, in Peru, people often attribute the cause of cleft lip to sinful behavior by the mother. In Nigeria, cleft lip and palate are considered to be the result of evil spirits. In fact, a study of Nigerian parents of children with cleft abnormalities reports that 22% of parents have "been treated like an outcast by neighbors, relatives, and friends because of the cleft of their children."2
LIPSG's Partnership With ReSurge International

Long Island Plastic Surgical Group has a longstanding relationship with ReSurge International, a non-profit organization that is dedicated to providing free reconstructive surgery and surgical training in developing countries. We are honored to help them bring life-saving medical care and surgical training to underserved populations. Several of our surgeons have traveled to developing countries with ReSurge to donate their time and knowledge. LIPSG has also established The Dr. Vincent DiGregorio Fellowship Fund with ReSurge in order to fund the training of plastic surgeons where they are most needed.
The Importance of Training Plastic Surgeons in Developing Countries
Surgeons who travel abroad to help underserved communities perform a much-needed service, but the gift they give is even more valuable when their mission also includes educating future surgeons. ReSurge International and LIPSG work to train surgeons in developing countries in order to increase the level of care that is available. Many babies with cleft lip or cleft palate will require multiple procedures to fully repair their defect. A local surgeon who is trained in surgical cleft repair can provide earlier and more frequent care than a surgeon who visits periodically.
Cleft Lip Repair Improves Lives
Avinash's Story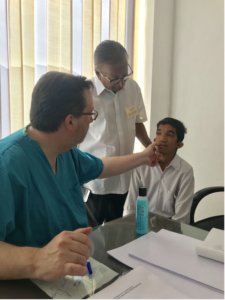 Twelve-year-old Avinash was born in Dehradun, India, with a cleft lip and cleft palate. He had surgery to repair his palate when he was 1 year old, but his cleft lip interfered with his ability to speak and created social and educational difficulties due to the stigma of visible deformities. LIPSG surgeon Dr. Thomas Davenport repaired his bilateral cleft lip in 2017 and Avinash is now receiving speech therapy. Without the donation of Dr. Davenport's time and skill, and the resources provided by ReSurge, Avinash may not have been able to attend school. However, because his lip defect also affected his nose, Avinash will need another surgery to further restore form and function to his face. Thankfully, a local surgeon named Dr. Kush Aeron, who was trained by Dr. Davenport with the help of ReSurge, will now be able to perform this additional procedure.
Dr. Davenport and other ReSurge volunteers offer free training to local surgeons in order to raise the level of care available in developing countries, increase the number of patients who can receive treatment, and ensure that care is available year-round for patients with complex medical needs.

Ala's Story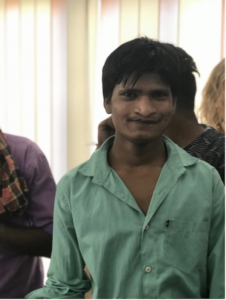 Ala was born with a cleft deformity and there was no way for his parents to obtain surgery for him as a child. Therefore, he grew up without the ability to speak. Dr. Davenport operated on him free of charge in 2017 and Ala is now gaining speech skills and training to be a carpenter. Ala would not ever have been able to afford surgery on his own, and the care provided by Dr. Davenport and ReSurge has enabled him to be a more confident and productive citizen.
Learn More
Learn more about Pediatric Plastic and Craniofacial Surgery at LIPSG or about our partnership with ReSurge International.
1 Parker SE, Mai CT, Canfield MA, et al.; for the National Birth Defects Prevention Network. Updated national birth prevalence estimates for selected birth defects in the United States, 2004-2006. Birth Defects Research (Part A): Clinical and Molecular Teratology 2010;88:1008-16.
2 Adeyemo WL, James O, ButaliAnn A. Cleft lip and palate: Parental experiences of stigma, discrimination, and social/structural inequalities. Maxillofac Surg. 2016 Jul-Dec; 6(2): 195–203. doi: 10.4103/2231-0746.200336