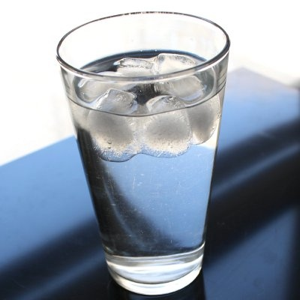 The first in a series of Holiday Food and Fitness Tips from Dr. Frederick N. Lukash.
Psychologists often advise clients who want to make major life changes to start by adding, rather than subtracting.
It's far easier to begin a healthy new food and fitness regime by adding something positive and simple to do in small, incremental steps rather than focusing on what you're taking away. In my upcoming book, The Restore Point: The Safe and Sane Guide to a Lifetime of Lean for Kids and Families, I outline a complete program of what's now called "ancestral eating patterns" for a total body reboot.
One of the core components of my program is adding the element of fresh, clean and abundant water to your daily diet.
That one simple direction–drink more water every day–can jumpstart your pre and post holiday fitness resolutions and move you on to the path of a healthier, leaner body right now.
If you increase your water intake by just 6 glasses a day, you will automatically feel better, eat less and flush more toxins from your system.
Have you noticed that after a massage or spa therapy appointment you are always asked to "drink a lot of water"? That's because water will help move lactic acid and other toxins from your muscles and help clean and restore your entire system.
You can make water healthier and tastier by drinking it from glass rather than recycled plastics which can leach phyto-estrogens into your system (this means plastic water bottles rather than stable plastic like cups and thermos containers).
Add ice if it you like your water cold and put it in a large 6-ounce glass with a lemon or lime twist.
Seltzer without additives is okay, but watch for artificial additives or flavors that may contain sugar or aspertame–not the same as pure, plain water.
In just a week, you'll notice a brighter, clearer complexion and you will also most likely feel less hunger for snacks and heavy meals.
Even if you're not yet ready to make a total fitness resolution or are waiting to get through the holidays, a resolution now to JUST ADD WATER may help you eat less this Thanksgiving and feel and look better before your New Year's diet begins.
Follow this blog in the weeks leading up to and after the holiday season for safe and sane advice on food and fitness from Dr. Frederick Lukash's upcoming book, The Restore Point: The Safe and Sane Guide to a Lifetime of Lean for Kids and Families. In 2010 Dr. Lukash published the critically acclaimed book The Safe and Sane Guide to Teenage Plastic Surgery (BenBella Books, Dallas TX). It is a break-through publication appealing to both professionals and consumers on the topic of plastic surgery among adolescents and teens.
Consistently voted one of "America's Top Doctors," by the Castle Connolly Guide and the Consumer Research Council of America, Dr. Lukash is a board-certified cosmetic and reconstructive plastic surgeon who has been in practice since 1981. He joined Long Island Plastic Surgical Group as a senior associate in 2013. Currently Dr. Lukash is an Assistant Clinical Professor of Surgery at the Albert Einstein College of Medicine and the Hofstra University School of Medicine.