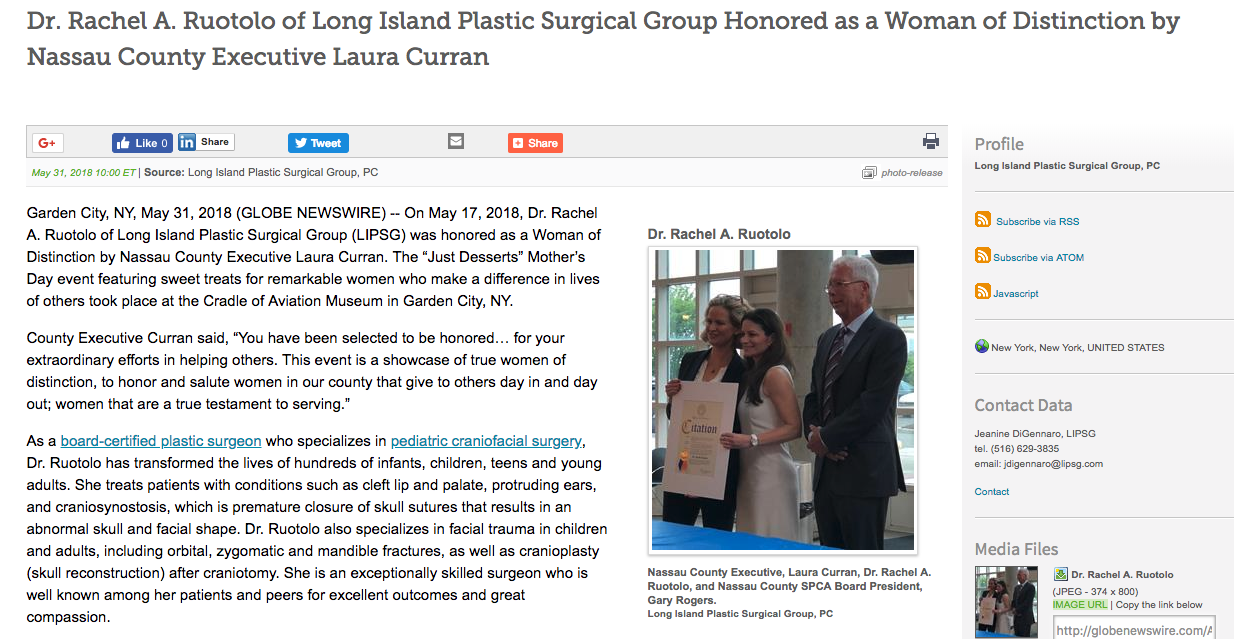 Garden City, NY, May 31, 2018 (GLOBE NEWSWIRE) — On May 17, 2018, Dr. Rachel A. Ruotolo of Long Island Plastic Surgical Group (LIPSG) was honored as a Woman of Distinction by Nassau County Executive Laura Curran. The "Just Desserts" Mother's Day event featuring sweet treats for remarkable women who make a difference in lives of others took place at the Cradle of Aviation Museum in Garden City, NY.
County Executive Curran said, "You have been selected to be honored… for your extraordinary efforts in helping others. This event is a showcase of true women of distinction, to honor and salute women in our county that give to others day in and day out; women that are a true testament to serving."
As a board-certified plastic surgeon who specializes in pediatric craniofacial surgery, Dr. Ruotolo has transformed the lives of hundreds of infants, children, teens and young adults. She treats patients with conditions such as cleft lip and palate, protruding ears, and craniosynostosis, which is premature closure of skull sutures that results in an abnormal skull and facial shape. Dr. Ruotolo also specializes in facial trauma in children and adults, including orbital, zygomatic and mandible fractures, as well as cranioplasty (skull reconstruction) after craniotomy. She is an exceptionally skilled surgeon who is well known among her patients and peers for excellent outcomes and great compassion.
Dr. Ruotolo has served as the first female Vice President of LIPSG since 2013 and is the only physician in the group dedicated to children. She also serves on the Board of Directors of Child Abuse and Prevention Services (CAPS), a Long Island-based non-profit that works to promote the safety of children through prevention of bullying, child abuse, and neglect.
She earned her undergraduate degree from Duke University and her Medical Degree from George Washington University School of Medicine and Health Sciences, where she graduated with distinction. Dr. Ruotolo received her general surgery and plastic surgery training at the Hospital of the University of Pennsylvania and pursued specialty training in Pediatric Congenital and Craniofacial Surgery during a fellowship at Medical City Children's Hospital in Dallas, Texas.
Dr. Ruotolo is the mother of three young daughters and she deftly manages the balance between a highly demanding job as a surgeon and her love of family.
About Long Island Plastic Surgical Group (LIPSG)
LIPSG comprises 22 plastic surgeons and is the largest academic private plastic surgery practice in the United States. Long Island Plastic Surgical Group co-founded an Independent Model plastic surgery residency program in 1954. Since its inception, the LIPSG Residency Program has trained more than 125 residents and 33 burn fellows, many of whom are now among the most respected and skilled plastic surgeons in the nation. LIPSG's main facility is located in Garden City, NY, and the practice has additional offices in East Hills, Babylon, Manhattan, Brooklyn, Flushing, Huntington, and Westchester. LIPSG also operates Deep Blue Med Spa, which offers clinically proven skin rejuvenation procedures, the New York Plastic Surgical Group, a division of LIPSG, and Dr.STITCH, a 24/7 on-call service and hotline.
To learn more about Dr. Ruotolo or LIPSG, or to find an office near you or book an appointment, visit lipsg.com or call 516-504-3014.