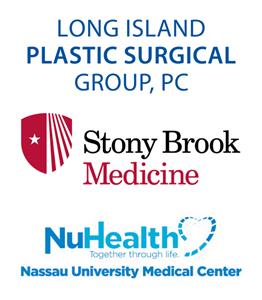 Garden City, New York, Oct. 04, 2018 (GLOBE NEWSWIRE) — Long Island Plastic Surgical Group (LIPSG) is proud to announce that a group of doctors from its Residency Program were selected to give 7 presentations at the meeting of the American Society of Plastic Surgeons (ASPS) in Chicago. The Residency Program is hosted by Nassau University Medical Center (NUMC), administered by Long Island Plastic Surgical Group (LIPSG) and in collaboration with Stony Brook Medicine.
This is among the most in the country for residency programs, and it is a great honor to be selected, as the ASPS is an international meeting of the leading authorities on cosmetic and reconstructive plastic surgery. The presentations were selected by the ASPS Program Committee, which identifies the best in scholarly activity and hard work in a highly competitive field.
"This is a wonderful accomplishment and we are extremely proud to be so well represented on the national level," said Dr. Richard Reish, Director of Residency Research for the program.
Among the presentations given:
Dr. Martin Benjamin, mentored by Dr. Richard Reish, will discuss Buccal fat excision.
Dr. Johanna D'Agostino, mentored by Dr. Michael Dobryansky, will discuss the use of the Bovine Acellular Dermal Matrix (SurgiMend®) for Complex Abdominal Wall Reconstruction, including cost and outcomes.
Dr. Catherine Sinnott, Research Fellow mentored by Dr. Haritha Veeramachaneni, will discuss outcomes In female cosmetic genital surgery.
Dr. Donald Groves, mentored by Dr. Tara Huston, will discuss how bilateral breast reduction facilitates subsequent weight loss in obese patients.
Dr. Johana D'Agostino, mentored by Dr. Noel Natoli, will discuss Abuse and Sexual Harassment in Plastic Surgery Residency Training in the United States.
Dr. Vasileios Vasilakis, mentored by Dr. Bruce Brewer, will present on Nasal reconstruction algorithm and outcomes after Mohs surgery using bilobed, nasolabial and forehead flap techniques.
Additionally, Dr. Roger Simpson, Director of the Residency Training Program since 1989, will share his expertise during an ASPS instructional course on Facial Paralysis.
About The Residency Program
The Residency Program was established in since 1954. It is a partnership program with Nassau University Medical Center, Long Island Plastic Surgical Group, and Stony Brook Medicine, which represents an innovative public-private collaboration that combines the resources of these respected institutions with the expertise of LIPSG's team of experienced surgeons. Residents admitted into the highly competitive program have the unique opportunity to receive training across three major institutions and work with approximately 30 different plastic surgeons. Since its inception, the Residency Program has trained more than 125 residents and has seen many of them grow into some of the most respected and skilled plastic surgeons in the nation. Graduates from the program have gone on to successful careers in both private practice and academia, and have become some of the leading innovators in the fields of plastic and reconstructive surgery.
About Long Island Plastic Surgical Group (LIPSG)
LIPSG comprises 22 plastic surgeons and is the oldest and largest private and academic plastic surgery practice in the United States. LIPSG's main facility is located in Garden City, NY, and the practice has additional offices in East Hills, Babylon, Manhattan, Brooklyn, Flushing, Huntington, and Westchester. LIPSG also operates Deep Blue Med Spa, which offers clinically proved skin rejuvenation procedures, the New York Plastic Surgical Group, a division of LIPSG, and Dr. STITCH, a 24/7 on-call service and hotline. LIPSG surgeons also do extensive international charity surgery work through their support of ReSurge International.
For additional information, please contact Jeanine DiGennaro of Long Island Plastic Surgical Group at (516) 629-3835 or email jdigennaro@lipsg.com.