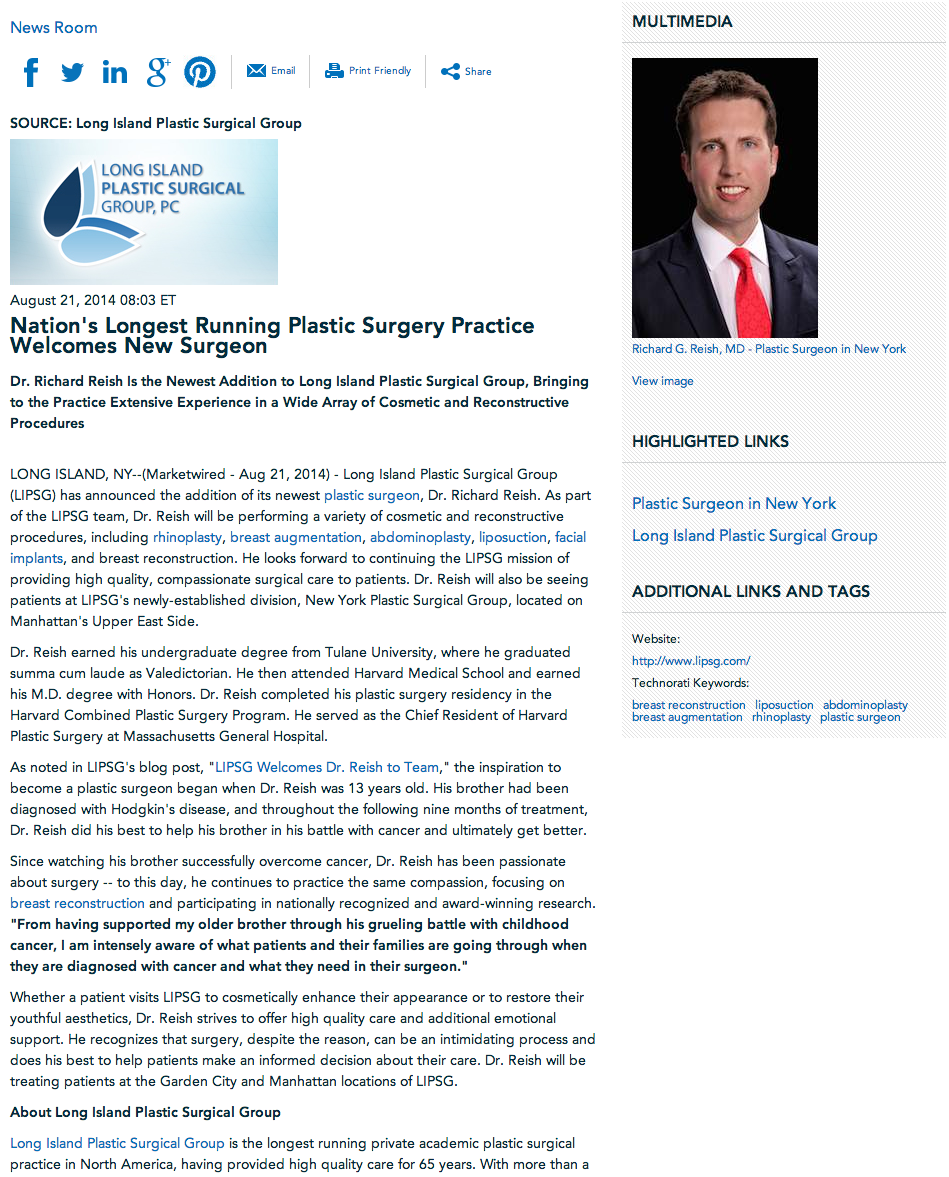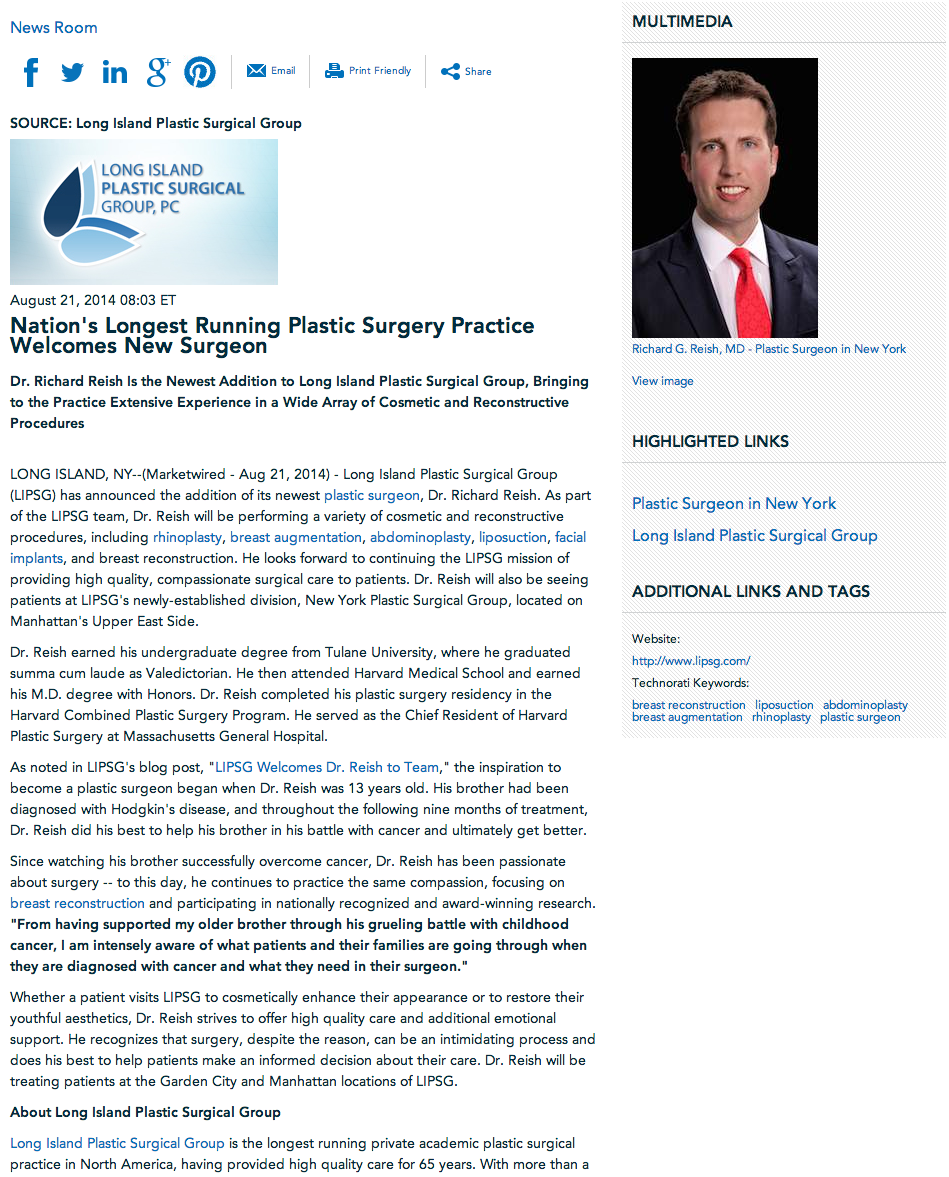 Dr. Richard Reish is the newest addition to Long Island Plastic Surgical Group, bringing to the practice extensive experience in a wide array of cosmetic and reconstructive procedures.
Long Island, NY – Long Island Plastic Surgical Group (LIPSG) has announced the addition of its newest plastic surgeon, Dr. Richard Reish. As part of the LIPSG team, Dr. Reish will be performing a variety of cosmetic and reconstructive procedures, including rhinoplasty, breast augmentation, abdominoplasty, liposuction, facial implants, and breast reconstruction. He looks forward to continuing the LIPSG mission of providing high quality, compassionate surgical care to patients. Dr. Reish will also be seeing patients at LIPSG's newly-established division, New York Plastic Surgical Group, located on Manhattan's Upper East Side.
Dr. Reish earned his undergraduate degree from Tulane University, where he graduated summa cum laude as Valedictorian. He then attended Harvard Medical School and earned his M.D. degree with Honors. Dr. Reish completed his plastic surgery residency in the Harvard Combined Plastic Surgery Program. He served as the Chief Resident of Harvard Plastic Surgery at Massachusetts General Hospital.
As noted in LIPSG's blog post, "LIPSG Welcomes Dr. Reish to Team," the inspiration to become a plastic surgeon began when Dr. Reish was 13 years old. His brother had been diagnosed with Hodgkin's disease, and throughout the following nine months of treatment, Dr. Reish did his best to help his brother in his battle with cancer and ultimately get better.
Since watching his brother successfully overcome cancer, Dr. Reish has been passionate about surgery — to this day, he continues to practice the same compassion, focusing on breast reconstruction and participating in nationally recognized and award-winning research. "From having supported my older brother through his grueling battle with childhood cancer, I am intensely aware of what patients and their families are going through when they are diagnosed with cancer and what they need in their surgeon."
Whether a patient visits LIPSG to cosmetically enhance their appearance or to restore their youthful aesthetics, Dr. Reish strives to offer high quality care and additional emotional support. He recognizes that surgery, despite the reason, can be an intimidating process and does his best to help patients make an informed decision about their care. Dr. Reish will be treating patients at the Garden City and Manhattan locations of LIPSG.
About Long Island Plastic Surgical Group
Long Island Plastic Surgical Group is the longest running private academic plastic surgical practice in North America, having provided high quality care for 65 years. With more than a combined 250 years of experience, the plastic surgeons of LIPSG focus on state-of-the-art procedures performed with the highest safety standards. The practice categorizes its comprehensive procedural offering in its nine specialty centers: Non-invasive and Surgical Facial Rejuvenation, Skin Care and Age Management, Pediatric Plastic and Craniofacial Surgery, Facial Reanimation and Peripheral Nerve Repair, Breast and Body Cosmetic Surgery, Microsurgery and Hand Reconstruction, Burns and Complex Wound Management, Breast Reconstruction Surgery, Post-Weight Loss Cosmetic and Reconstructive Surgery. The surgeons at LIPSG are available for interview upon request.
The practice can be reached online at lipsg.com, aestheticcenter.com, facebook.com/longislandplasticsurgeons, and facebook.com/pages/Aesthetic-Center-at-Long-Island-Plastic-Surgical-Group/226848604005012.
Long Island Plastic Surgical Group
Garden City Office:
999 Franklin Avenue
Second Floor
Garden City, NY 11530
516-742-3404
Americana Manhasset Office:
2110 Northern Boulevard
Suite 210
Manhasset, NY 11030
(516) 439-5500
Babylon Office:
200 W. Main Street
Building A, Suite 101
Babylon, NY 11702
(631) 376-0656
Manhattan Office:
1111 Park Avenue
Suite 1G
New York, NY 10128
(212) 879-8506
Huntington Office:
206 E. Jericho Turnpike
Huntington Station, NY 11746
(631) 683-5630
Flushing Office:
136-20 38th Avenue
Suite 5E
Flushing, NY 11354
(347) 738-0225
Rosemont Media
tom@rosemontmedia.com
(858) 200-0044
www.rosemontmedia.com