Garden City Life, a local source of news coverage with a focus on community events, recently reported on a concert fundraiser hosted by Long Island Plastic Surgical Group to benefit the Dr. Vincent DiGregorio Fellowship Fund at ReSurge International. ReSurge International is a well-established charitable organization that provides life-changing reconstructive surgery for patients in developing countries. The event featured a headlining musical act by Blues Traveler's John Popper, a Grammy Award-winning singer-songwriter. The Rockets, a local band which counts LIPSG plastic surgeon Dr. Barry Douglas as a member, opened the evening's entertainment.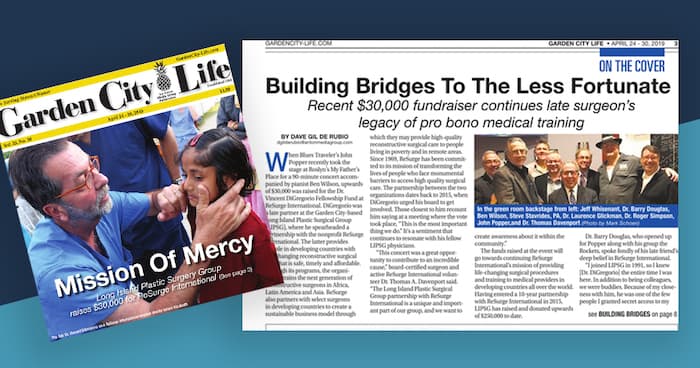 The front page story explained the legacy of Dr. DiGregorio, who was a beloved and philanthropic plastic surgeon at LIPSG who established a partnership with ReSurge International before his death in 2015. The Fellowship Fund in his name supports training for the plastic surgeons in developing countries, an effort which can significantly expand the safety and availability of critically needed reconstructive treatment. Dr. Thomas A. Davenport, who is an active volunteer with ReSurge, was heartened by the community support for such an important event. President and CEO of ReSurge, Jeff Whisenant expressed gratitude to LIPSG, and says "their surgeons have transformed the lives of thousands of people around the world."
The Concert Fundraiser raised over $30,000 for the Dr. Vincent DiGregorio Fellowship Fund at ReSurge International. The team at LIPSG is grateful to our community for their support and thankful for the news coverage which raises awareness of this important cause. Learn more about how LIPSG Gives Back and get details on this event.