"As a parent, you can feel very powerless. But you have to be an advocate for your child." –Catherine, Mom to Caelyn.
Large or giant Omphaloceles occur in 1 out of every 10,000 live births[1]. Even though Catherine worked in an emergency room, she had never heard of Omphalocele until her 12-week sonogram.
"For a month after I found out, I cried every day," says Catherine. "I didn't tell anyone. Not even my family." What should have been a happy moment—seeing the image of her long awaited baby—took a devastating turn when doctors told Catherine and her husband James that the baby suffered from the defect in the abdominal wall, and that it had caused her internal organs to stick on the outside of her belly. There are varying degrees of the sometimes-fatal condition, and additional health concerns for the babies who have it—meaning that the family now had to wait and see what Caelyn's situation would be.
It was James who brought light into their situation. "He started to Google all of the positive things about it," she says. That's when they discovered MOO, Mothers of Omphalocele, an internet-based group that offered resources (including Spanish language networks) and tremendous support.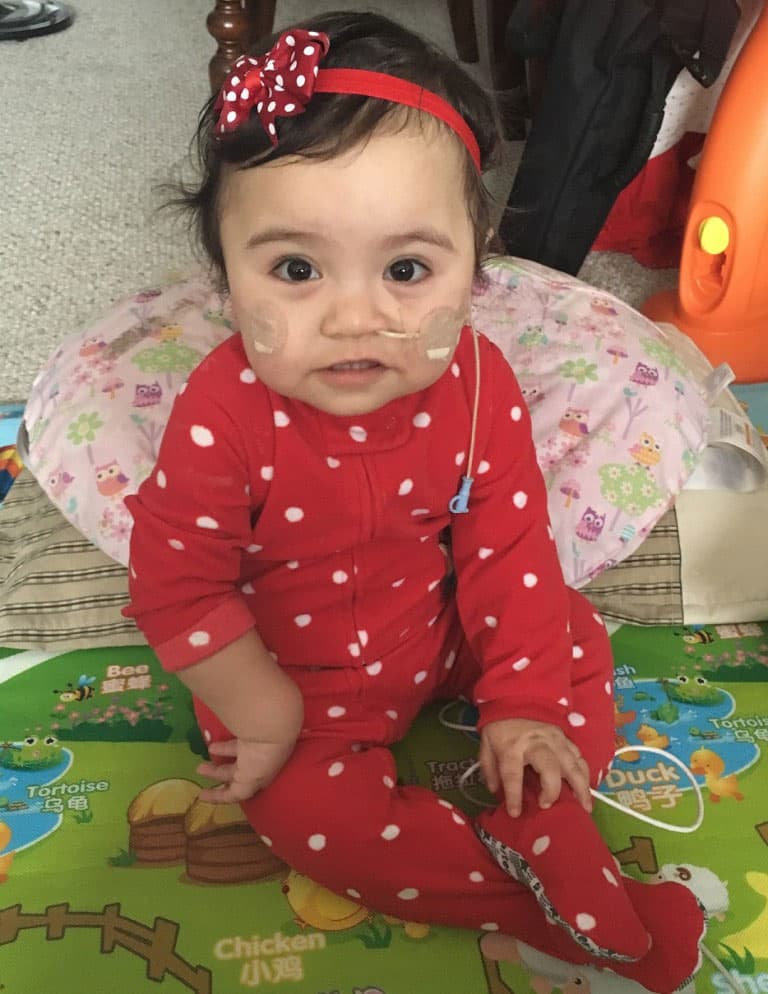 "All the mothers helped each other. We shared our experiences, our losses, and our gains. Not every one of our babies are the same, not all of them have the same results. It helped me a lot through my journey."
By the time her due date arrived, Catherine and James were ready.
Caelyn was born with a large Omphalocele and no other life threatening complications. Doctors, including LIPSG Pediatric Plastic Surgeon Dr. Rachel Ruotolo, decided to hold off on surgery to correct the condition until Caelyn was a bit older. In the meantime, Catherine learned to wrap her daughter's torso—a task that parents often balk at for fear of hurting the organs. "I did it so well that we were able to reduce the size of the Omphalocele," she says. She later would teach others how to wrap as she had.
Dr. Ruotolo remembers being blown away by this remarkable family. "I met Caelyn in the neonatal intensive care unit, right after she was born. There was an unbelievable bond between mother and daughter from the very start. The way Catherine handled this complicated situation was so inspiring. Nothing scared her, she handled changing her daughter's dressings as if she was changing a diaper."
At five months, Caelyn went home. At 10 months, she had her first surgery—a tissue expansion procedure to prepare her for the closure of her abdominal wall. The second surgery took place a week before her first birthday.
"Before the surgeries, she was scared to crawl," says Catherine. "She had this big thing in her way. Five days after the surgery she was sitting up and dancing. A month later she was crawling."
For Catherine, their journey taught her the value of working with the doctors who listen to their patients and who value communication. "The doctors really respected our input and our involvement," she says. "As a parent, you can feel very powerless. But you have to be an advocate for your child. You have to speak for them."
"Catherine approached the situation with unbelievable positivity," says Dr. Ruotolo. "Caelyn absorbed that energy. Her recoveries were unbelievably fast, and I attribute the success of the surgeries to the vigilance and dedication of her parents."
Today, Caelyn is an unstoppable 16-month old. "She is always smiling," says her mother with obvious pride. Though Caelyn is perfectly healthy and requires no further surgeries, Catherine still occasionally visits the MOO community to check in with other moms. "I want them to know they are not alone, and that there is hope."
[1] Source: University of Virginia Health System